With so many smart home products available these days, the one part of the market which is increasing rapidly is home security technology. Since the launch of voice assistants such as the Amazon Echo and Google Home, many of these interact with each other to make our life just that little bit easier.
In a previous post, I wrote how Google Home works with Nest Hello, by announcing who's at your front door when they ring the doorbell. I found this amazing and it was just the start of things to come! You can read more about that on my New Google Smart Home Tech post.
Just because you rent your house or don't fancy getting all technical by drilling through walls for wiring etc, you can still have a top-quality smart home security system. I've rounded up some of the best technology which will help you keep an eye on your home whilst you're away and other useful items!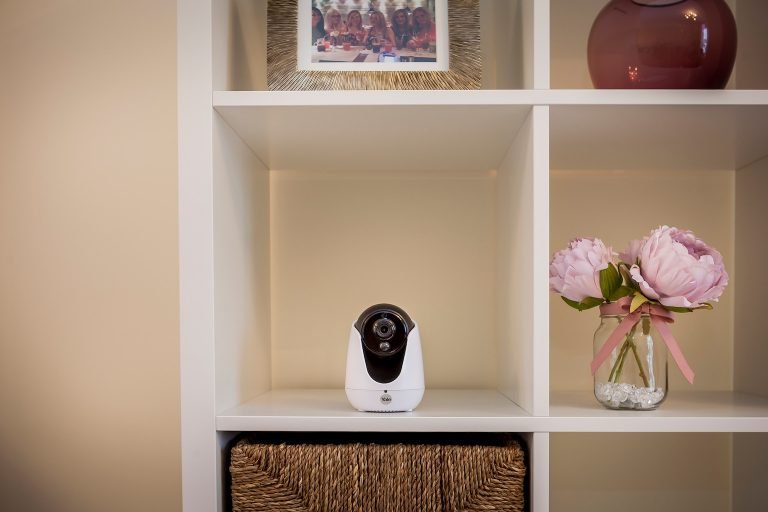 For keeping an eye on what's going on inside your home, the Yale Smart Living IP Camera is ideal. It features a pan, tilt and zoom which is ideal for open-plan or odd shaped rooms. Using the Home View app on your smartphone, you can control the camera and view a live feed.
If the camera detects any movement, the video is automatically uploaded to a free DropBox account. With a 2GB capacity, this allows for over 200 events lasting up to 15 seconds each. Great to have a look back at any events. Plus, you can record locally to the camera with the SD card slot.
The camera records in high-quality HD 720p resolution and also features a microphone and speaker. Meaning you can hear and speak back to the camera. If I had this, I'd be telling my dog off if I catch her doing anything she shouldn't be!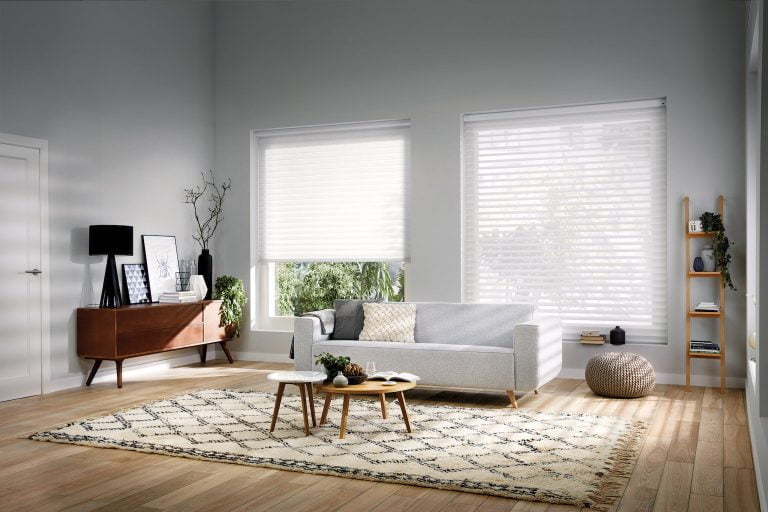 Okay, I know what your thinking, how can window shades be part of home security? The best way to avoid or deter anyone from attempting to break into your home is to make it appear occupied. With the PowerView Motorisation from Luxaflex, you can make it appear as though someone is home, even if you're away on holiday.
These motorised shades come in many different styles to suit your home and most importantly, battery powered. The battery pack is hidden behind the headrail so you won't even notice it's there. This means you won't need to be drilling into walls for a permanent power supply.
Once you have your blinds installed, download the PowerView App where you can quickly create customised scenes for your shades. The best part is creating a schedule which will move your shades automatically at your desired time. Perfect to make it look like someone is home throughout the day and also saves adjusting your blinds manually – win-win!

If you're looking for a truly wire-free security camera, the Swann Smart Security Camera is for you! This sleek and modern security camera connects to your WiFi network (without the need for a base station) for viewing on your phone using the app. The camera is rechargeable with its built-in battery, so no ugly wires all over the place!
This camera is designed to be very versatile in where you place it. With the wire-free design, you can place this outside or inside your home. It features a heat-based PIR motion detection which will reliably capture and record activity with few false triggers. No more alerts with leaves blowing along the ground in the wind.
Recordings can be saved locally on the device with the built-in backup memory. Alternatively, up to 2 days worth of recordings can be backed up in the cloud for free. You can increase this to 30 days with Swann's cloud storage plan.
As with many WiFi cameras, the app features push notifications to your smartphone. You'll be notified as soon as the camera detects movement. This feature is extremely good if you have your camera placed outside, as you'll know when someone is walking up to your house!

WiFi lights are another great way to make your home appear occupied, by switching them on or off from somewhere else or using a schedule. But what if your bulbs could assist your other security products? Say hello to LIFX + with night vision!
I have a LIFX bulb and absolutely love it, it's my favourite out of all my smart home products. However, the LIFX + is a must-have if you already have security cameras with night vision. With this bulb, you can do everything such as switching on/off in the app, asking your smart assistant to do it for you, schedules and even colours. Switching on the night vision is where this bulb sets itself apart from the rest.
With the night vision activated, this can help you see further with your security camera. Perfect for lighting up areas which are normally out of range such as the end of the hall, through windows or across the room. A great addition to your outdoor lights enhancing your security camera's night vision range!

A big player in the video doorbell market is Ring. This brand has been around for quite a while now and is one of the very best! Easy to install, this battery-powered Video Doorbell will work with every home enhancing your security very quickly and easily with no professional installation required.
The sleek doorbell features a camera and some intelligent features. When someone rings the doorbell, it will alert you via the app so you can see, hear and speak to guests from your smartphone, tablet or PC.
With its built-in sensors, you can also enable the app to alert you when someone approaches the doorbell. By customising the motion sensor to only alert you when someone comes into a certain zone, this will help in reducing false alerts.
The camera has a 180-degree viewing angle and you can view in 720p HD video. It features infrared night vision so you'll be able to monitor your home any time of day or night. If someone does ring your doorbell when you're out of the house, you can answer using the app and make it seem as though someone is home.
What home security technology do you currently have in your home? Or what are you planning on purchasing this year? Let me know in the comments below!