I'm nearing the end of my house renovation, finally. However, the next big thing to do now is to lay a brand new patio, plant a load of plants and then I'm ready for summer. The only thing I don't have is outdoor furniture. So researching for this post has been incredibly helpful…
With that in mind, I've had a good look at some high street and online stores to find the very best garden furniture under £600. You could very easily spend a fortune on garden furniture as in recent years, our outdoor spaces have become an extension to our lounge with all kinds of comfortable furniture and accessories for the garden.
If you're searching for affordable garden lounge sets, dining sets and hanging chairs, this post is for you. I've also found some brilliant finishing touches to help set the scene in your outdoor living space.
Looking for quick ideas to update your garden? Check out my post on quick and affordable garden updates to make an impact.
Outdoor lounge sets

For a small space such as a garden, this two-seat set from B&M is a steal. With its stylish rope weaving on a black metal frame, this can easily fit in any space.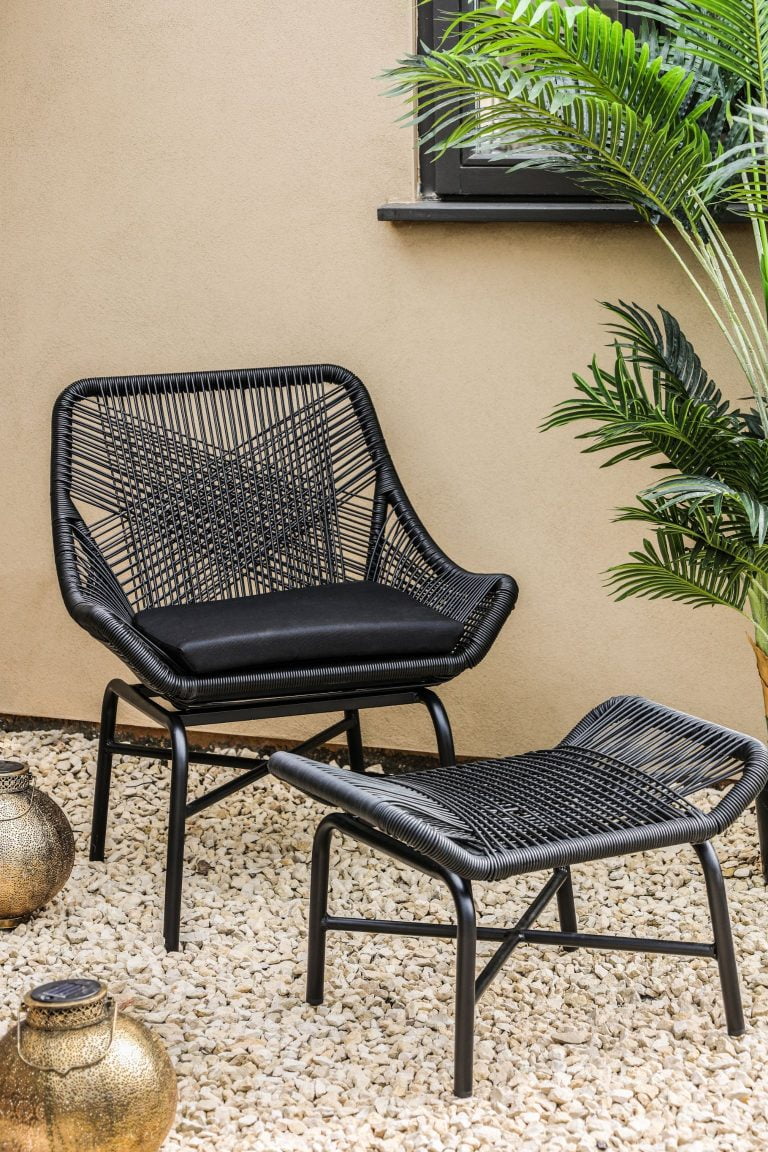 Seeking a comfy seat to sit outside in the sunshine with a good book? This seat will be perfect. Compromising a comfortable reclined chair and a footstool, this looks much nicer than the average sun lounger.

The woven rattan rope effect style doesn't seem to be going anywhere. This garden bistro set from Next is full of Scandinavian design inspiration with its mixture of light wood and black colours.

Is the boho style your favourite? This rattan set from Daals looks modern and airy. The handwoven rattan looks sleek sitting above the black slender legs.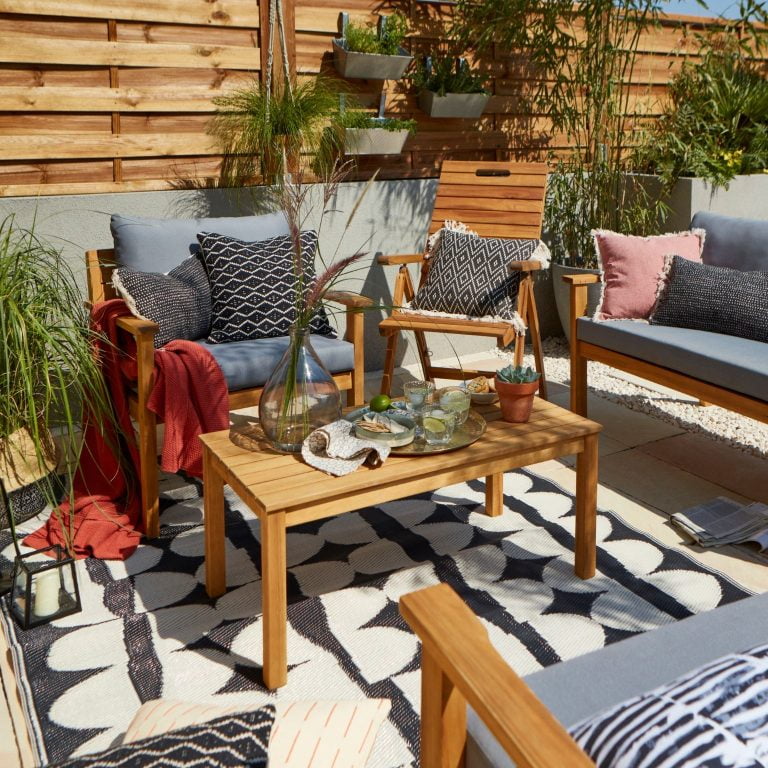 If you're planning on entertaining in the garden, this 4 seater set from B&Q will be ideal. Made from high-quality acacia wood, this natural-looking lounge set will fit perfectly into many garden styles and of course sizes.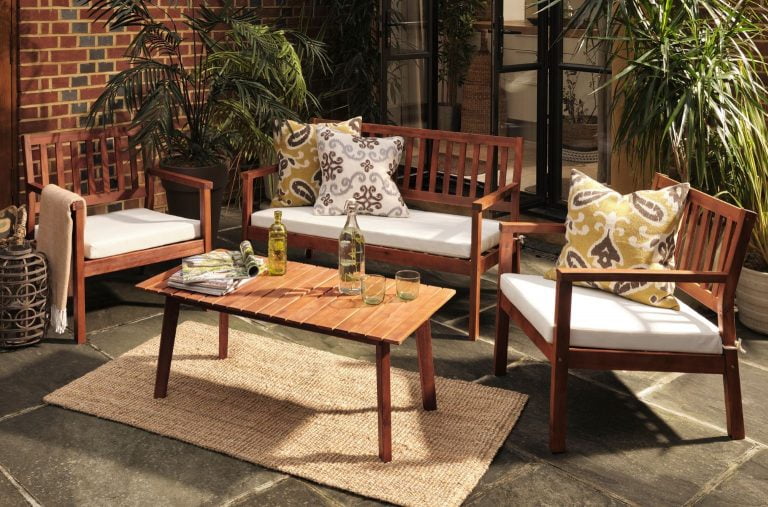 It's been a long time coming but, Oak Furnitureland has finally launched its first outdoor furniture collection. This set is made from solid hardwood and comes finished with soft seat pads. An ideal hardwood garden lounge set.

This modern black outdoor garden set from George Home is excellent for entertaining in the garden this summer. It comes with one two-seater sofa, two armchairs and a coffee table – making it very adaptable on where you place everything. Ideal for a small or larger space.
Must-have hanging garden chairs

Seeking a stylish hanging chair at an affordable price? This hanging chair from B&M is full of boho vibes and can easily work outside as it does inside.

With a more natural look, this rattan hanging egg chair from B&Q looks ultra comfy and stylish. I love the dark colour of the cushions which complete the contemporary look.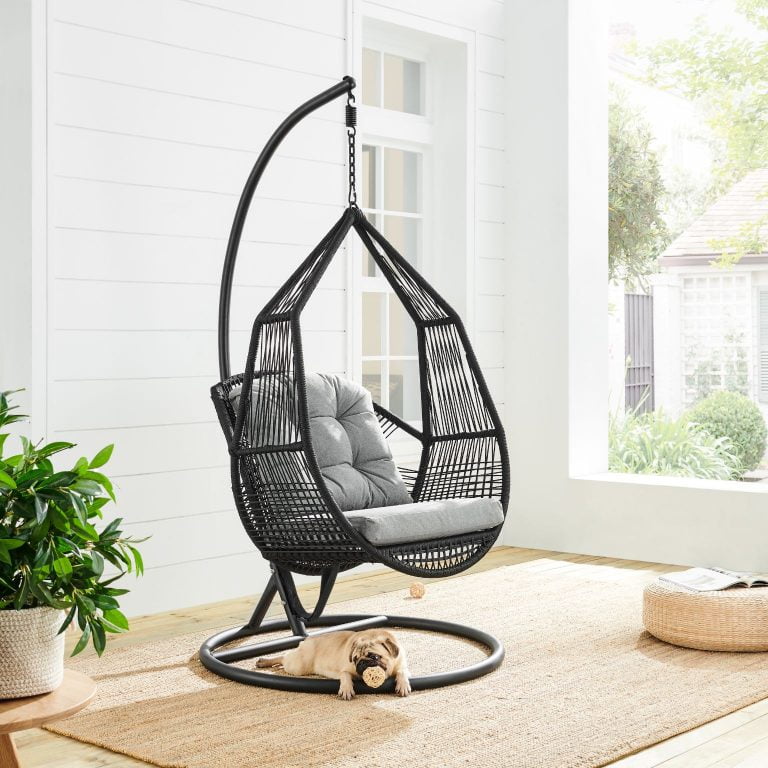 This geometric chair will well and truly take the limelight in your garden. With its unique modern design, this hanging chair from Daals will be one you won't want to get out of. Love the look of this!

This stylish and simple hanging Tokyo hanging chair in black is a classic egg chair design with a little modern twist. With thick soft cushions and even armrests, I feel this will be the comfiest seat in the garden.
Outdoor dining sets

If you've got a small space but looking to seat up to four people, this simple and modern dining set is perfect. When you don't need the chairs out, you can easily fold them up and stash them away – making this set ideal for a balcony or small courtyard.

These incredibly versatile tables and chairs will always look stylish for years to come. Designed by Emu's in-house designers, these contemporary garden pieces are made from lacquered aluminium and a huge choice of colours – more colours than you can imagine.

The top half of these chairs in colourful colours are made from recycled plastic and when they come to the end of their life, are recyclable once again. If you like a pop of colour in your garden, these chairs come in four bright colours to sit alongside the beautiful FSC eucalyptus table.

This very traditional looking outdoor dining set is made from dark acacia wood. Ideal for smaller spaces and easy storage, as both the table and chairs, fold away easily.
Set the scene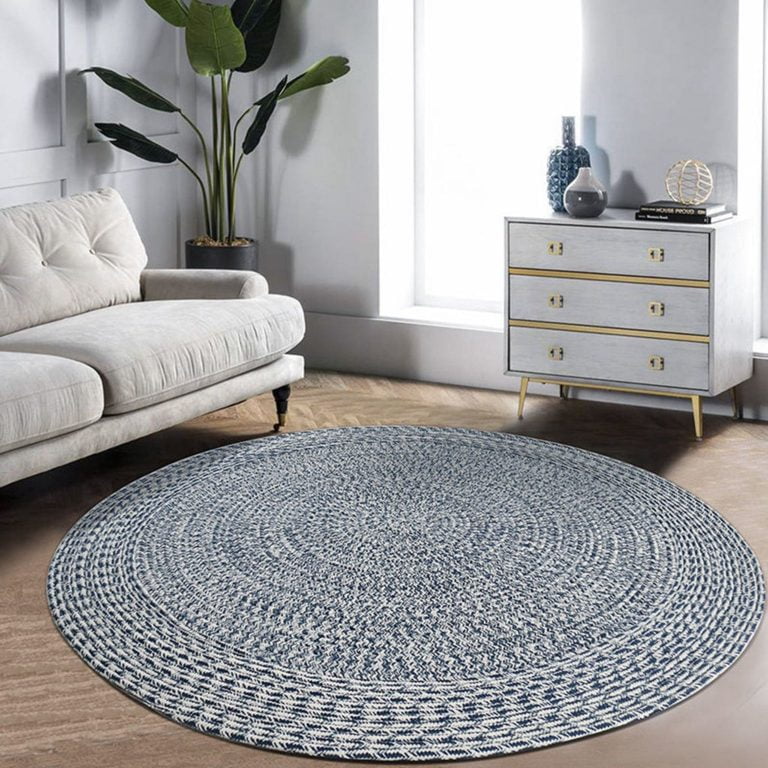 Who doesn't love an outdoor rug? An outdoor rug is an easy, quick and affordable way to refresh your outside space and cover any ugly looking patios. Made from thick 100% polypropylene, this gives it a very thick and luxurious feel.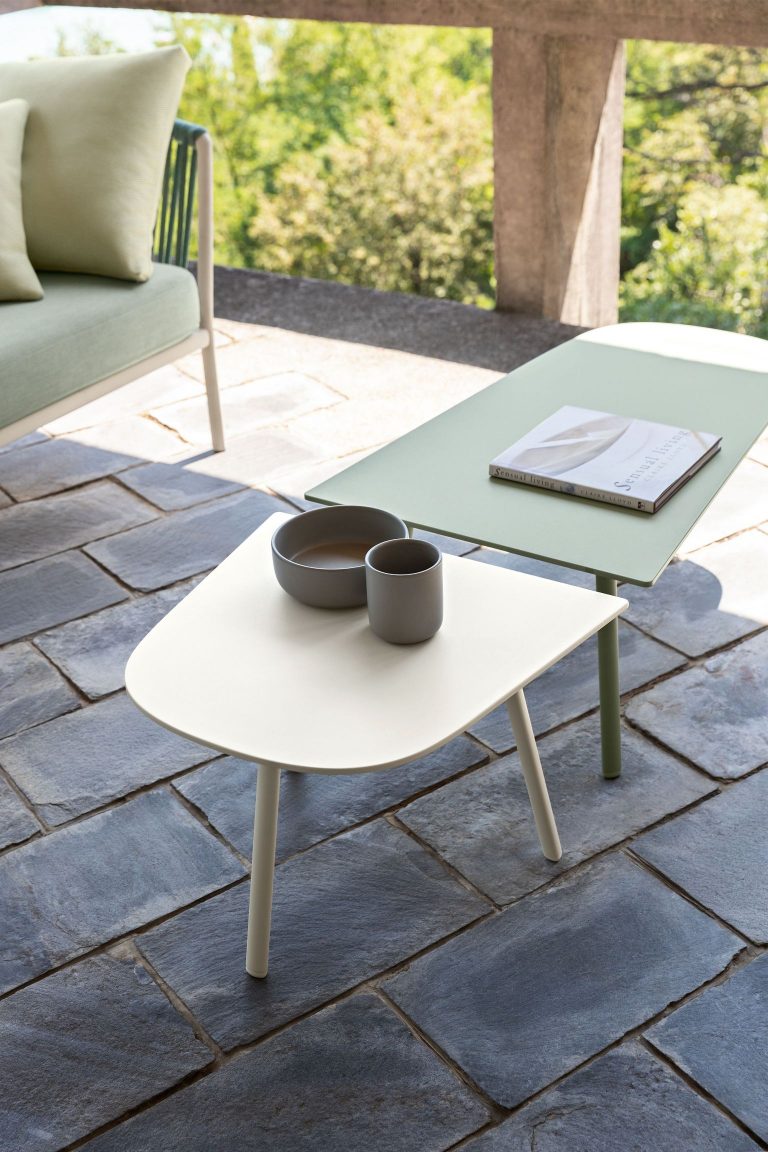 Coffee tables aren't just for the lounge, they are ideal for your outdoor area. This Mosaiko table is available in five different shapes and sizes to suit any space. They even come in sixteen colours – yes sixteen! These look great on their own or bundled together with another size like the image above.

When the sun starts to set, blankets are vital to get all cosy outside. These blankets are made from 100% pure wool by Tweedmill. They come in a range of colours but my favourite is this duck egg blue fishbone design blanket.
When the weather drops, you'll want to be sitting around warming up on this fire. Not only will this help keep you toasty, but it also sets a nice ambience which is ideal if you're hosting an evening get-together. Powered by gas, with the 460g gas cylinder hidden inside.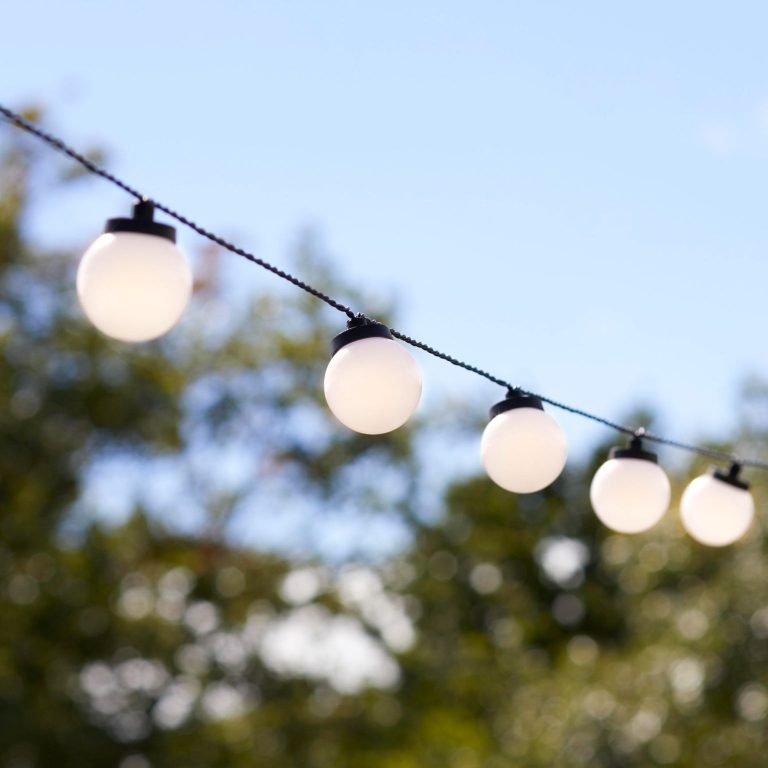 The one thing you can't forget is the lighting when the sun starts to set. These warm white festoon lights will give off a nice glow long into the evening.
I really hope you liked my round-up of garden furniture under £600 for summer 2022. I've got more garden features planned coming up and of course, my garden renovation.