Summer is all about enjoying the very rare sunny British weather in the garden. What better way to celebrate the nice weather than hosting a BBQ and inviting your friends over? This is the best way to enjoy a sunny afternoon!
If you're like me and have a really old rusty barbecue you drag out each year, now is the time to give it an upgrade. I've researched some of the very best barbecues which you should buy this year for under £300. Plus, these barbecues look stylish which is a huge bonus! Let me know what your favourite is in the comments below…
If you're catering for large summer gatherings or simply want to impress, the Everest 4 Burner Gas Barbecue from Alfresia is the one for you. With the large cooking area, it's easy to cook multiple foods at once. This means less time at the barbecue and more time socialising (and eating, obviously).
The barbecue features 4 premium cast iron burners are powerful and provide a very strong output of heat. As this is a gas burner, you can be ready to cook very quickly with the electronic piezo ignition.
There are two shelves either side of the cooking area which is ideal for preparation or serving. Perfect for storing plates and condiments ready for people to help themselves to the food. The domed stainless steel roasting hood features a built-in temperature gauge so you can keep an eye on the temperature. Plus, there's a wire warming rack for toasty burger buns!
Not everyone has a big garden, so the Jumbuck Oval Trolley Charcoal BBQ from Homebase is a great choice. For the bargain price of £34.99, you really can't go wrong with it! It may look small, but there's plenty of space for cooking. This barbecue can cook up to 16 burgers at a time, so that's more than enough!
It comes complete with two side trays for placing plats and condiments. Trust me, this comes in handy! Underneath the grill is a tray for placing anything else you need to hand. I really like the look of this barbecue, especially the simple colour of black and stainless steel.
For something a little different than the average looking barbecue, this Kadai Fire Pit & Barbecue is one to check out. Made from wrought cast iron, this is a strong firepit and barbecue which will slowly weather over time.
The barbecue features a large cooking area to cook plenty of food for you and your guests. Once the cooking is over and the evening becomes a little chilly, you can continue to use it as a firepit. This then becomes the focal point to any evening whether you're using it as a barbecue or a firepit.

This minimal looking barbeque is one of the most stylish I've come across! The Premium Charcoal Barbecue from Alfresia is powder coated, offering the dark grey colour. It comes with a collapsible side table for serving and preparation. You won't need to go far to crack open a bottle of drink either. There is an integrated bottle opener and 4 hooks to store your barbecue accessories.
The grill is big enough to cook many different types of food with a warming rack above to stop food from going cold. It features a height-adjustable charcoal tub with a crank to allow for the perfect temperature. Built into the lid is a temperature gauge so you can keep a check on the heat inside.

For that classic barrel barbecue look, the Tesco Barrel 4 Burner Gas BBQ is one for you! Featuring a strong black and grey colour, this will look great in any garden. It also comes with a cover which protects it from the elements.
The barbecue features a large steel wire cooking grill and a warming rack. There's plenty of space for all different kinds of foods to cook at once. With a temperature gauge built into the lid, you can easily keep an eye on the temperature and know when your food is ready. To the left of the grilling area is a side handling so you can keep your cooking utensils to hand!
Awesome extras for your garden
I couldn't help but come across some extras for your barbecue and garden in general. From pizza ovens to furniture, here are a few things you'll love!

Just because you have a barbecue doesn't mean you can only enjoy barbecued foods! Host a pizza party with the La Hacienda Firebox Pizza Oven from Wyevale. As soon as I spotted this I fell in love. I've always wanted a pizza oven but this is much easier and takes up less space.
It couldn't be simpler to get started with this. Once your barbecue is hot, place the pizza oven on the wire rack and it will heat up in about 5 minutes. The pizza oven has a double skin insulated cavity which retains and evenly distributes the heat, meaning a perfectly cooked pizza every time. It can cook up to a 12-inch pizza in just 4 minutes! Now all you need to decide is your toppings!

If you're in a serious need of new outdoor furniture, the Nerja 4 Piece Sofa Set from George Home at Asda is beautiful! This set features a strong Scandi style and will look great in a modern simple garden. The hand-woven rope not only keeps you cool but also looks great.
The set contains 1 two seater sofa, 2 armchairs and 1 coffee table. The coffee table has a grey toughened glass top, which is ideal for relaxing around and enjoying some al fresco dining. This set is one you'll love bringing out year after year!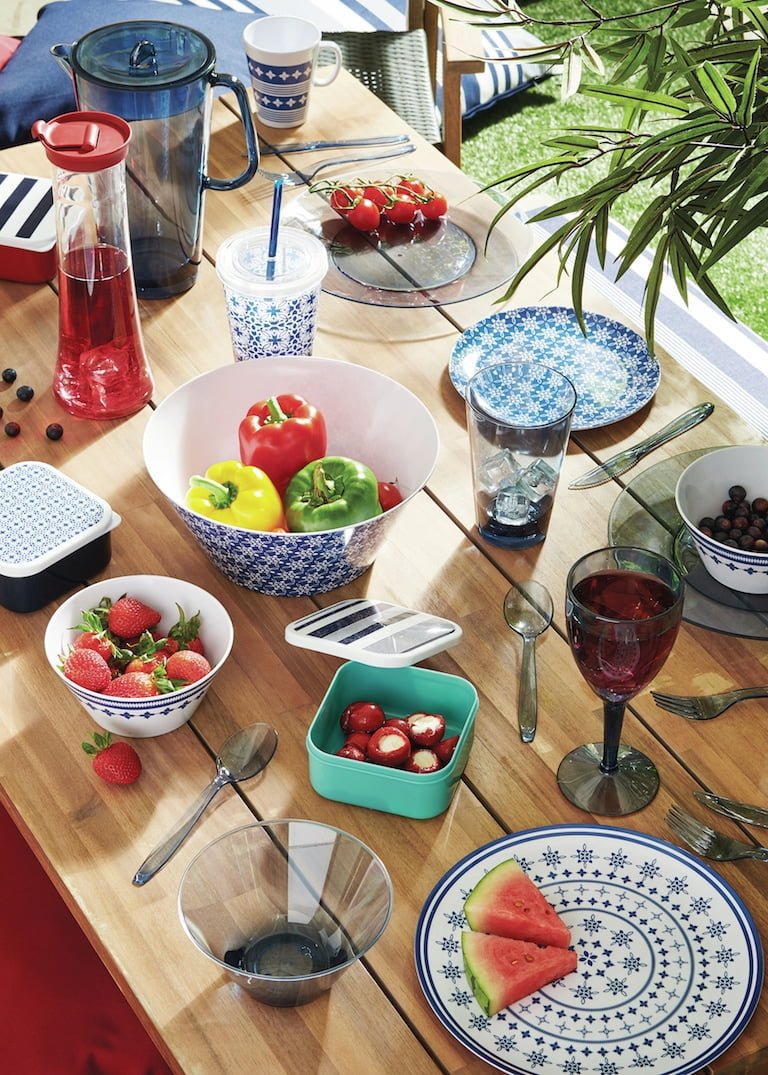 If you don't fancy bringing all your dinnerware outside, the Fusion Picnic Range from Wilko is on-trend for summer 2018. With the Mediterranean style pattern, this adds a pop of colour to outdoor dining. It reminds me of the beautiful tiles you see everywhere in Spain.
The collection is made out of plastic, so ideal for taking on a picnic. It features a wine glass, pitcher, bowl, plates, storage and more. This is well worth taking a look at!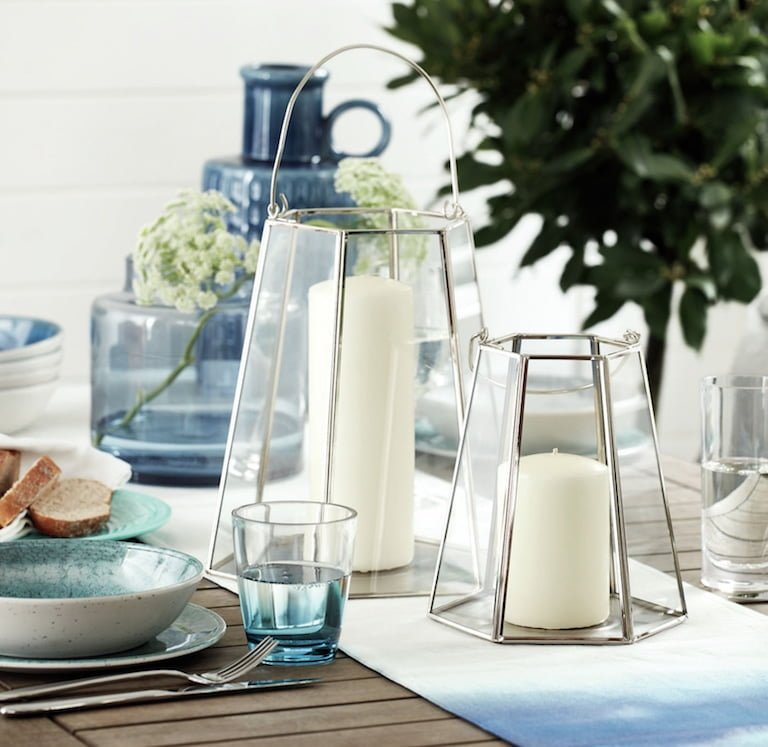 When the sun starts to set, why stop the party? Create a relaxing atmosphere with lights and candles dotted about the garden. I absolutely love glass candle lanterns and these Nina Lanterns from M&S caught my eye. The simple plain glass with a brass frame with a silver finish gives it a contemporary look.
For some bright colour on your dining table, the Dip Dye Runner is a great addition. Mix this colour with accessories and the dinnerware (featured above) and you've got an on-trend stylish look for your dining!
Hope you enjoyed this round-up! Now all that's left to do is get the party started! Let me know in the comments below your favourites…