We're already in April (how has that happened?) and the long Easter weekend is fast approaching. It's usually a popular time for many of us to go out into the garden and give it a much-needed tidy up after the winter months. I know that's what I'll be doing!
If your plan is to revamp your outdoor space this year, I've rounded up some of the most affordable yet stylish garden essentials to make your space a paradise. From comfy deckchairs and floor cushions to fire pits and luxurious outdoor sofas, here are some of my favourite pieces from Spring/Summer 2019 collections from both high street and online retailers.
Furniture
The most-used in the garden, furniture! Whether you're looking to use the space for dining or simply lounging in the sun, choosing the right furniture is important. If you don't have too much space, furniture which folds away and put in the shed for winter is ideal. If not, ensuring you get a cover for it when not in use will help keep it looking good as new.
Outdoor furniture can come in all different material options and wood is my personal favourite. It's renewable, sustainable and can last a long time with good care. If you're buying wood furniture, ensure it has FSC certification as this indicates the wood comes from sustainable forests.
If you need plenty of seating for outdoor dinners this summer, this wooden patio set from Argos is perfect. Made from solid wood, this is sure to be a great investment buy and something to use year after year. The cross-legged design is on-trend and the long benches are so versatile. All the wood is FSC certified which means it comes from sustainable forests.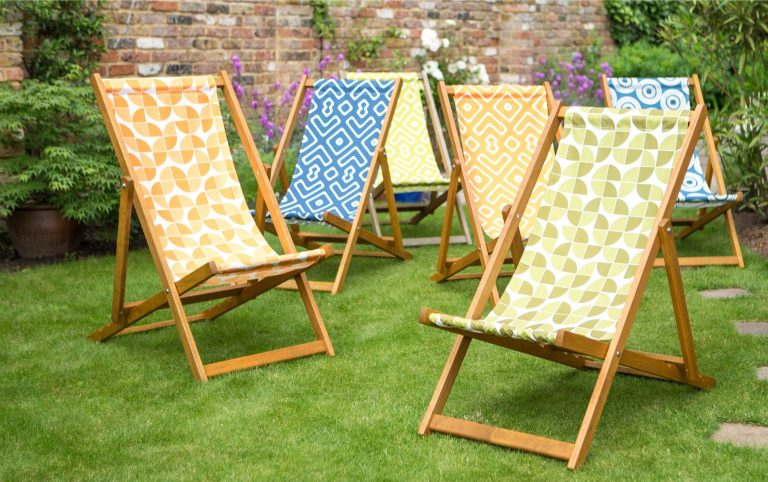 Made out of hard-wearing Merpauh wood, these deckchairs are sure to get plenty of use in the warm summer months. Handmade in the UK, the printed polyester slings come in many unique designs to add a bit of personality to the garden. These will also be a great addition if you're heading off to the beach for a day.
This year, B&Q are winning on outdoor furniture. So many choices and perfect for all different budgets. The Janeiro set is stylish, affordable and you can mix and match for the perfect combination. They also come in grey (which is my personal favourite). Great for relaxed lunches with a glass of wine in hand – who's with me?
Soft furnishings
Ready to get comfy? You will be with these soft furnishings! Throw down some floor cushions for informal seating, roll out an outdoor rug to focus your outdoor living space and snuggle up in the evening under a blanket. Soft furnishings are definitely not just for indoors!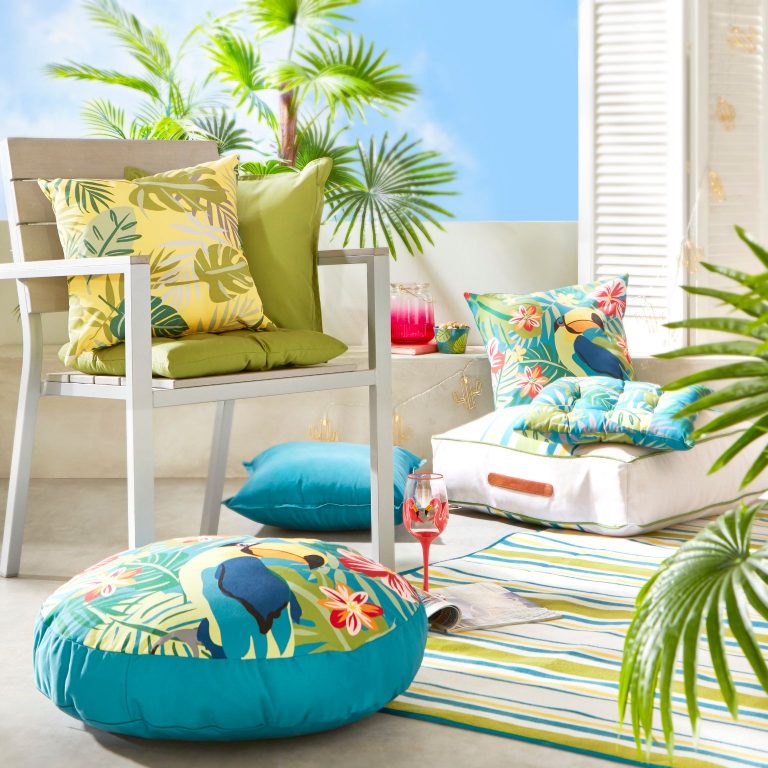 These on-trend outdoor furnishings from Matalan look brilliant! The Nevada Stripe Floor Cushion I'll definitely be buying along with the Leaf Print Outdoor Cushion. These are sure to brighten up any outdoor space.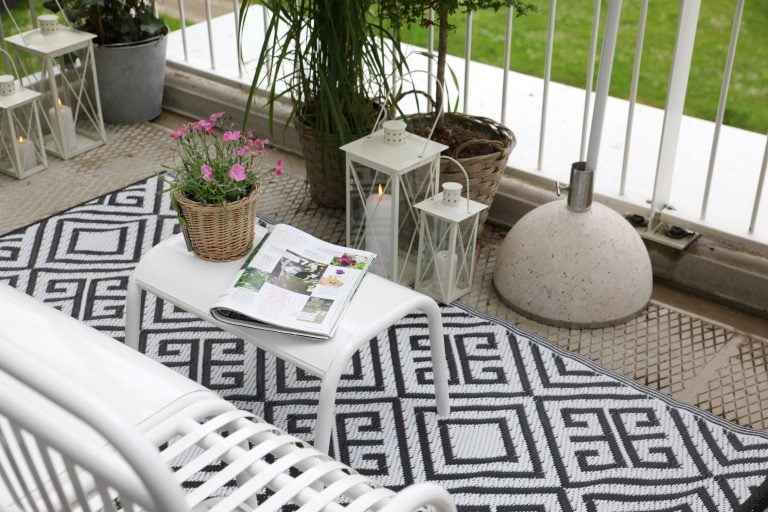 Blurring the line between your lounge and outdoor space is the best way to make it feel homely and a space you'd want to use. An outdoor rug is a great way to make your outdoor space feel like a room. This rug is made out of polypropylene and has a different pattern on each side. If you don't like your ugly patio, roll this out and it will make a huge difference!
Definitely my go-to place for soft furnishings is IKEA. Whether you're thinking of hanging up some fabric from hooks to shelter from the wind or soft blankets to snuggle up with in the evening, you'll find what you need for sure.
Lighting
To make your garden inviting in the evening, good lighting is a must! Turn off the bright floodlights, you don't need to feel like you're on a stage. Instead, opt for subtle lighting dotted around the garden and show off the features you love most. Mains-powered lighting is an ideal solution if you're fully revamping your garden, if not, solar lighting will also be a good investment.
Solar lighting can be tricky to buy. I've always been fooled into thinking the bargains are good, "Oh look, a solar light for £1, I'll buy 5". Firstly, the brightness is utterly awful and second, they break after the first year. Now they're no good and need to go in the bin, so much plastic waste!! If you can, spend a little bit more on higher quality solar lights and if you can change the batteries, even better. You can buy larger capacity batteries (a higher mAh stores more energy) such as these ones on Amazon and increase the length of time the lights are on for. Remember to store your lights inside during the winter months to protect them from the worst elements.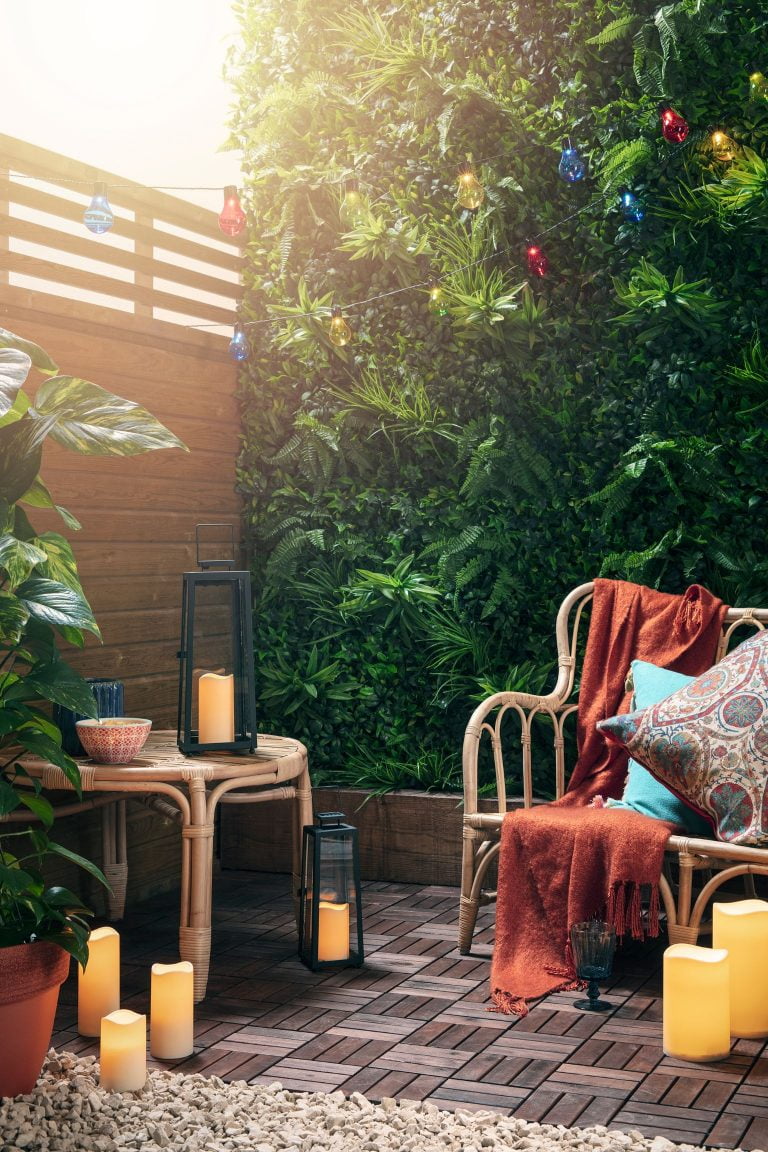 Candles not only look great outside, but they also add to the ambience when the summer evenings draw in. If you can't have real candles lit due to being on a balcony or pets, these LED candles from Lights4Fun are a must-have. The solar-powered lanterns will look great on an outdoor dining table!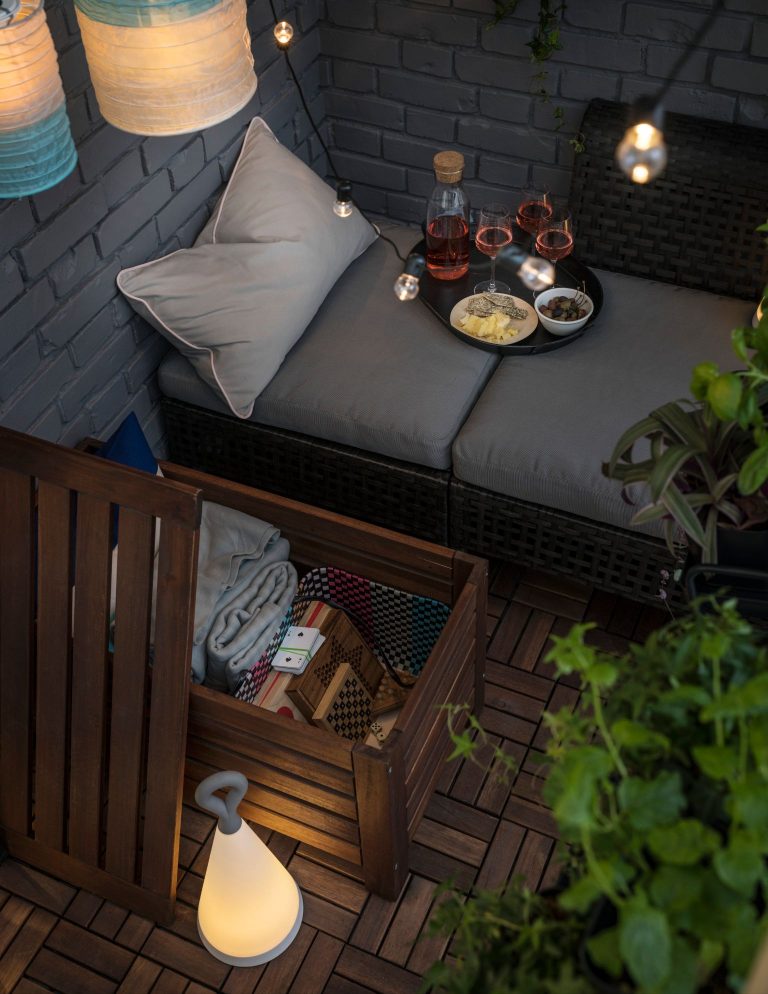 I've been a huge fan of outdoor lighting at IKEA for a long time, especially the MULLBACKA floor lamp (now who doesn't need this?). From festoon lighting and lighting chains to solar lanterns and table lamps, there is so much choice. I love the unique shape of the solar table lamp which will look excellent giving off a warm glow in the evenings.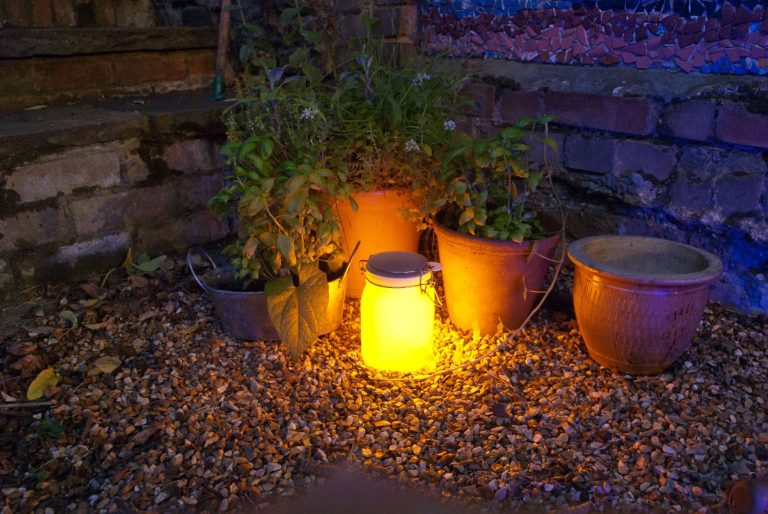 I have had one of these Sun Jars for many years and it works brilliantly! Mine is placed on a south-facing windowsill to charge up during the day and give off a warm glow at dusk. It's perfect for adding a nice warm glow!
Decorations and Plants
Finish off your overall garden look with accessories and plants. If you're renting, plants in pots are the easiest solution as you can take these with you if you move in the future. Go for plants that you plant once and will look good year after year. I always find great value plants from Tesco and other supermarkets, so well worth taking a look. Bulbs are cost-effective and add interest when they flower.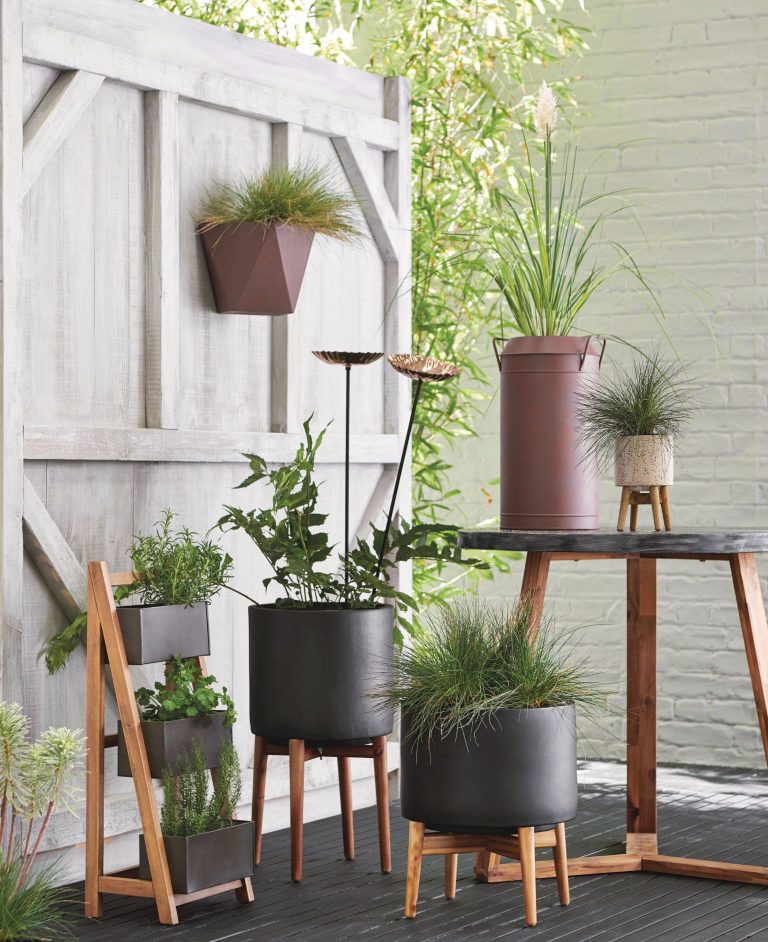 I love the look of these pots on stands and having them outside will look so good! The dark colour against the wooden legs is stylish and sophisticated. The geometric style of the wall planter is my favourite and on my wishlist!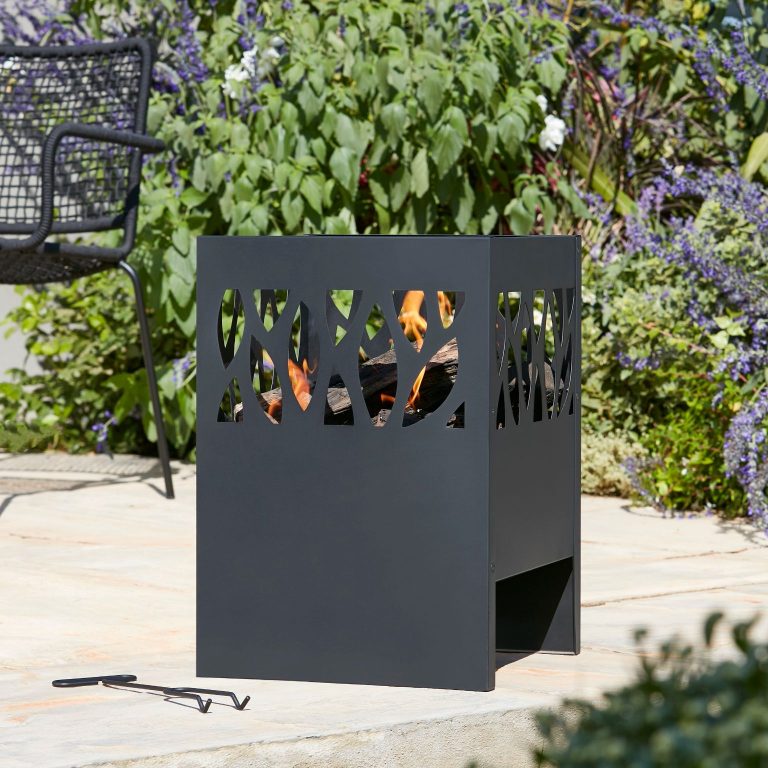 If you've got the space, a firepit is a great addition to the garden. This stylish black firepit from B&Q looks great and ideal for gathering around with friends and family keeping warm in the summer evenings.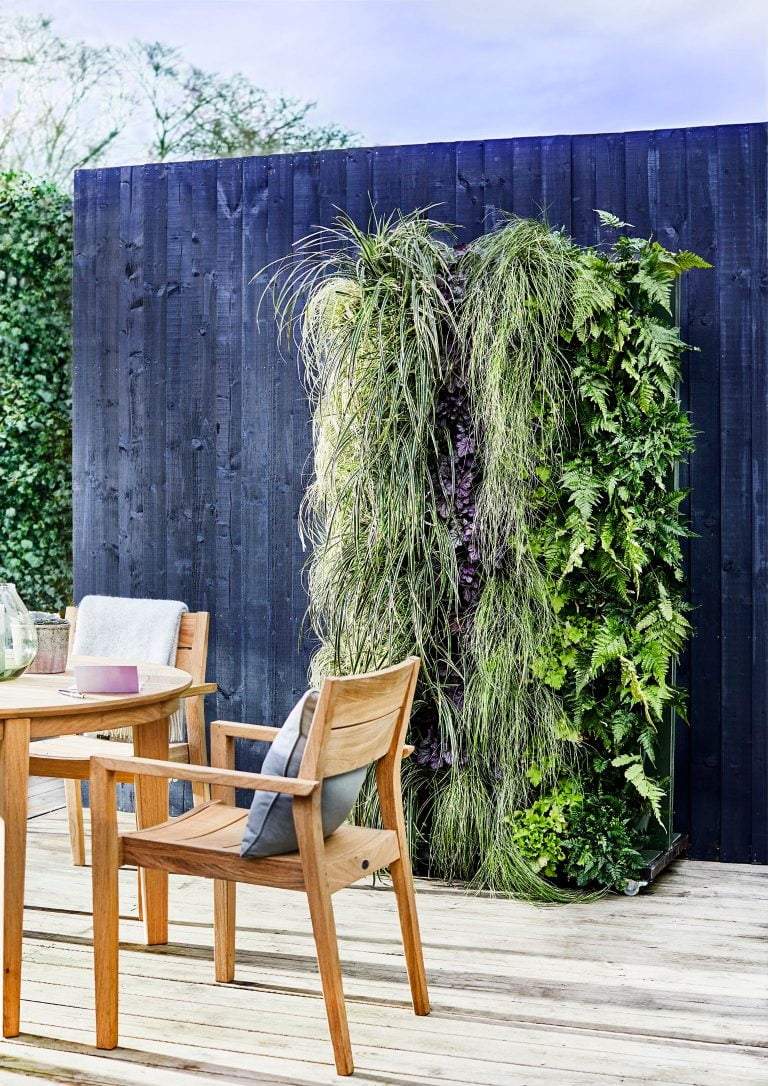 A green wall is the best way to make a huge statement in your garden. Whether you plan to cover one of the walls of your house or even a fence, a wall full of plants will look incredible. I love the Wonder Wall system as you simply pop potted plants in each of the holders and when you water from the top, it goes into each holder to ensure everything is watered. Pop in some ferns, ornamental grasses and maybe even fruit like strawberries or even a few pots of herbs!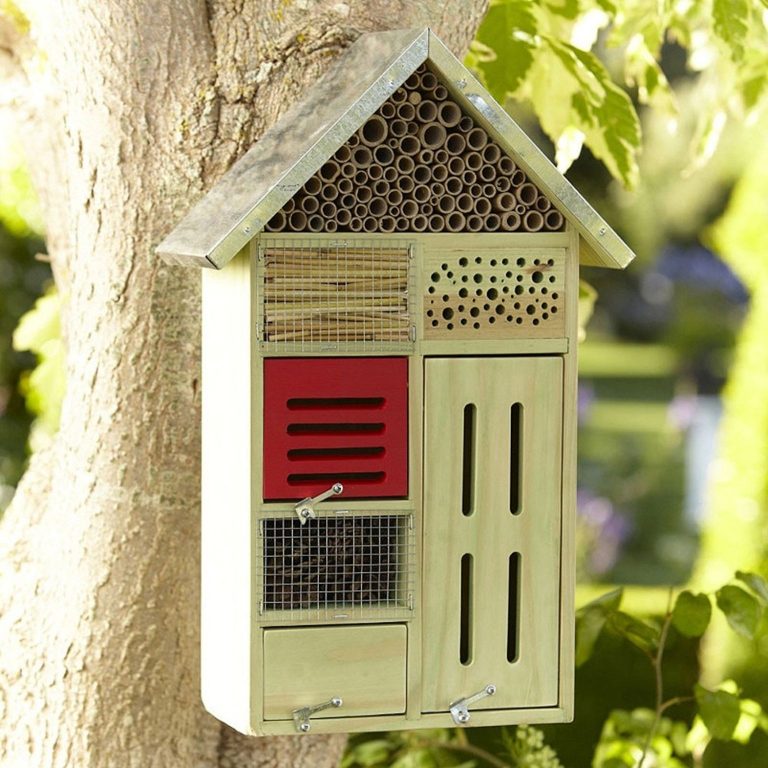 From planting bee-friendly plants and feeding the birds, what else can you do to make your garden a great place for nature? This insect house is great at attracting insects into your garden such as butterflies, bees, ladybirds and other bugs. This would also look great on a wall or tree.
Indulgent Accessories
We all need to indulge in something a little special from time to time and if you're thinking of treating yourself to something extra nice for the garden, here are a few of my suggestions. Yes, these are a little more expensive than the rest of the products featured, however, they will definitely stand out and make your friends and family jealous!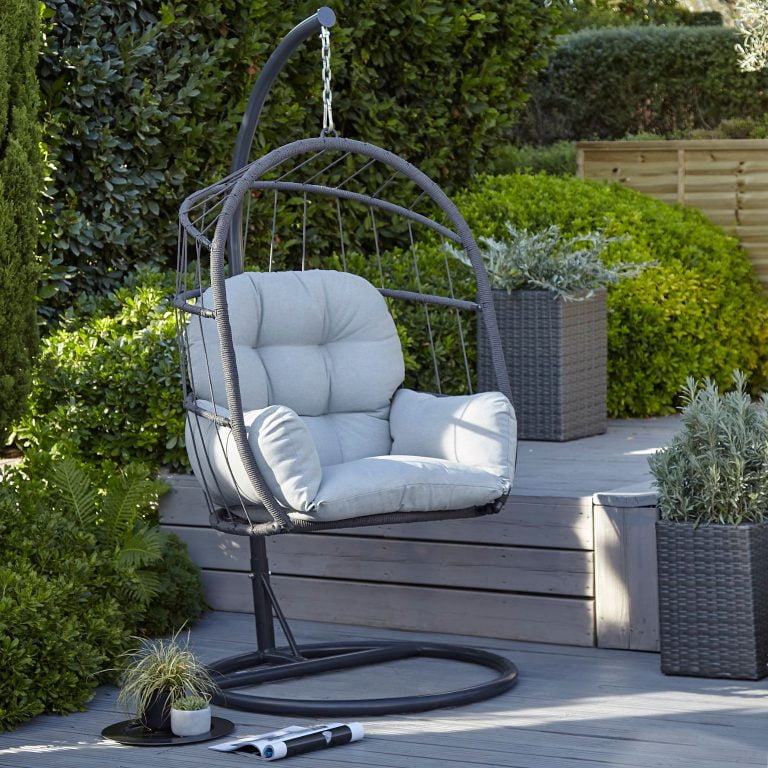 I don't know what it is about a hanging chair, but they are just brilliant! Treat yourself with this egg chair from B&Q which not only looks great, it's extremely comfy (I spotted it in store and had to try it out). I definitely need one of these!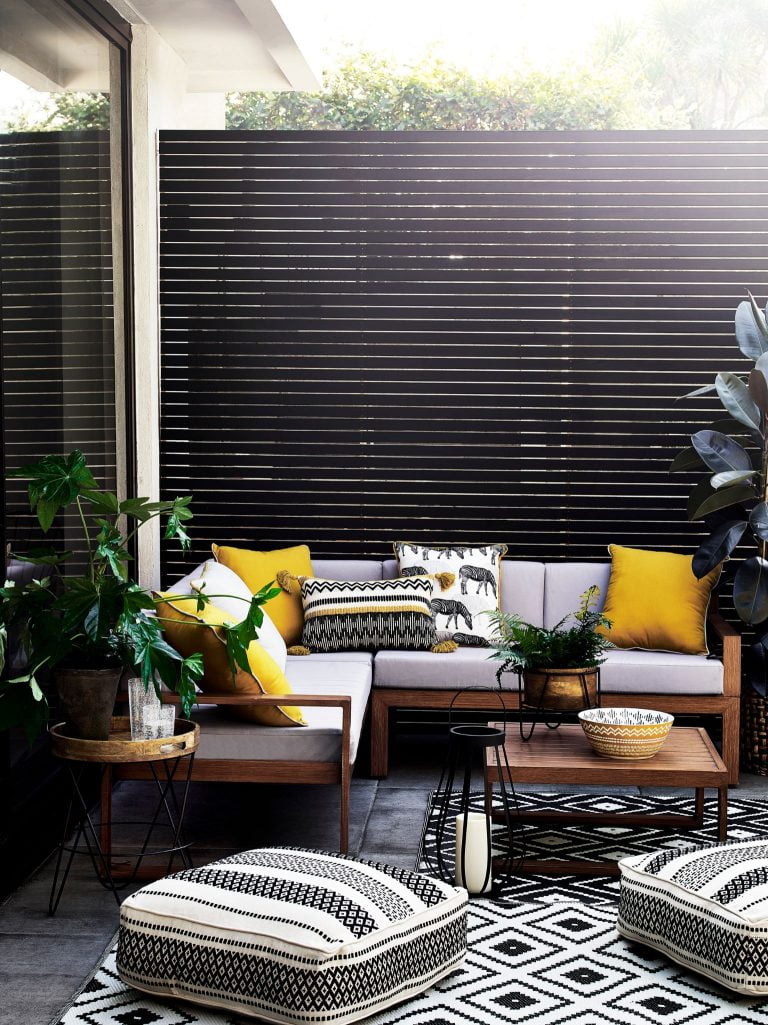 If you're going to splurge on a garden revamp, why not go for a beautiful corner sofa set? Outdoor sofa sets are becoming extremely popular in the UK as we make more use of our outdoor space. By having a beautiful sofa like this one from Argos Home, it turns your outdoor space into another lounge (watch the video on the link above, the sofa can turn into a sun lounger where the back lifts up). Throw down a few of those floor cushions and you've got the perfect place to spend the warm summer evenings!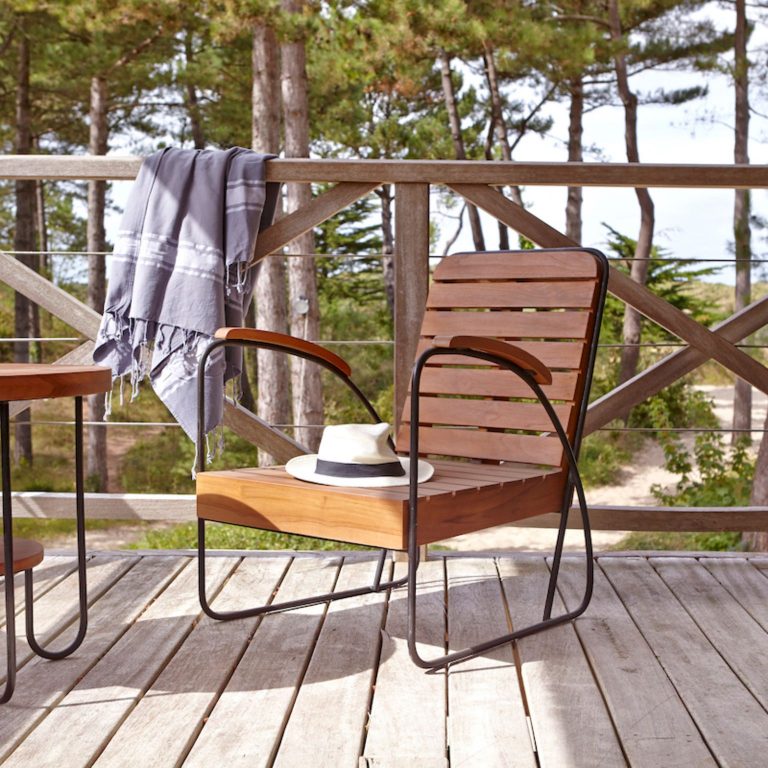 The mixture of wood and makes it stand out from many other garden lounge chairs I've seen. It looks so nice! Made out of teak wood with a black metal frame, this is a hard wearing chair is the best spot to relax in the sun this summer. This would even look good inside with a faux fur thrown over the back! Versatile furniture is something you can treasure and use all year.