Spring is well and truly here. Now is the time to revamp your tired garden and get it ready for the long warm sunny weather (fingers crossed) of summer. This year however, will be a little different to last year. Pinterest recently released data that shows people searching "minimalist garden" has received 11x more searches this February vs last year. Ideas for small spaces has also jumped with searches for "small back garden ideas" receiving 8x more searches – wowza!
With all this in mind, I thought it was time to find some modern garden furniture that can help transform your outside space into somewhere you can enjoy. Much of this was a lot of research for myself as I'm going to be completely redoing my garden as part of my house renovation. So I have a few favourites on this list…
If you're searching for a garden lounge set on a budget, you'll definitely find something. But be quick, I feel many of these will sell out fast this Spring! If you're looking to blow the budget, I've picked out some modern pieces which will look great. To finish off your space, I've included a few must-haves to complete the look.
Do you rent your home and not entirely sure where to start when it comes to your garden? Check out my 6 top gardening tips for renters here.
On a budget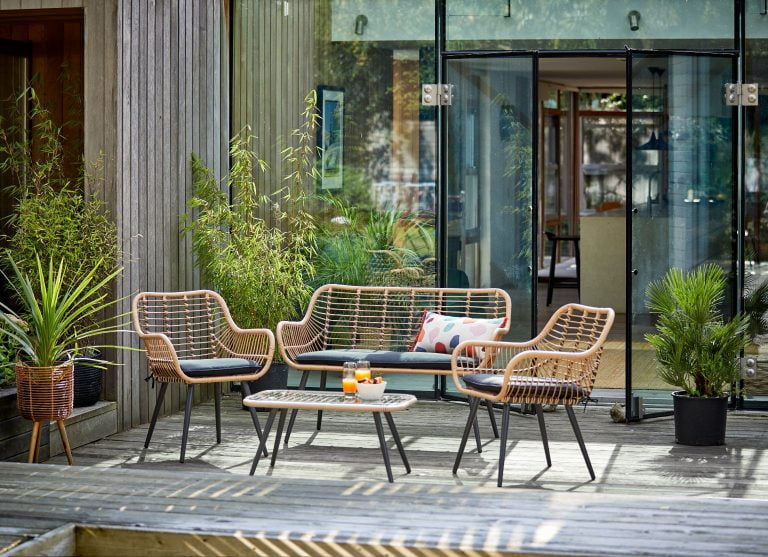 A modern twist on rattan, this look brilliant!

This good looking outdoor lounge set is great for any space. The style looks traditional yet with modern styling which is on trend.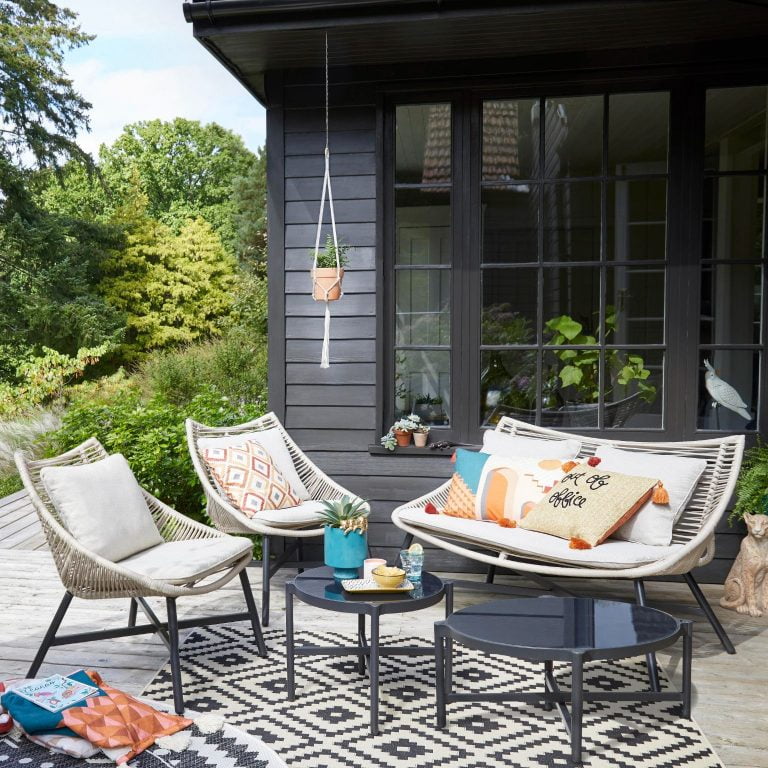 A contemporary twist on classic style which looks brilliant. This sofa set is ideal to use all throughout summer and the two painted glass top tables are great for snacks, wine and whatever else you need at arms length.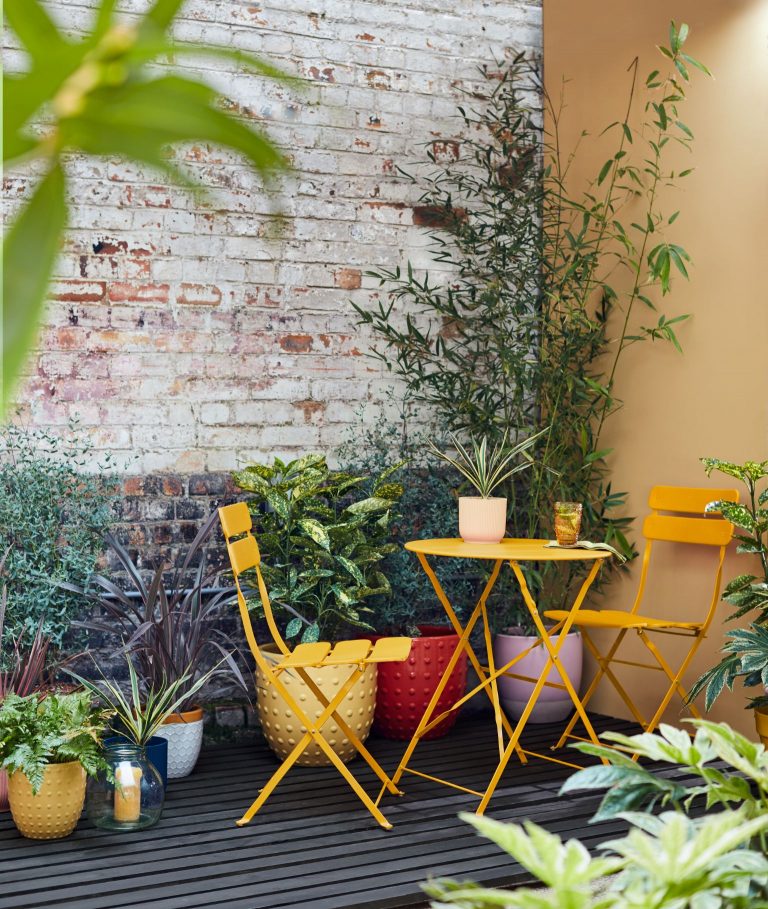 Enjoy dining outside? This bistro set is ideal in it's bright yellow colour and is the ideal size for coffee and enjoying lunch with a friend. When space is needed, the set set can be folded up and put away.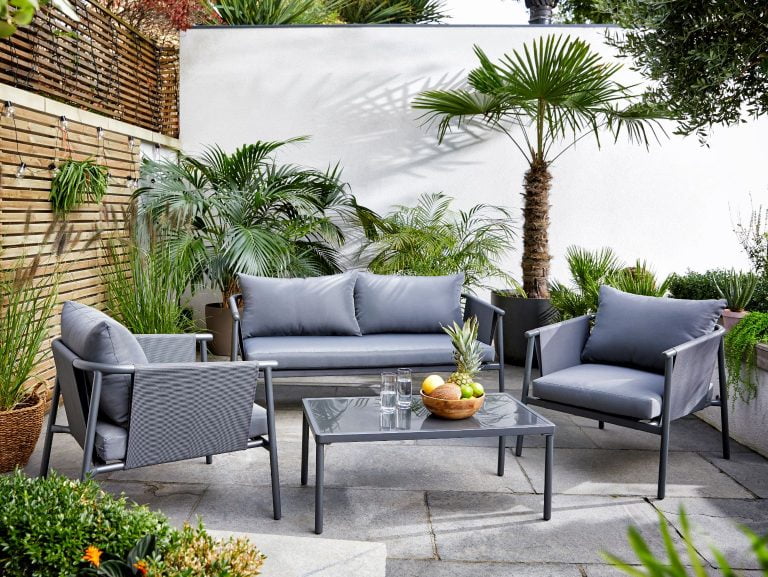 Really liking the minimalist black of this sofa set from Argos. It looks very striking in this setting – what a dreamy garden!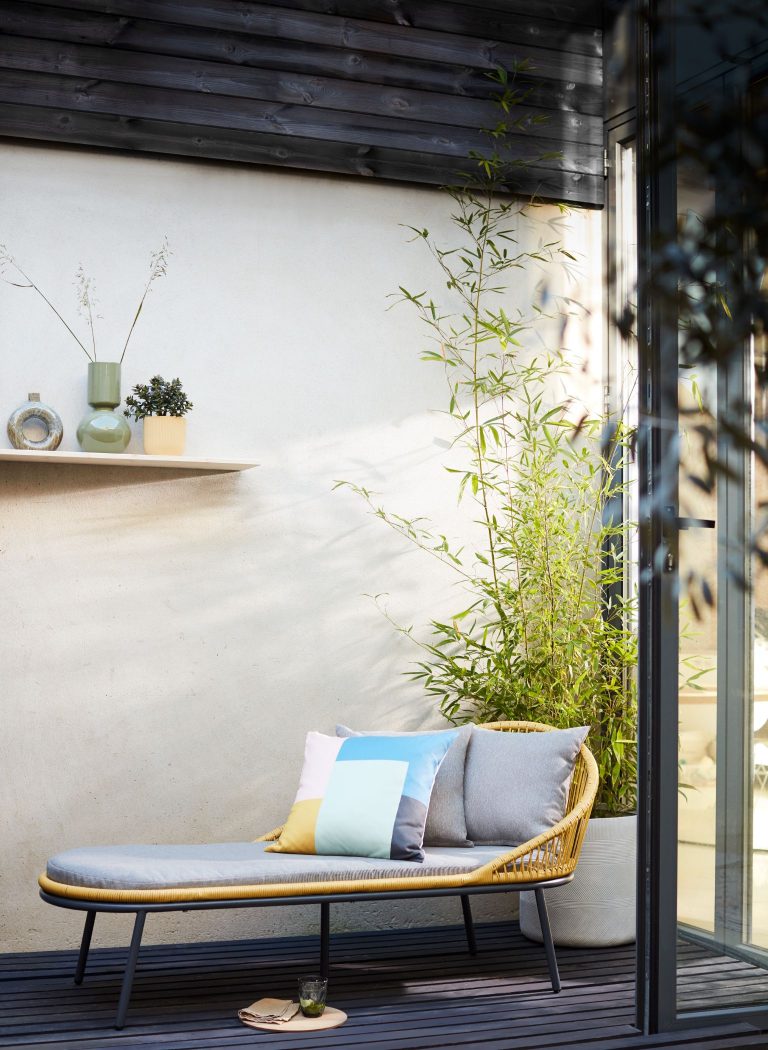 Who wouldn't want to lay on this chaise longue in this sunshine? Ideal if you've got a small space such as a balcony and want to relax in comfort.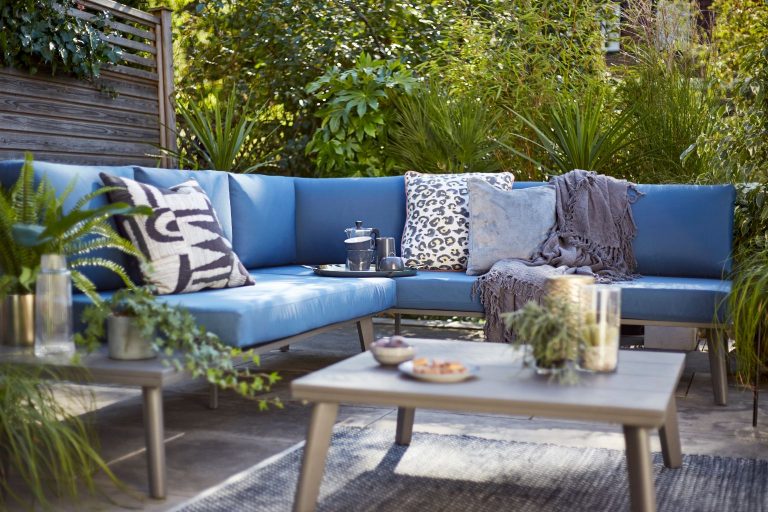 This corner sofa set with coffee table and an integrated side table looks sleek and the ideal place for relaxing and socialising as it seats up to 5 people. Bright blue cushions really do stand out amongst the greenery of the garden.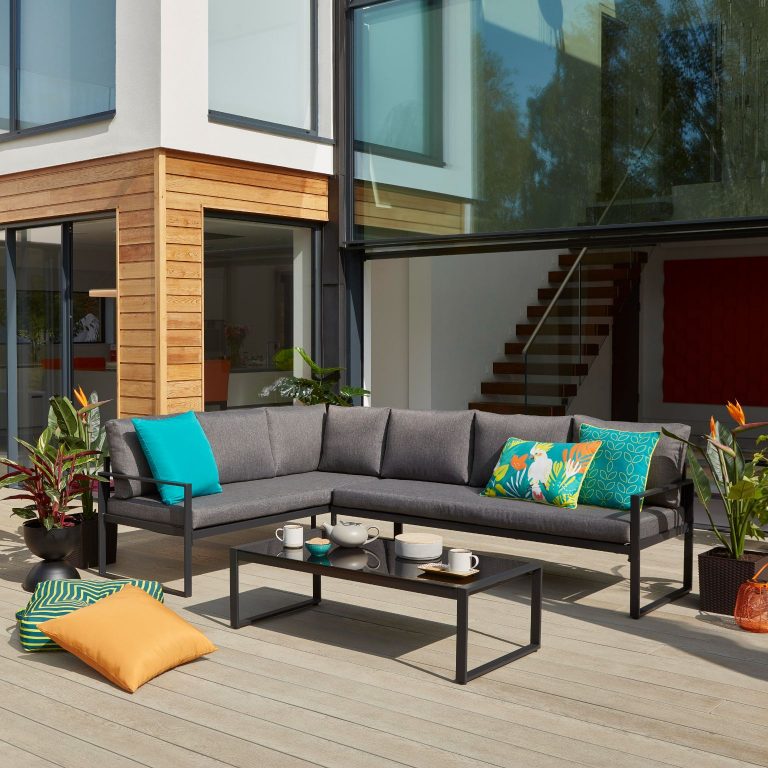 This corner sofa is unbelievably good value as it looks so pricey!
Blow the budget
If you've been saving for a while and fancy splurging on some beautiful outdoor furniture, why not go ahead and blow the budget. Here are a few of my absolute favourite outdoor furniture over £600.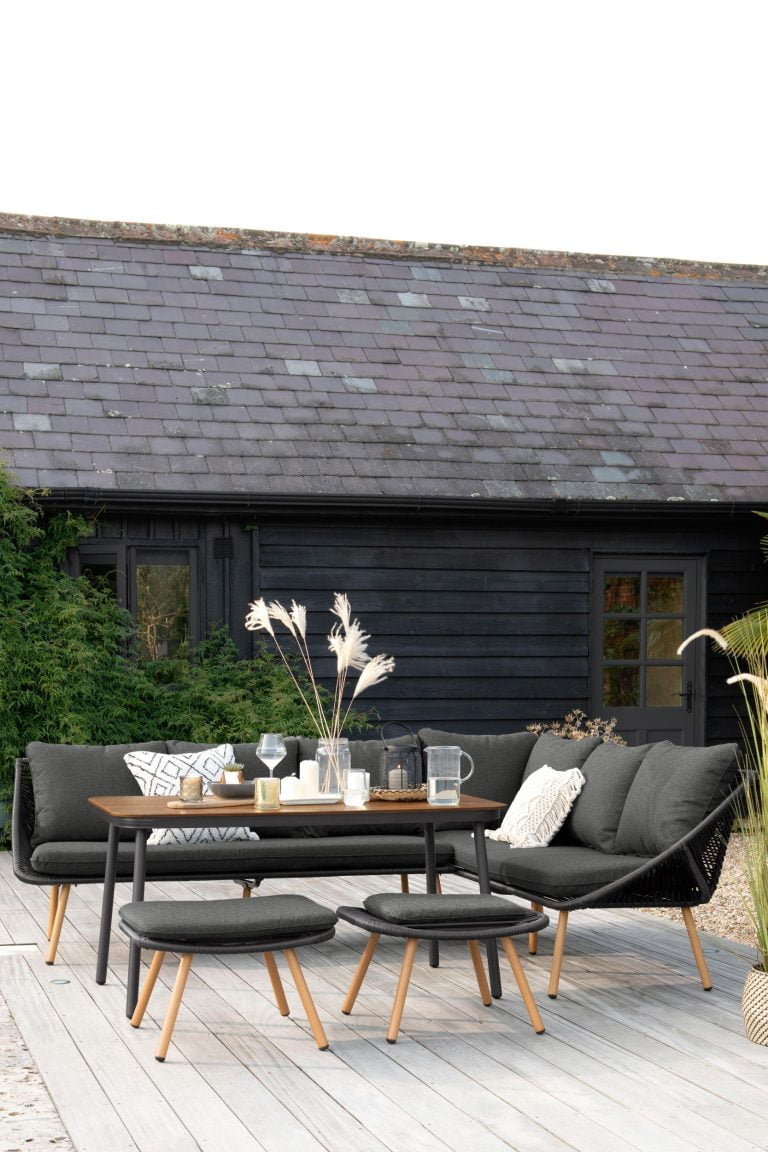 This beautifully sleek contemporary outdoor dining set is beautiful. Made from black rattan rope effect with aluminium frame a wood effect legs. Sleek and stylish!

Feel like you're at some trendy boutique city hotel (just without the pool, unless you're lucky enough to have one) with this stylish white outdoor lounging sofa set. Minimalist style which looks great.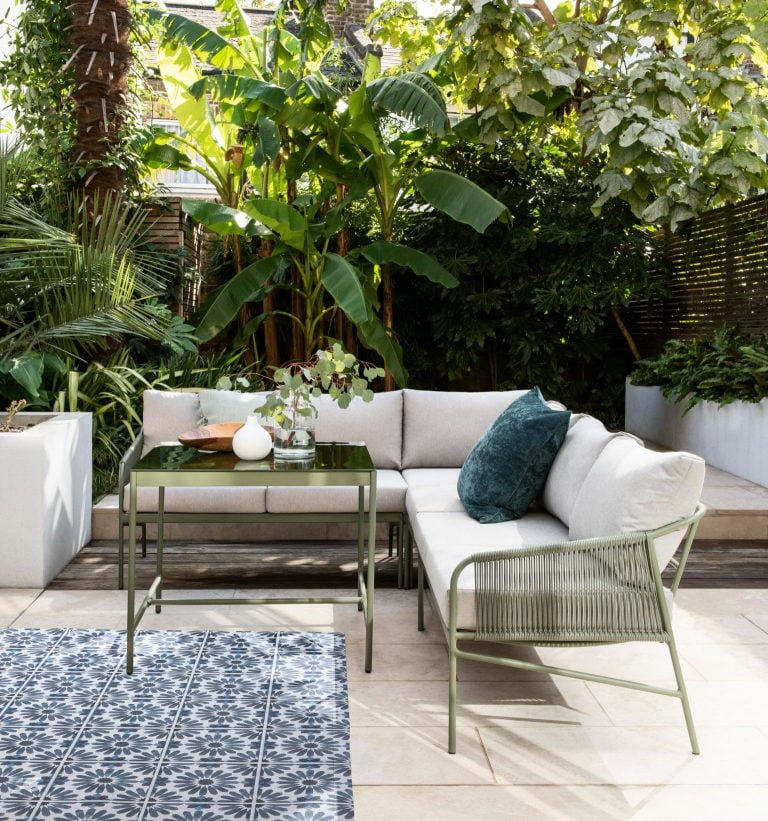 A lovely corner set with ultra comfy cushions. Loving the simple style of the legs and the colour is ideal for the outdoors.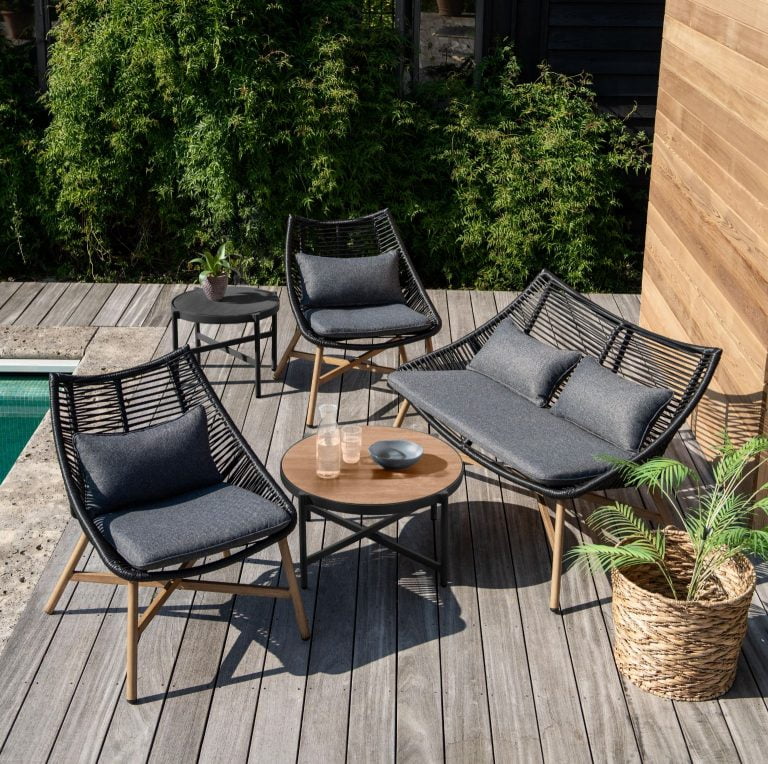 This outdoor lounge set was well and truly made for relaxing. The elegant rattan rope effect mixed with the shape looks timeless.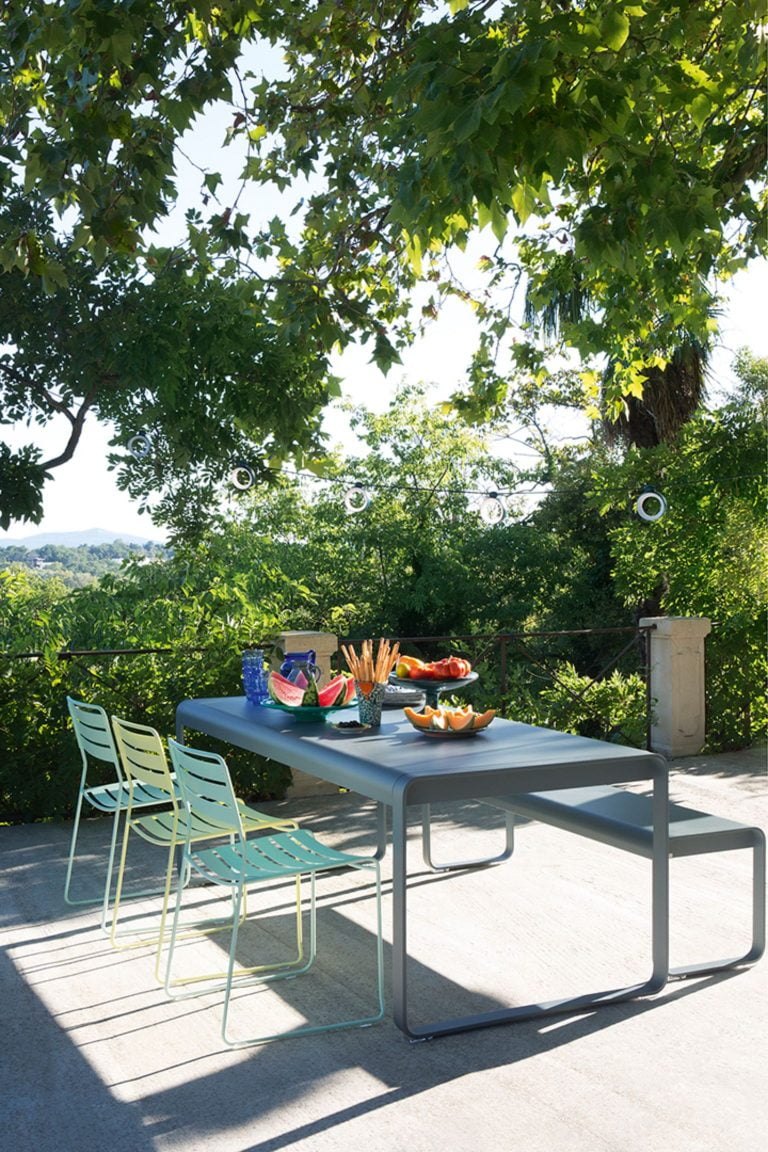 Perfect for dining al fresco, this outdoor dining table can be matched with chairs or a bench. It's ideal for breakfast in the morning sunshine, lunch with friends or dinner al fresco. I love the anthracite grey of the table, which also comes in many more colours.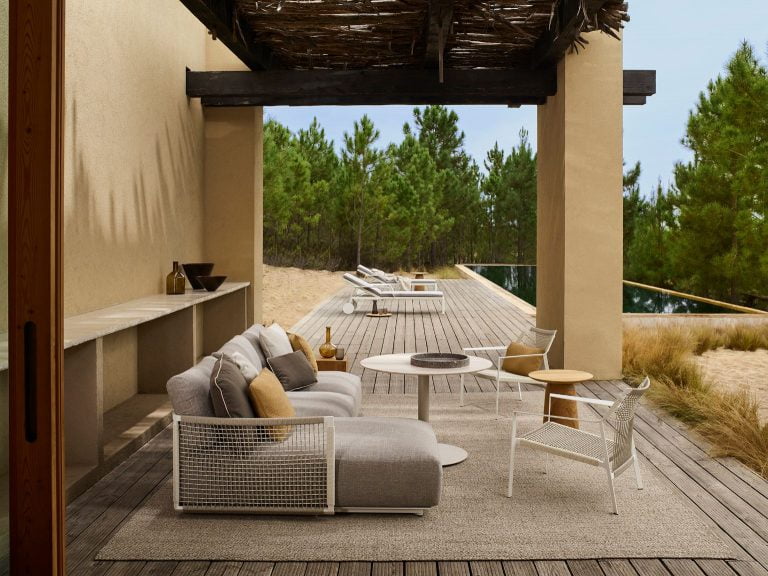 For the optimum of modern luxury, this is the sofa of dreams. Fully modular, choose from an extensive range of modules to turn this into a corner sofa, a daybed and even adjust the seat depths. This really will be the centrepiece of your garden!
Garden must-haves
To finish off your garden refresh, some accessories are a must. Keep warm in the evenings with a fire pit, wrap up warm with a blanket or even keep warm with an electric heater. Lighting is also important, so I've included a few of my favourite lights which will set the ambience for an evening of relaxing and chatting with friends.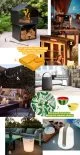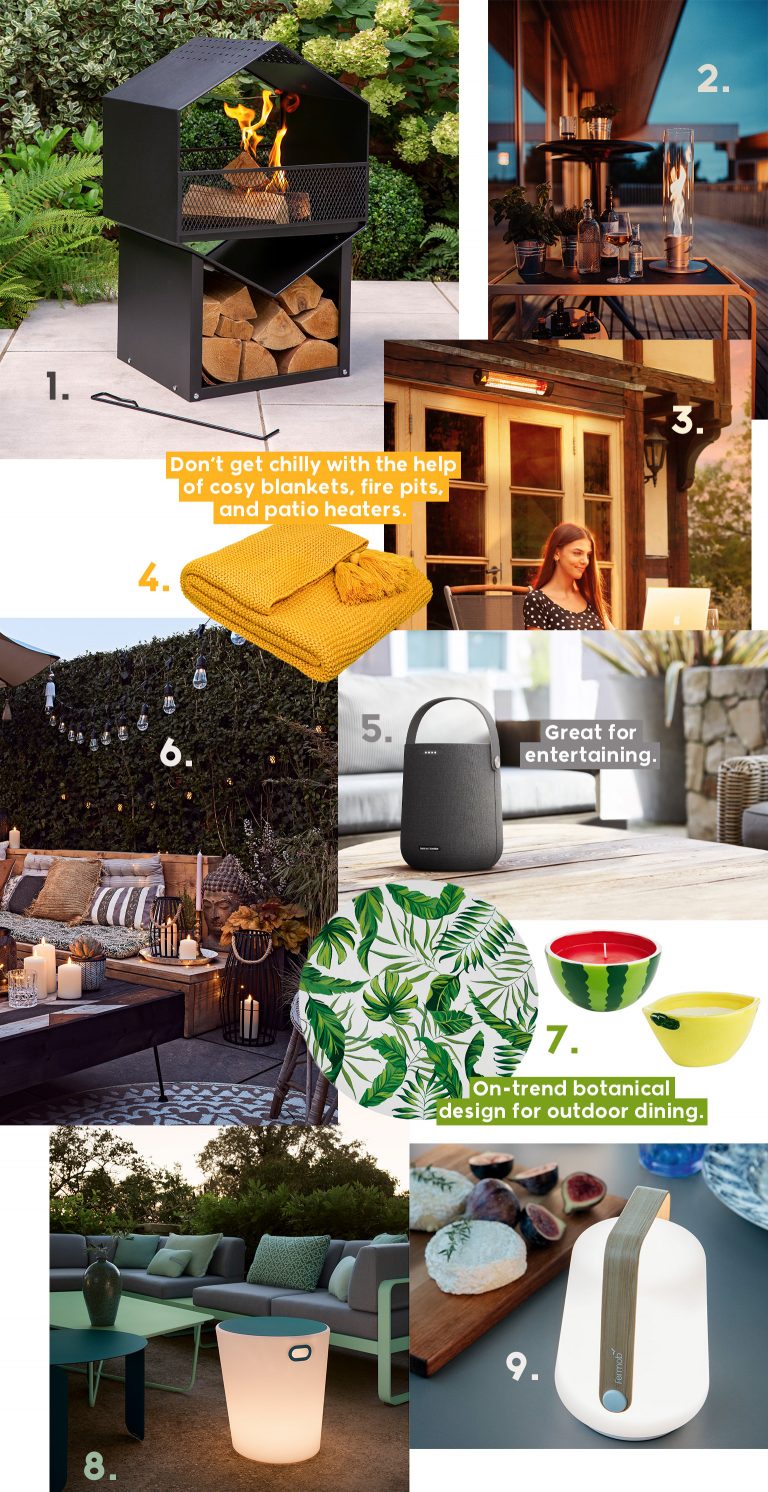 Found a favourite? Let me know in the comments below 👇