Having outdoor space in a rental is a huge bonus. However, sometimes they're not always that desirable, depending on what your landlord has already done to the garden. Or even what has been leftover from previous tenants. But don't worry, I've got some great gardening ideas and tips on how you can bring your garden or patio to life.
From ideas on how to make it a great space to grow some produce to useful tips from industry experts. I hope this post will help you make the most out of your outside space this year!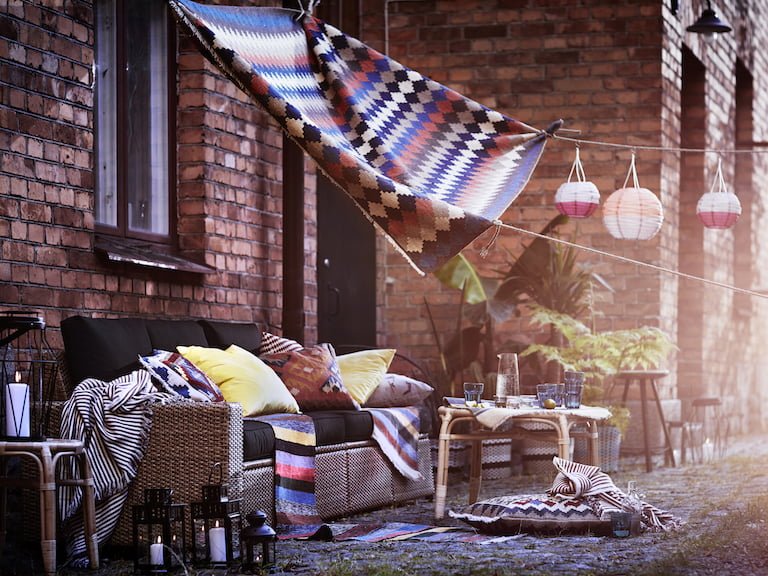 How can I personalise my garden with furniture?
Clotilde Passalacqua, Interior Design Leader at IKEA UK and Ireland says: "When thinking about outdoor furniture first of all factor in how much space you have to work with. If you're tight on space, plan every inch wisely and use products with multiple uses to make the most of it. Storage benches such as ÄNSGÖ are a great year-round way to store products when they aren't needed, and can also be used as a seat or table, the TOSTERÖ storage bag can be used inside the ÄNSGÖ bench to store items such as cushions or garden equipment, keeping them safe and dry. Additionally, consider how you will want to use the outdoor space. For example, if the area is simply for lounging, focus on which sofas and lounge chairs will suit the space or if you'd like to use the area for eating think about how to incorporate tables or a BBQ."
What can I do with a dull patio?
This is a tough one! The last thing you want to do is damage a patio by trying to clean it. Firstly, check to make sure there's no loose grout in between the paving slabs. If there is you'll need to be extra careful not to pull those out. The best thing to do is buy a patio cleaner. There's plenty available at B&Q and other DIY stores, so it's well worth taking a look.
If the patio is in good condition but needs a thorough clean, the easiest and quickest way is to use a pressure washer. I have an extremely old pressure washer but still works quite well. Watching it blast the dirt out of the concrete steps is so satisfying! Kärcher has some top tips on cleaning patios and decking with a jet washer on their website.
If cleaning up the patio is a bit daunting, you can always just make do with what you've got. The easiest way to hide an ugly patio is to use an outdoor rug. These have become more and more popular and I'm seeing them everywhere. They're a great way to make a "lounge" area outside. This rug (featured above) is machine woven with a flat 100% polypropylene pile, making it durable and ideal for the outside. Modern Rugs have many to choose from with different colour options.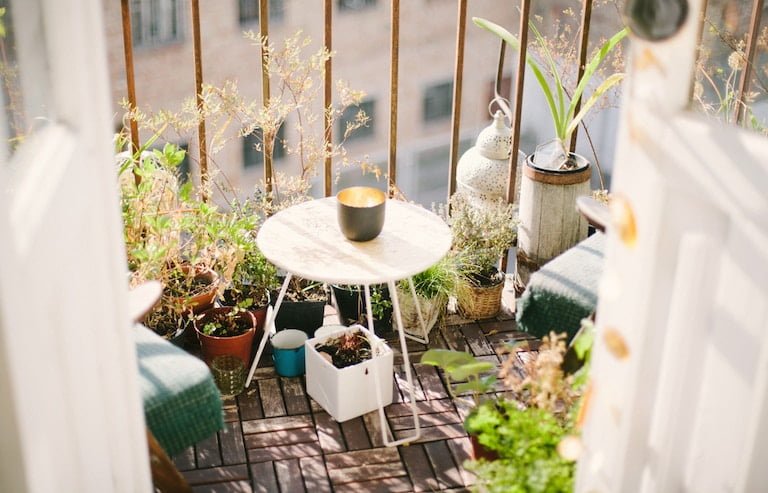 What plants work well in pots and planters?
Last year alongside the path to my garden office, I added a long large planter made out of decking planks. I wanted some low-maintenance and modern looking plants which look great all year round. My first purchase was a collection of unusual Alpine plants and a few Silver Dust plants from Wyevale. I choose these as they look great all year round and will last a long time. In the centre of the pot, I have a small Acer tree (picked up for less than £10 in Tesco) which has dark red leaves to add some strong colours.
By choosing evergreen plants, you'll have greenery throughout the year and therefore, it makes a great investment. If you do like some pops of colour, you could plant some bulbs which flower at different times of the year. This adds a bit of interest to your garden with it slowly changing over the months.
Overall, many annuals and perennials are perfect for growing in contains. Plus if you move any time soon, you can simply take the pots full of plants with you to your new home.

What can I do if I've only got a balcony?
Even with just a balcony, you can still make this a summer sanctuary. Opt for light small fold-away furniture so you can easily make space when needed. This makes it ideal for having guests over as you can fold out extra chairs if needed. A bar table and stall is always a good choice for the balcony!
To keep your balcony uncluttered, the idea is to work up. If you've got a wall, attach some hooks and get some wall plants. If you don't have a wall, you can still create a nice area for planting or growing veggies. I love the vertical planter (featured above) which is perfect for limited space.
How can I grow my own produce with limited space?
You can grow many different types of produce in a limited space! If you're opting to grow in pots, herbs are very useful and easy to grow. Small pots of herbs always look and smell great! I love this hanging wall planter from Wilko (pictured above). Put this up on a wall near your kitchen door and you can grab some fresh herbs just when you need them. Plus, Wilko has an incredible choice of seeds – I've purchased quite a few for veggies this year!
According to the Royal Horticultural Society, produce such as beetroot, broad beans, carrots, lettuces, peas, potatoes, salad leaves, salad onions and spinach are good to grow in pots. Having multiple pots dotted around the garden is a great way to grow a variety of vegetables to enjoy during the year.
You're not limited to pots either. You can buy a grow bag which is an ideal place to grow a variety of vegetables. Some grow bags even contain extra nutrients and plant feed to help give you the best crop.

How can I make the most of my garden all year round?
Our friends at ChimineaShop.co.uk were the perfect ones to answer this question. They said: "You invest in a garden accessory such as a chiminea or fire pit that can be used all year round, acting as a decorative focal point whilst withstanding all that the seasons can throw at it. The large variety of styles and makes now available, from classic to contemporary, means that everyone can find a style they like, that can also be geared to the size of outdoor space they have available with their rental property.
Fire pits, such as the Isla or Ison (pictured) provide an additional heat source for when you are entertaining outside and add an extra twist to everyday outdoor lighting. If you enjoy cooking then look to get a chiminea, we'd recommend a Toledo design if you like a classic look, which allows you to cook or barbecue on them too.
The best part about investing in one of the above accessories for your garden is that if you have to move properties, it can move with you, meaning that your money has been well spent."
I hope these tips help with bringing your garden to life to enjoy throughout the warmer weather! Have you got any other ideas and tips? Let me know in the comments below.