With summer just around the corner, I'm looking forward to spending plenty of time outside in the fresh air. I just love being able to open the doors, let the air inside and enjoy breakfast al fresco before heading to work. If you have some outside space such as a balcony that feels a little unloved, I hope this makeover post will be perfect for you!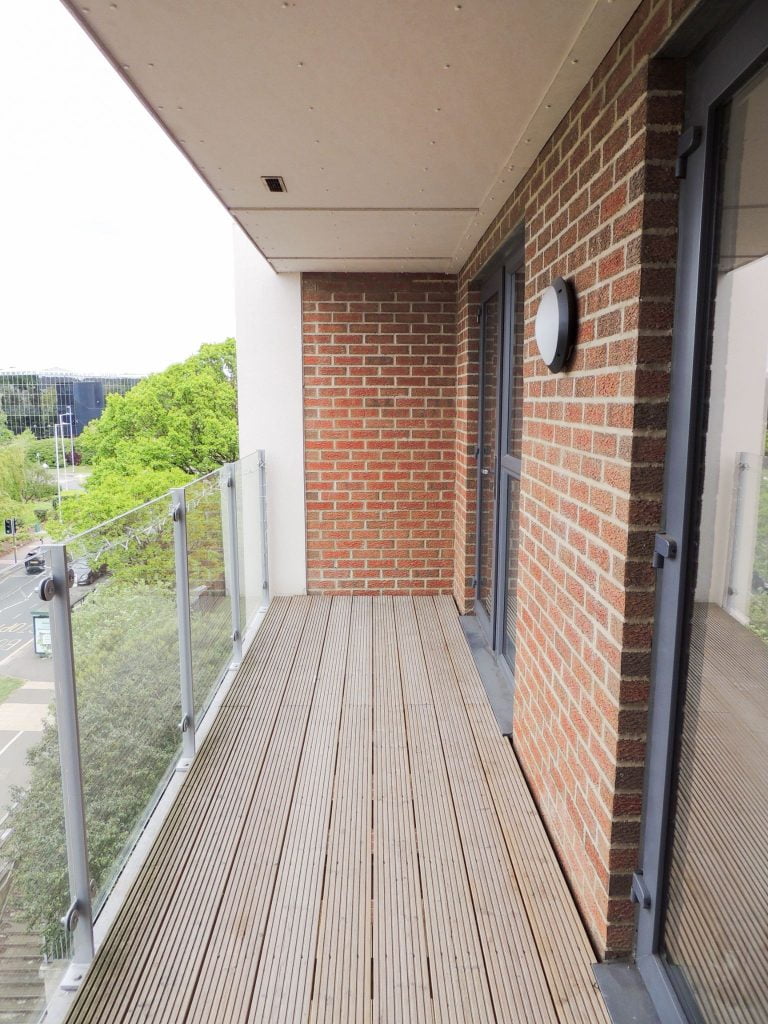 Starting with this blank space, the balcony stretches across the front of the apartment with the lounge and bedroom opening up onto it. One thing I love about the balcony is that it's fairly enclosed with walls either side and a solid roof above. This makes it an ideal space to relax and not feel totally on exposed (apart from opposite obviously).
I wanted to properly define two major spaces on the balcony, one for dining and the other for relaxing. Without spending a huge amount of money, I wanted it to look modern with a simple colour palette and of course, plenty of plants. I could've got more but had to stop myself from going too far. I love a good plant!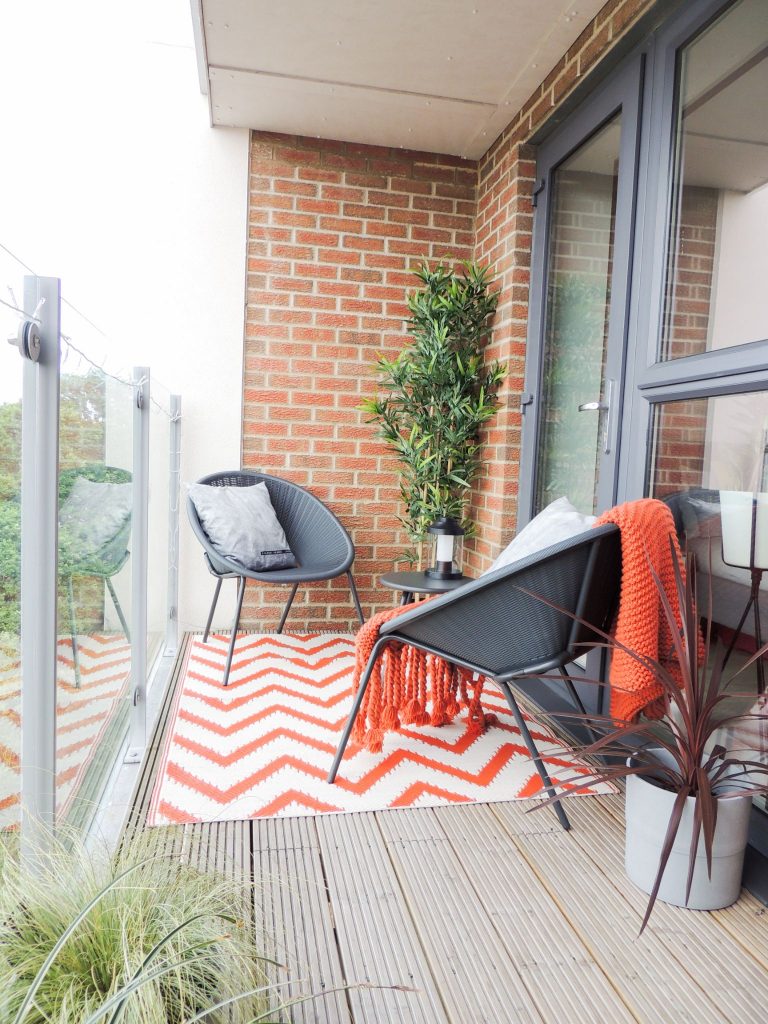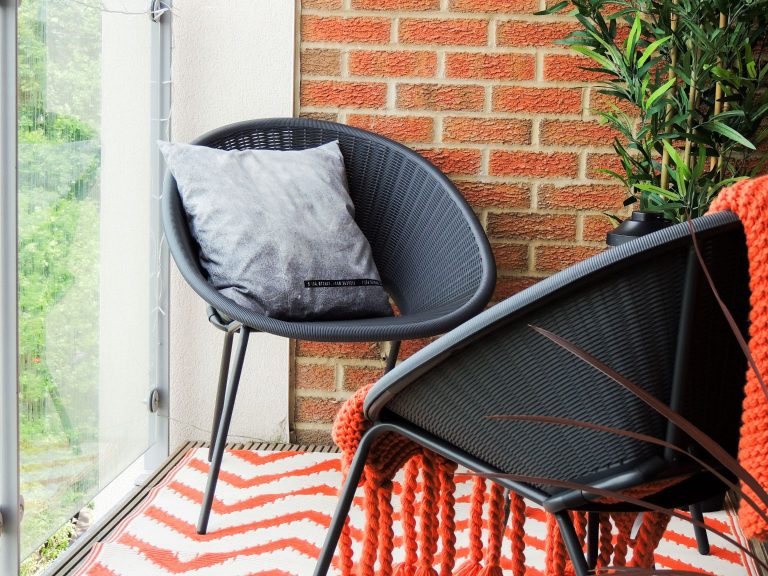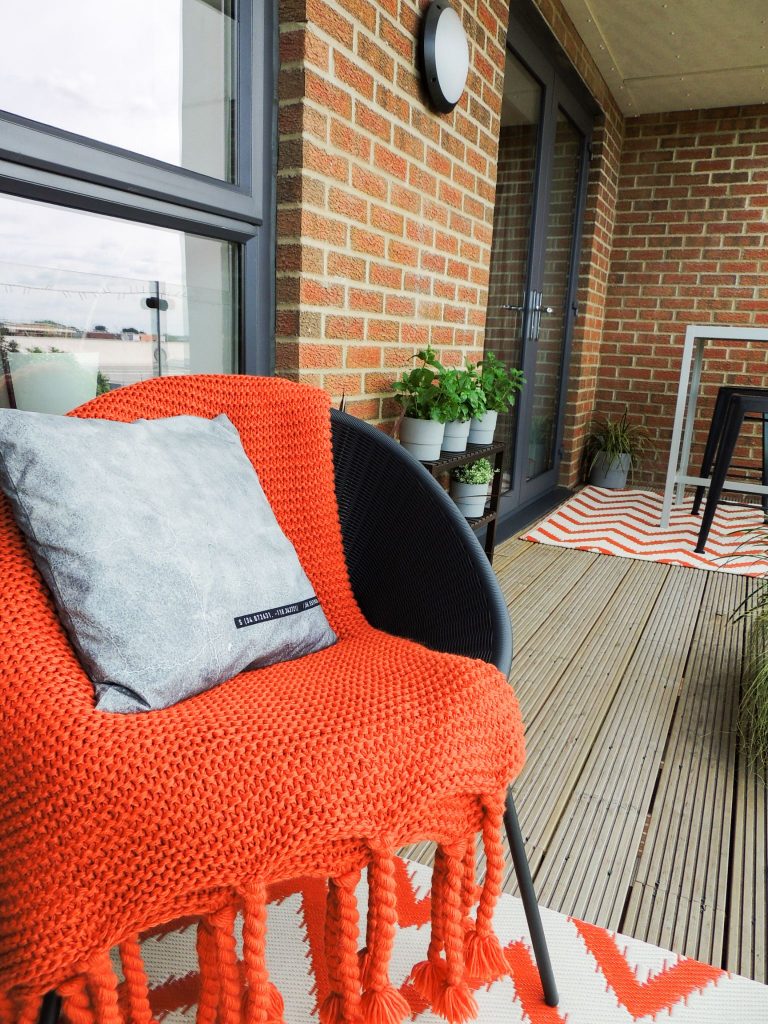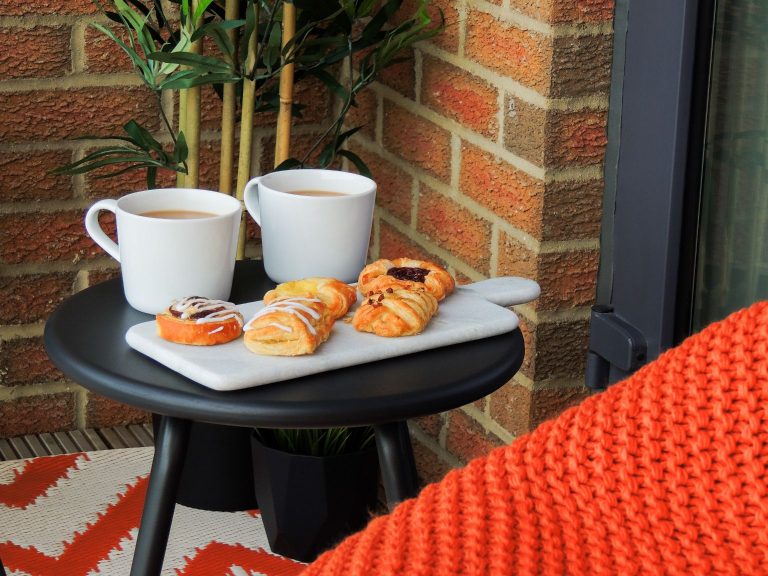 Firstly the most important bit, the furniture! The Rori Stacking Chairs in grey were an absolute bargain for £29.95 each. They are made out of plastic with black metal legs and suit this space perfectly. These chairs are very comfortable on their own and even cosier with the addition of a cushion and blanket. It's the perfect space for some informal dining when paired with the Rori Metal Side Table. This is where I'll be on summer evenings!
The other side of the balcony features the SJÄLLAND bar table from IKEA. With its compact size, a bar table is an ideal choice for a balcony and helps you enjoy the view when dining. Mixing it with these industrial bar stools from Amazon, it can easily be pushed up against the wall when space is needed.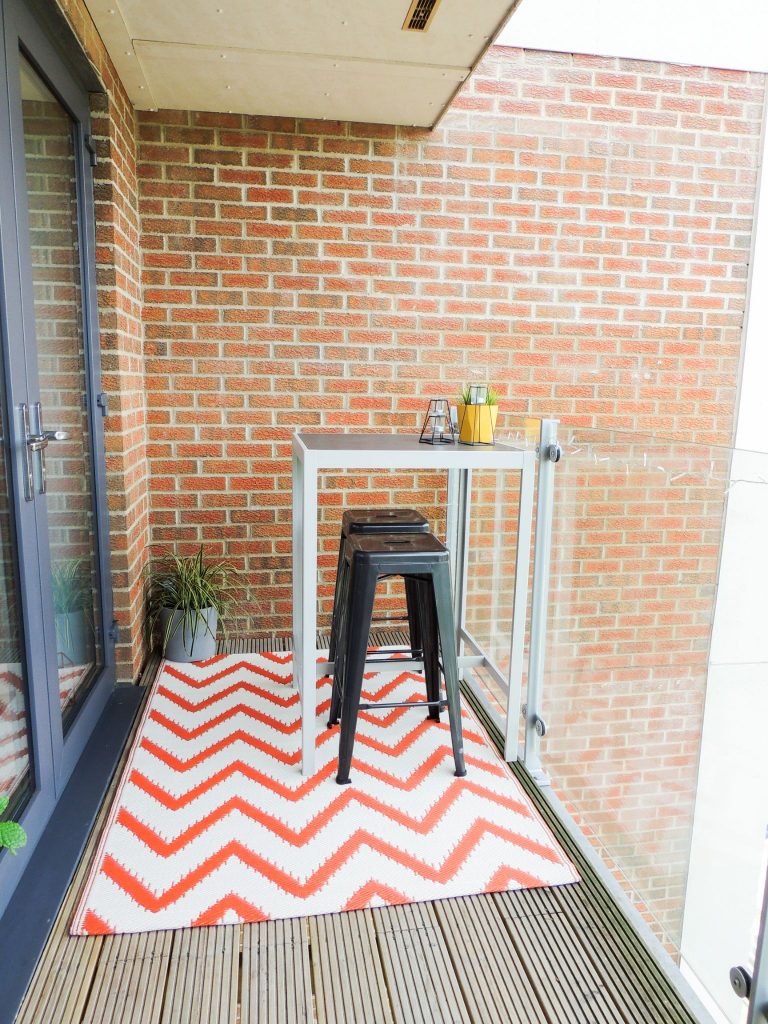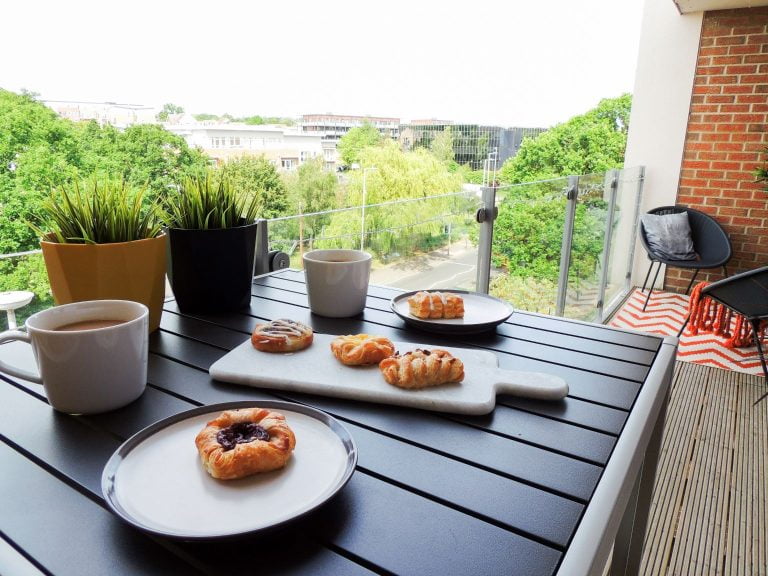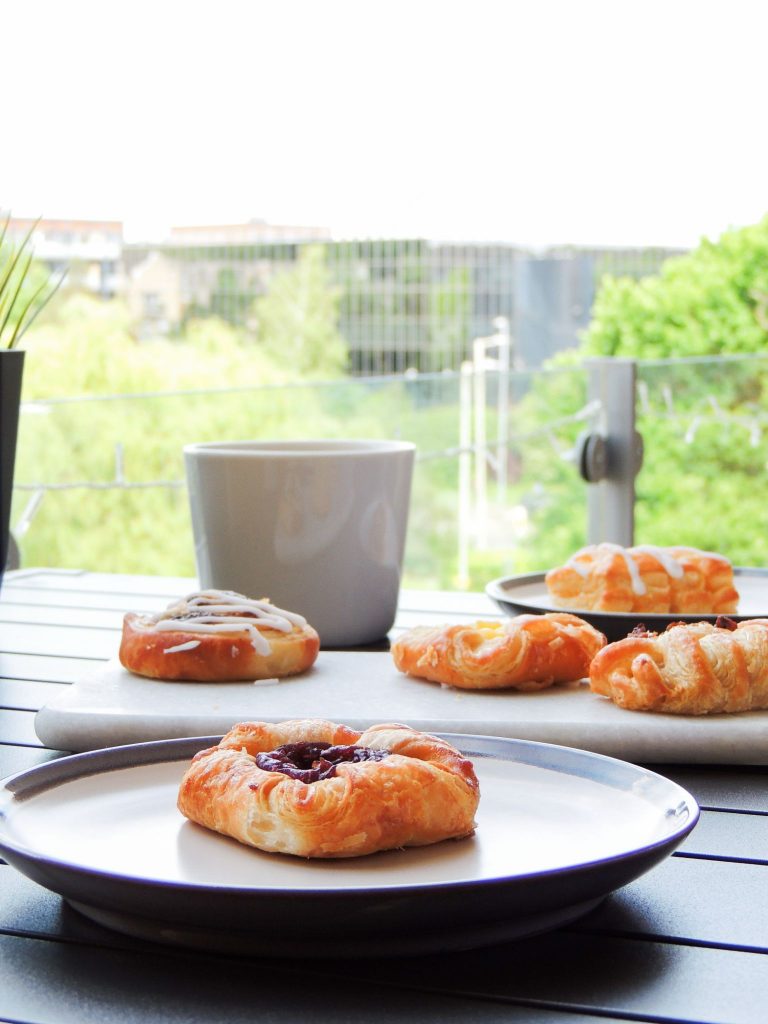 I'm a big fan of making outdoor spaces feel like a lounge so when I spotted the Blooma outdoor rugs from B&Q, I knew I needed to have them! Made out of woven polypropylene, this looks like a normal interior rug but is designed to withstand rain. The chevron design is my favourite and I'm currently obsessed with colour orange when mixed with grey. It looks SO good!
All the grey pots are from IKEA as they look like concrete but are lightweight plastic. These should last for years to come and I just love the look of them. Opting for some easy to care for plants was the main objective here. A few palms, ornamental grasses and some herbs work well in pots.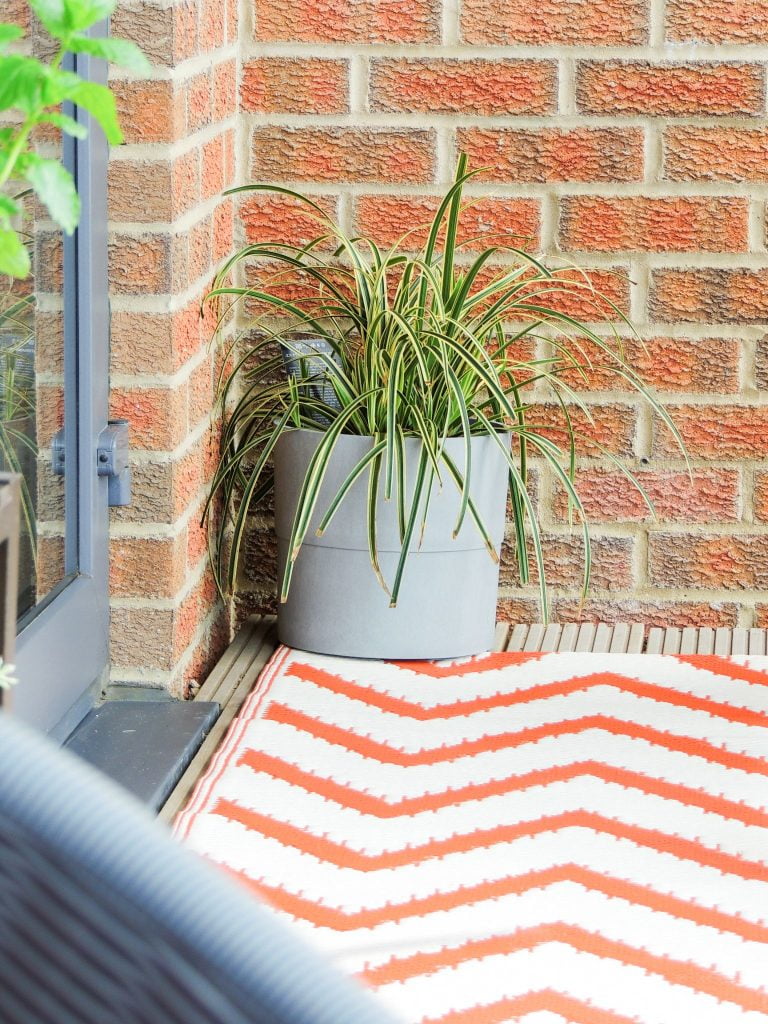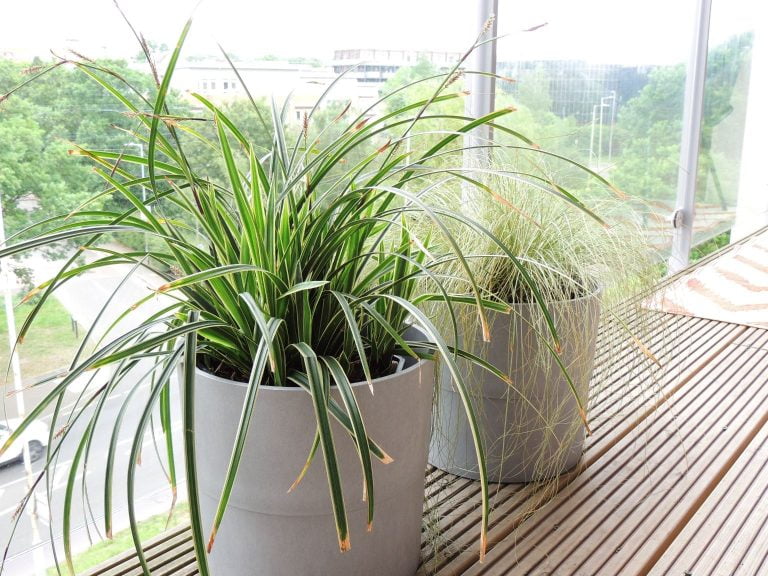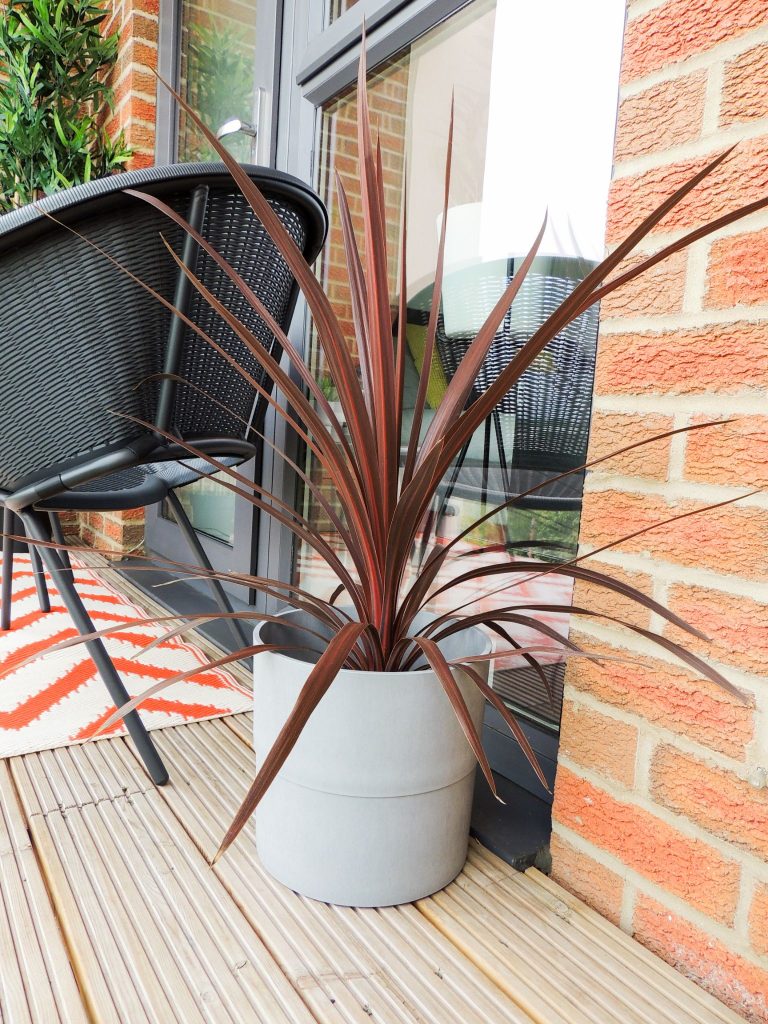 I'm hoping you found this post useful for any upcoming outdoor projects! Let me know your favourites from this post in the comments below 👇