The bedroom, the one place we spend most of our time in but sometimes never quite get it exactly how we want it. I'm always looking at ways to make my bedroom nicer with better storage, lighting and textiles. Getting rid of those day-to-day nuisances and worries is key to helping you unwind and relax for a good night's sleep. With a few simple updates to your bedroom and bedtime routine, it could have a seriously positive effect on your quality of sleep.
I've pulled together a few ideas and products which I think you'll love and will help you get better sleep. If you have any tips, please leave them in the comments below 👇
Calming decor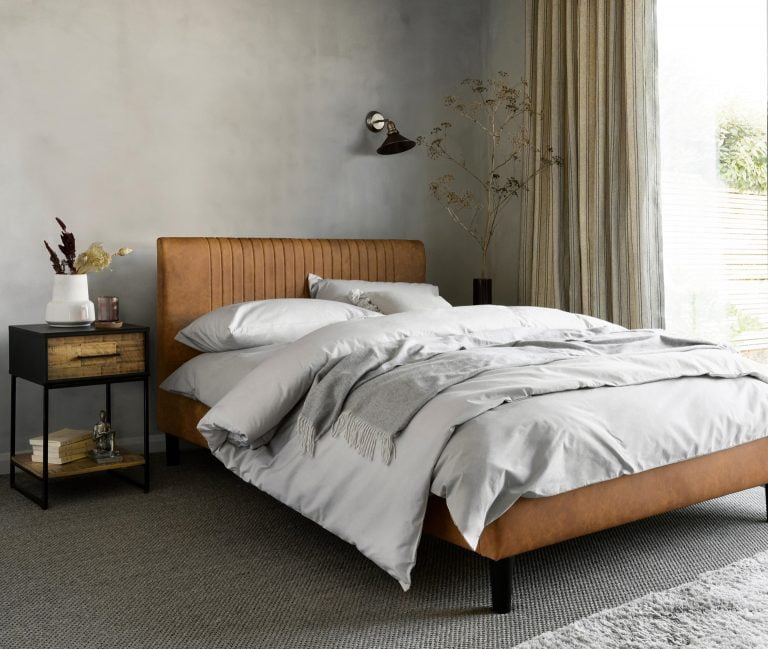 The decor of your bedroom is probably one of the easiest things to update to create a relaxing atmosphere. Not sure what colour or style to go for? Have a browse at some popular hotels online and pin bedroom imagery to your Pinterest boards. Many hotels hire the very best interior stylists to design a relaxing sanctuary to sleep in. Take some design cues and steal their style!
Furniture has a big part to play in your bedroom, from the bed to chest of drawers, everything needs to be functional yet good looking. Clutter is not something you want to see just before you close your eyes at night, so storage is key. Ensure you've got enough furniture to store away clothes, have some hooks on the wall for tomorrow's outfit and keep your bedside table clear and tidy. If you're in need of some innovative storage ideas, check out my recent storage post here.
The most important piece of furniture is, of course, your mattress, choosing the best and most comfortable one will help you sleep better. Finding the perfect mattress can sometimes be a nightmare, but once you've found the one you find comfortable, it's the best thing. Using natural materials within mattresses that let air flow through, rather than using synthetic foam throughout, Button & Sprung produce some very nice mattresses packed full of springs, to help make sleep very comfortable.
Bedroom twilight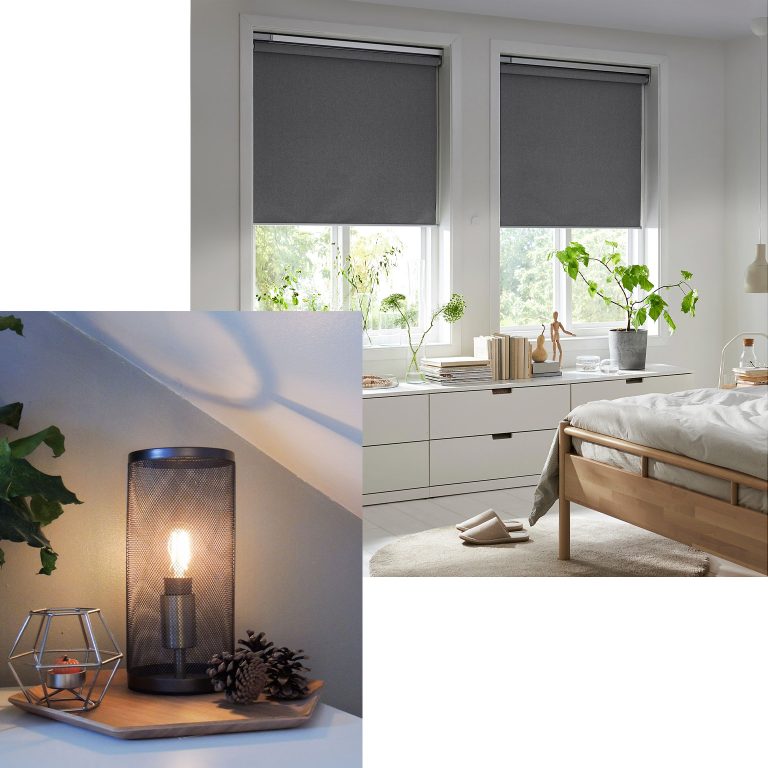 Bedroom lighting is highly important for winding down in the evening and getting ready for sleep as bright lights can disrupt your biological clock. Before getting into bed, dim the lights down to a suitable level. Try some WiFi bulbs such as these from TP-Link which you can easily dim using your virtual assistant or on the app on your phone.
Lights shining through your bedroom window from street lights and early morning sun can easily fool your body into thinking it's time to wake. Keeping this light pollution to a minimum will be a big help. Blackout blinds such as the FYRTUR roller blind from IKEA is perfect for the bedroom. It features a built-in rechargeable battery to easily operate the blinds from the remote control. Link it up to the TRÅDFRI gateway and from the IKEA Home app, you can control from your phone.
Get cosy with bedding

This one is a no-brainer, comfortable bedding is a MUST-HAVE! Ensure you've got a nice warm duvet for winter and a cooler one for summer, so you can swap them around at the right time of year. I usually opt for synthetic duvets as I know they'll last a long time and I can wash them once or twice a year. If you're looking for a new eco-friendly duvet, take a look at this duvet made from waste plastic bottles.
Your bedding is one place where you really do get what you pay for. Spending a little bit more in a duvet cover and pillowcases will not only mean they feel amazing, but they tend to last longer. My personal preference is 100% cotton and the higher the thread count, the better. Mine are from IKEA as the pillowcases fit the larger European size pillows perfectly!
In the winter months, adding a blanket to your bed can help keep you extra cosy and in summer, it may be the only thing you sleep with. When I discovered the Mela Weighted Blanket, I just knew it had to be included! I've never tried one (yet), but I love the feeling of a heavy duvet on me. If you're like me, this blanket might be ideal!
Not too hot, not too cold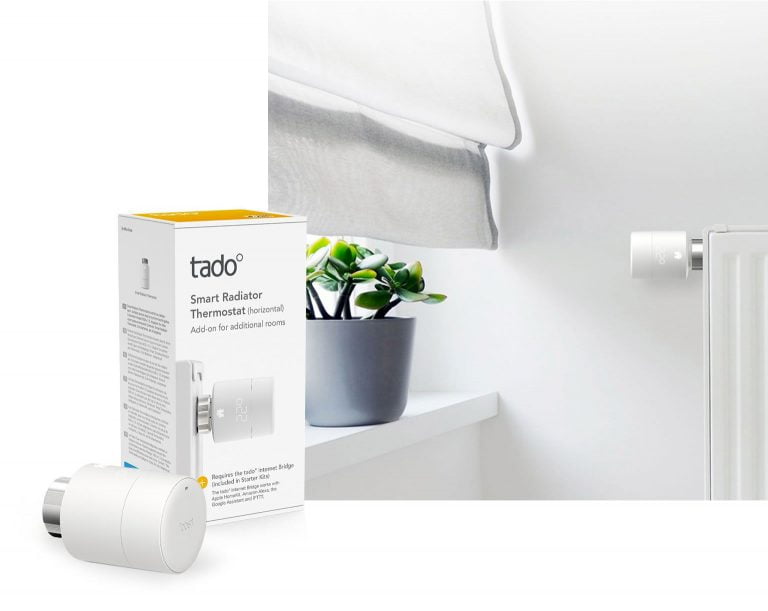 A room that's too hot or too cold is not what you need for a restful sleep. My bedroom is in the attic and it gets ridiculously hot in the summer so I have an air conditioning unit to cool it down before I go to bed (when it works properly). With just one (south-facing) skylight, moving air through the room is a nightmare!
In the evening, it's natural for your body temperature to peak and during the night it drops to it's lowest levels. A room temperature of around 16-18°C is recommended.
To control the temperature of your room precisely, using a smart radiator thermostat like the Tado Smart Radiator Thermostat is the best way to ensure it's just right all night long. In the morning, it's always nice for the room to be a little warmer. So you can easily set this up in the app and when your heating comes on, the thermostat will reduce the heat from the radiator once it reaches your desired temperature. No more stepping out of bed into a freezing room!
Unwind with a routine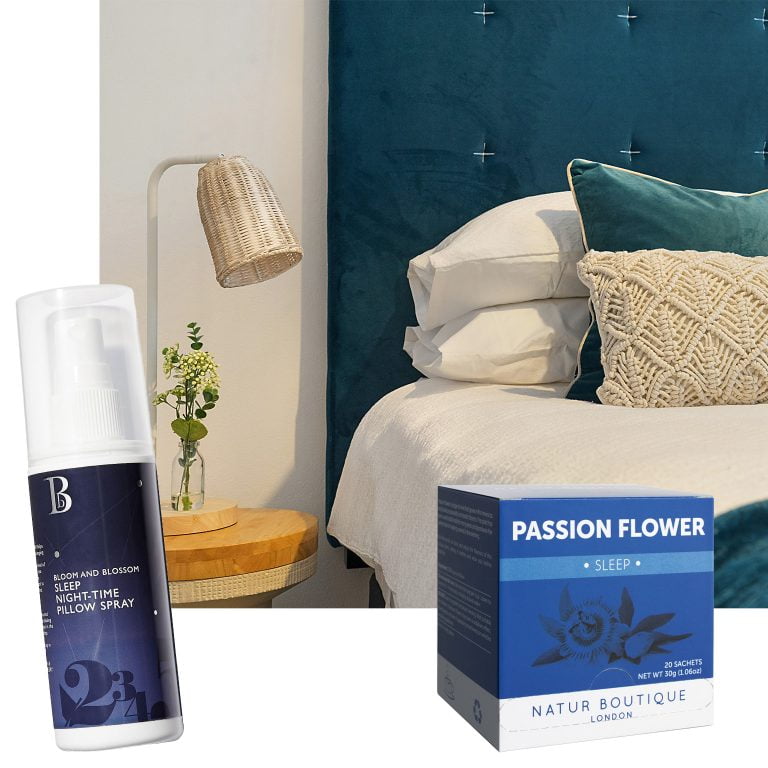 Us human beings are simple creatures, a routine is important in all different aspects of life and a regular bedtime routine is no different. Going to sleep at the same time and doing the same tasks in the evening all help to get us ready for sleep.
Some people swear by a warm drink an hour or so before bed and I can easily see why. I used to have Horlicks most nights as a child and still love it to this day. A warm caffeine-free drink such as Passion Flower Tea is a great way to unwind. Doing this regularly and your mind will connect the taste to preparing for sleep.
Pamper yourself and feel like you're in a boutique hotel with a few spritzes of a pillow spray over your bedding. The naturally calming and luxurious scent of frankincense, chamomile flower, rose water and linden blossom in Bloom and Blossom's Night-Time Pillow Spray each night can help you unwind and relax. Using this scent each night will again help you associate this scent with sleep, which makes it ideal for travelling to help you unwind in a hotel room.
Technology to help unwind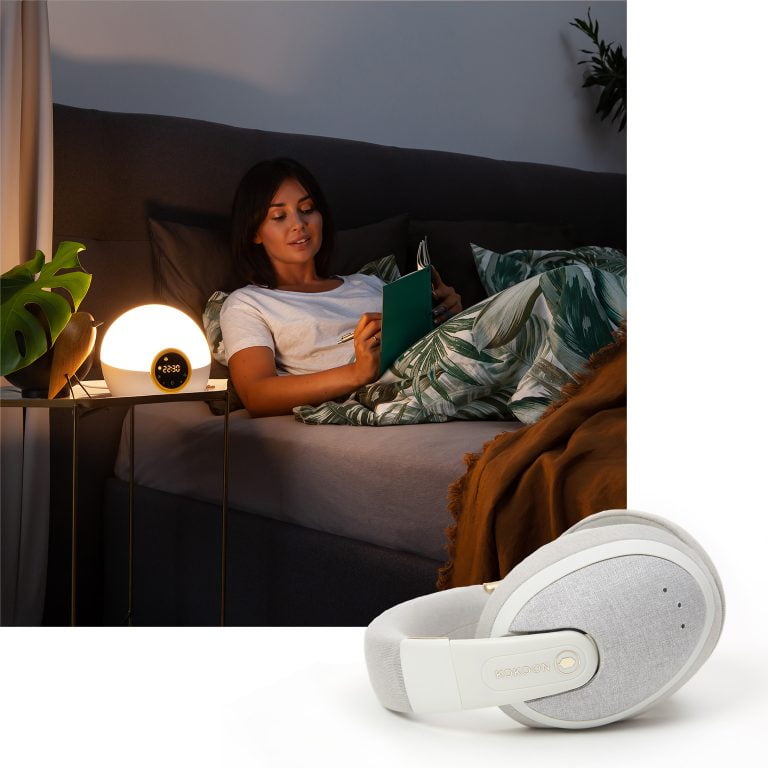 Technology is not only great to track your sleep, but you can also implement it to help you get to sleep quicker. Simple things such as setting smart lights to automatically start dimming at a set time can really help. I have some Kasa Wifi Bulbs which does just this. It's nice to dim them right down before getting into bed.
If you've got a Google Nest Mini in your bedroom, ask the Google Assistant to play a variety of different sounds to help you sleep. My favourite is thunderstorms, which plays for an hour then switches off. You could also try a pair of Kokoon Headphones which are designed to be used when you sleep. Put on the headphones, choose a relaxing soundtrack from the app and settle down to sleep. The headphones actively help block external noise that may disturb your sleep.
In the morning waking up is just as important as falling asleep. Instead of the horrific sound of a loud alarm, try using your smart lights to slowly turn on or even a dedicated light such as the Lumie wake-up bedside light. This combines a clock, alarm and light all in one, which is ideal if you have a small bedside table.