With spring soon upon us and summer not far away, now is the perfect time to give your bedroom a refresh. Your bedroom is a space designed to be relaxing and peaceful and a room that is often overlooked. We spend so much time in our bedroom, albeit asleep, but it's the perfect place to rest and relax in the evenings, winding down before bed.
Sleep is something we all need and love, but when the warmer weather comes around it's not always fun. So preparing your bedroom for the warmer weather is a great idea to get a head-start before summer well and truly arrives.
AD/GIFTED: Having purchased from DUSK before, I was thrilled when they reached out to me to see if I could share their amazing competition. You can see more about this competition hosted by DUSK at the bottom of this post. They have very kindly gifted me a set of bedding which I absolutely love and you'll see in this post and on social.
Here are some of my top tips on how to update your bedroom for Spring…

Declutter and storage
First things first, completely "Mary Kondo" your bedroom. Swing open the doors on your wardrobe and start going through everything. Gift/donate/recycle the things you no longer wear and are simply taking up space.
If you've got storage space above your wardrobe or below your bed, this is the best place to store seasonal clothing and accessories. First, wash and dry everything thoroughly. Pack away all those thick knitted jumpers and winter accessories, ready to get out again in the winter.
Storage in your bedroom is essential. I love the SKUBB range from IKEA to easily store annoying items away. They're great in drawers or placed at the bottom of your wardrobe. I'll be buying a few more for my wardrobes to store all kinds of things.
Declutter your bedside tables by keeping only the essentials to hand. Try putting what's leftover on the tables on a tray to group it all. I'm a little bit obsessed with trays, but they make spaces look neater and much easier to dust the surfaces.

Choose a new colour scheme
If you're in for some proper DIY, refreshing the entire space with a coat of paint will make a huge difference. Neutral colours are naturally calming and can make a small space feel larger.
White is always my first choice and pairing it with natural elements such as wood adds a bit of warmth to the space. But you don't have to go for white to keep it neutral. There is a multitude of neutral shades that look great and can have a relaxing effect on your mind.
Blues and greens are considered soothing when it comes to psychology. So you could decide to go down this route and also match the colour scheme with some print on the walls. You can browse for photography on Unsplash by colour and then upload it to a website such as OptimalPrint to have your photography printed. I did this recently and now have nice photography on the walls in my lounge which I'm pretty confident nobody else would have.

Bedding update
We spend on average around 1/3rd of our life in bed. You should be optimal for comfort and relaxation. Don't get something "that will do" and get rid of it later, go for something that will last a long time.
When I moved into my house last autumn, I wanted some quality bedding but not something overly pricey I'd be too scared to use. I've always followed DUSK on Instagram, so thought it was time to order myself my first proper nice bedding set. As I had just upgraded to a king bed, I had to start from scratch.
I purchased the Cambridge Bed Linen Collection with a black edge. The reason for choosing this particular set was the 100% cotton percale 200 thread count. This is important as it's breathable, good for sensitive skin and super soft. It's a little bit of hotel-Esque luxury to enjoy every day.
If you're opting for a 100% cotton duvet set, remember to also do the same for your fitted sheet. Polyester is very difficult to make feel as soft as cotton, so opt for something 100% cotton to match the rest. Don't just treat one side of your body to luxurious cotton.
I've been very lucky enough for DUSK to gift me the Portofino Bedding Collection including the Connection Bedspread (pictured above). It's super soft and I cannot wait to snuggle in bed with it on my duvet. The waffle texture gives it a unique look whilst also being very neutral in white colour.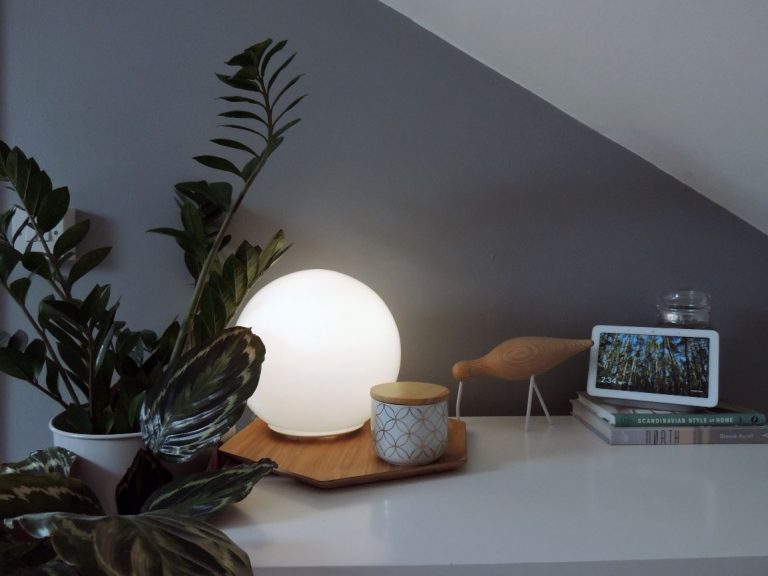 Light up your space
Getting the lighting in your bedroom just right will help you make the most out of your space. So think about what you do in your bedroom and in what parts of the room.
The simplest is, of course, bedside table lights. Depending on your choice, you can go for an all-around coverage of light or spotlights to direct the light in a certain direction.
If you've got a mirror on the wall to help when getting dressed, put a spotlight above this as you won't need all the lights on to get ready early in the morning. Opt for putting lights in the wardrobe too. If you can't wire any in, this sensor LED light from Amazon is brilliant and rechargeable via a USB. I've got one in a cupboard and will be getting more.
One of the best things you can do to make your lighting work for different occasions is to have dimmable bulbs. Go for some smart bulbs from TP-Link Tapo or Kasa and you'll be able to dim these from your phone. I have mine set up to slowly switch on in the mornings to help me get up.
Lastly, opting for some blackout curtains or blinds will help you get a lay-in when you fancy it, without being woken up by the early summer sunshine. A lazy Sunday morning is required regularly!

Bring in nature
Bringing in some plants not only looks fantastic, but it can help improve your wellbeing. The bedroom is the perfect place for plants as they help clean the air and release oxygen into the room.
If you've got space, buying a large plant to make a statement will always look good. Alternatively, having a few plants dotted around the room will look just as good. It's an easy way to bring a bit of nature into your space.
---
Win 1 of 4 vouchers to spend online at DUSK.com
Here's how you can be in with the chance of being crowned the UK's Best Dressed Bed and win 1 of 4 £250 vouchers to spend online at DUSK.com.
Take a photo of your beautifully dressed bed and upload it to Instagram with the hashtag #DUSKBestDressedBed.
Alternatively, head to the DUSK Facebook page and upload your photo to the comments of the competition post with the hashtag #DUSKBestDressedBed. The competition closes at 9am on 31.3.22.
For further information on this competition, visit DUSK.com
This competition is hosted by DUSK.com and not in association with In Two Homes.