Now the festive seasons is over (boo), the tree and decorations are put away, your house can feel a little bare. Not what you need in this chilly winter months! Especially when all you want to do is wrap up warm in a blanket and relax on the sofa. Who doesn't want to be comfy this time of year?
After receiving the 'How to Hygge Book: The Secrets of Nordic Living' for Christmas, I'm in need of a few new homeware items to keep warm. From blankets to candles, there's so much you can do during these winter months to make them a little bit better!
I've rounded up some of my favourite winter hygge essentials for the bedroom and lounge to keep you snuggly and warm this winter. I hope you enjoy this roundup and if you have any suggestions, please let me know in the comments!
Bedroom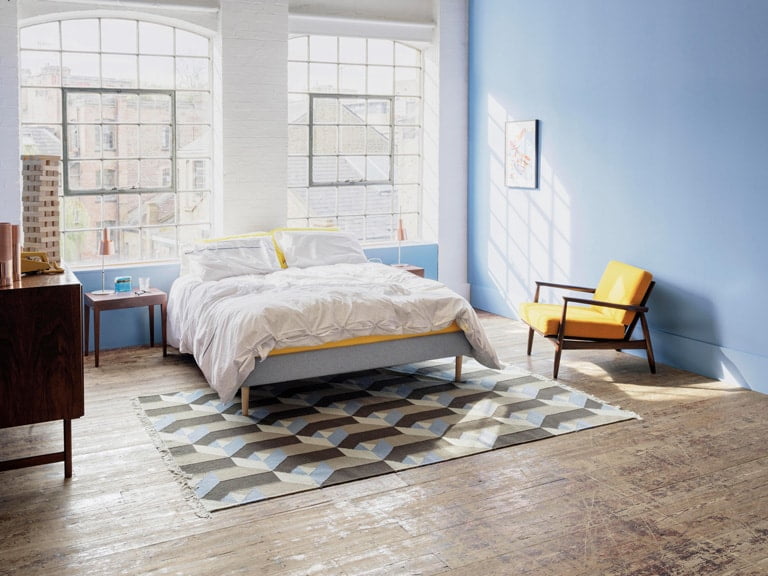 When was the last time you bought a new mattress? Not sure? That means you definitely need a new one! For the ultimate in relaxation, a comfy mattress is incredibly important, mixed with soft bedding to snuggle up in. Whether that's wrapped up under the duvet binge-watching the latest series of The Crown (yeah that's what I've been doing) or having a lazy Sunday with breakfast in bed, comfort is a priority.
If you haven't heard of the eve mattress, where on earth have you been? Founded in London in 2014, eve Sleep offers top-quality sleep products across the UK and Europe. Starting with their iconic yellow-sided mattress, they also offer a beautifully minimal bed frame including pillows, a mattress topper and bedding. You simply order your mattress online with free delivery and enjoy a 100-night trial. If it doesn't improve your sleep, simply return it. What's more, the mattress has a 10-year warranty – they have plenty of trust in their mattress!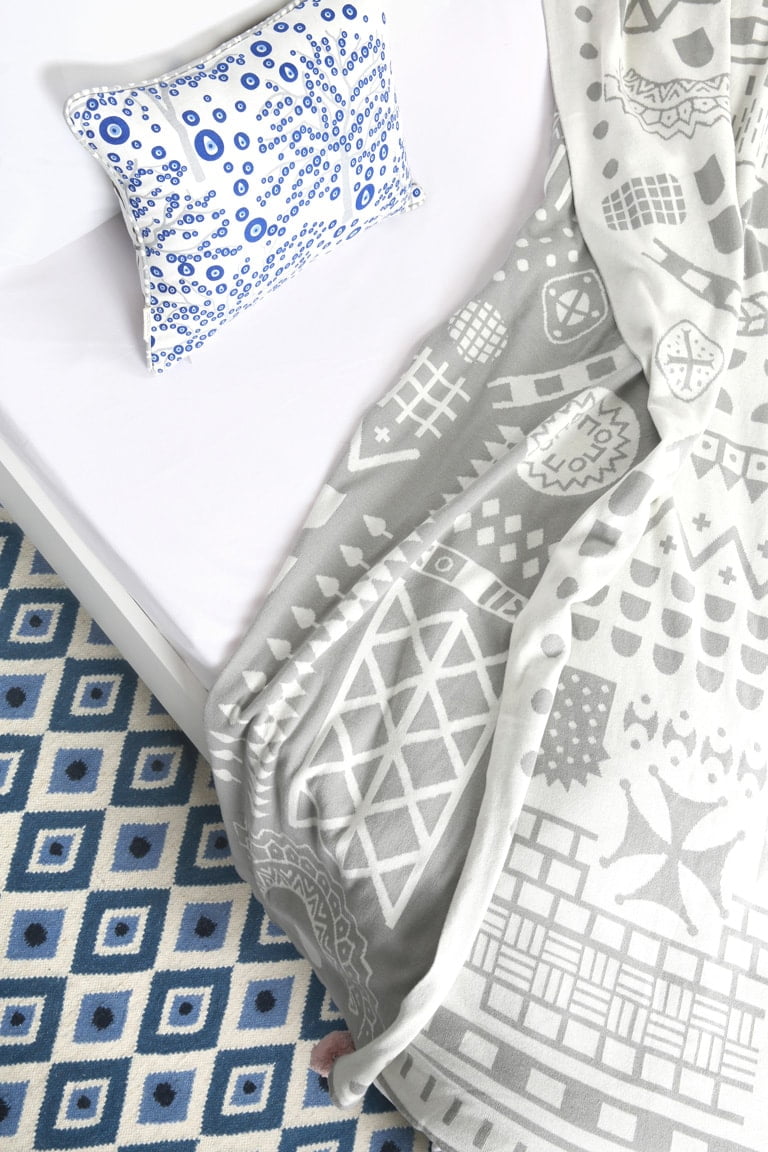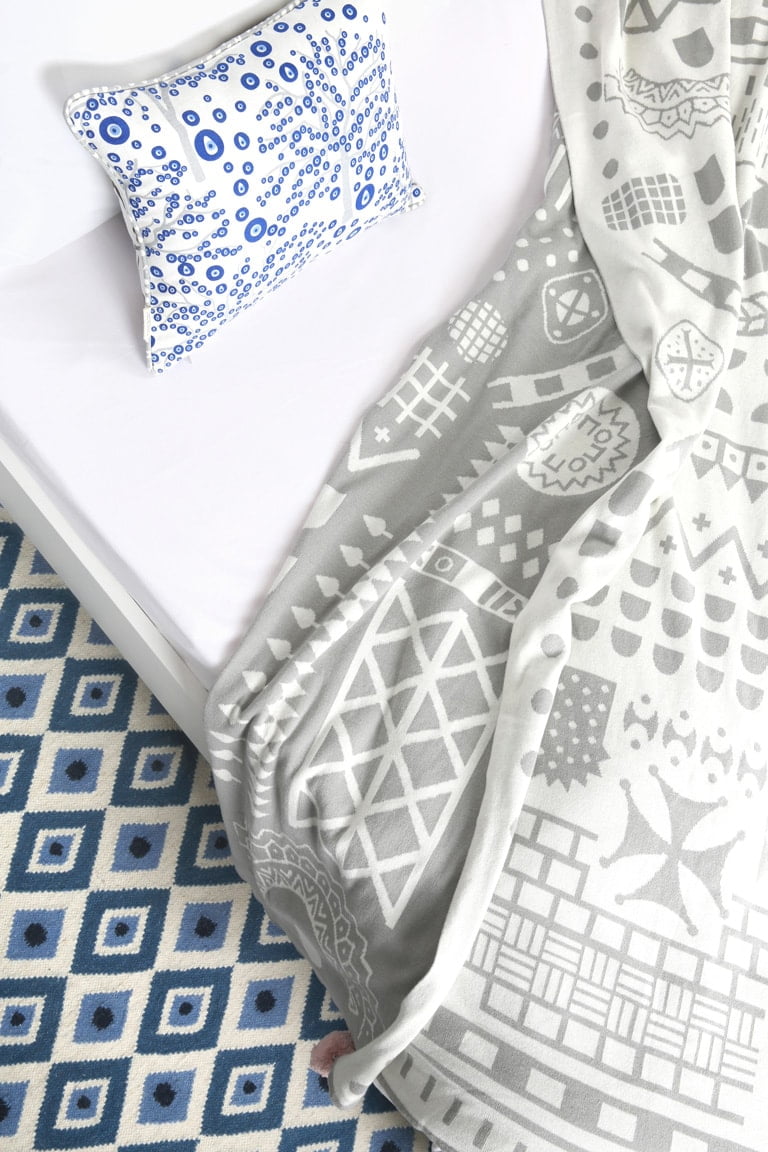 The bedroom is all about blankets. In my bedroom, I keep it minimal with plain white bedding with a blanket thrown across. As the sheets are white, I can easily change the blanket to suit a different style. Over Christmas, it's a soft knitted blanket with snowflakes and in summer it's a plain thin grey geometric design.
I recently discovered this modern grey and white knitted throw from Postcards Home. You can throw this over your sofa, office chair or across your bed. The print is inspired by the ancient landscape of Cappadocia, a historical region in Turkey. It has a hint of geometric design which is my favourite!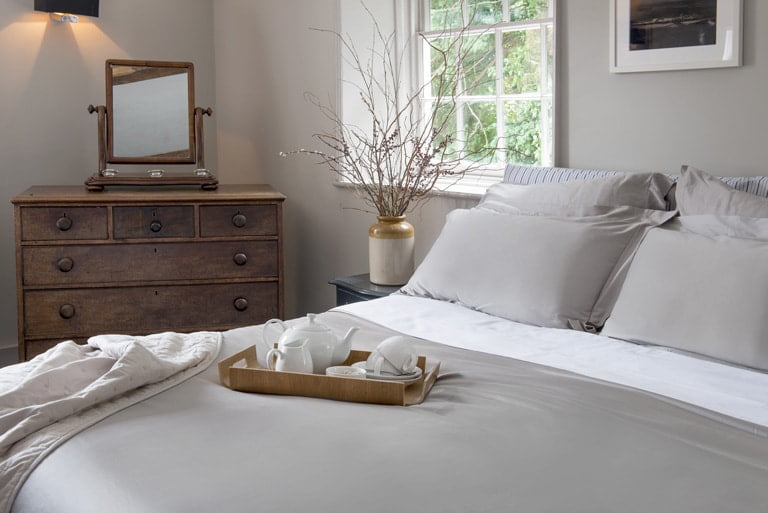 Who doesn't love soft a supple bedding? When I bought my bedding I didn't think much about it. I just wanted something simple, 100% cotton and for it to be comfy. Now I want to update my bedroom I'm searching for something a little bit more luxurious and better quality.
I came across this bedding set by Nour Luxury in a modern pewter colour. The range includes fitted and flat sheets, pillowcases and bedding sets in three colour choices. For the ultimate in luxury, the fabric has a 300 thread count to ensure it soft against the skin. Investing in high-quality bedding is well worth doing as it will last a very long time! Plus, Nour Luxury cotton is GOTS certified which ensures the cotton is organic and it is also manufactured in a Fairtrade certified factory.
Lounge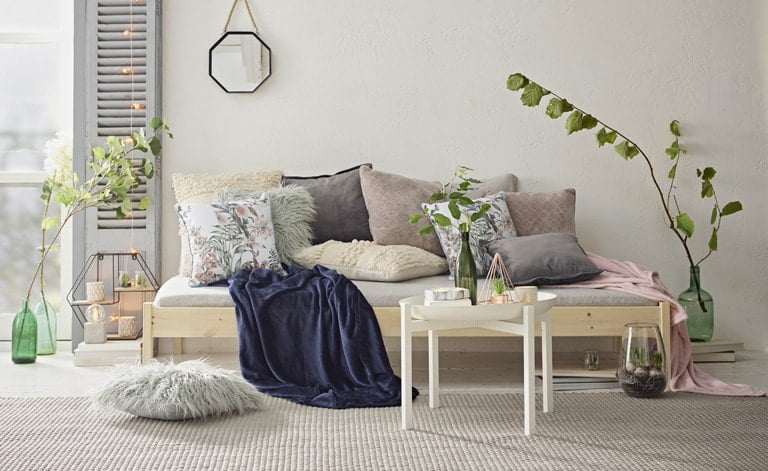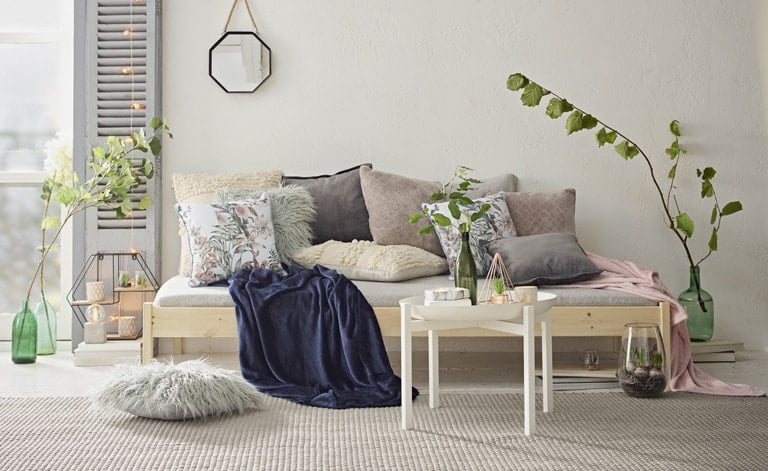 Bring some light into your home on these short dull winter days by pushing open the curtains and switching on a few lamps. This minimal style needn't feel cold and empty. You can easily make a Scandinavian-inspired space feel comfy with a few soft textiles from rugs to cushions.
Step into the homeware section of your local Primark and you'll be greeted with a whole host of bedding and soft furnishings. You can upgrade many of your cushions on your sofa at a bargain price (that grey velvet cushion is only £5). There's also a selection of blankets to snuggle up underneath. I really like this look and think Primark is definitely the place to visit if you're seeking a quick cost-savvy update!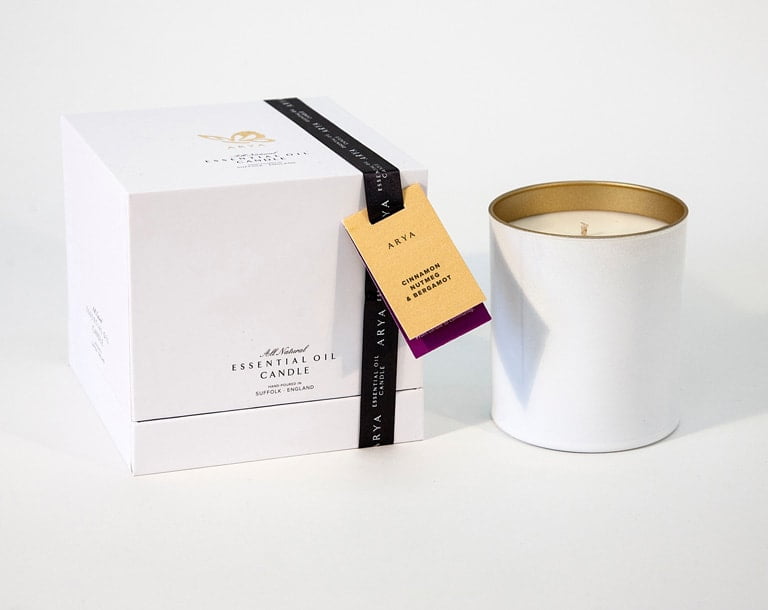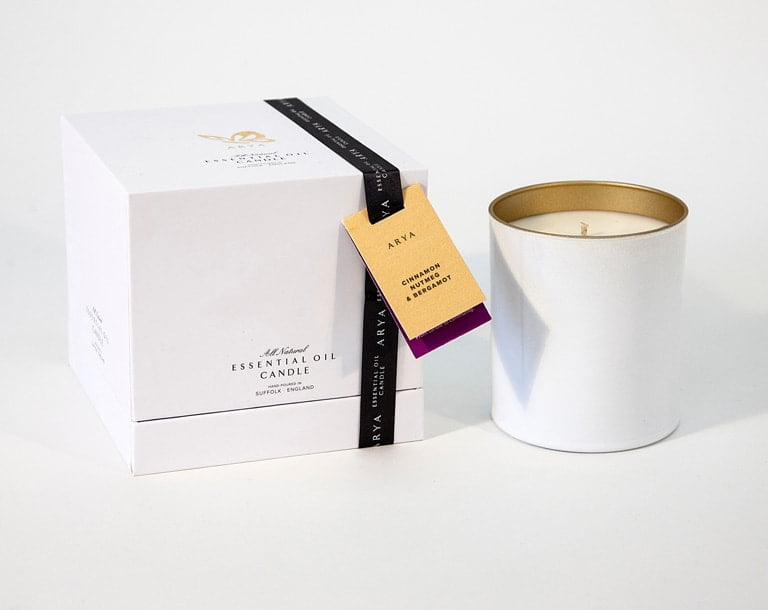 Candles are a main part of hygge. Whether they are scented to fill the room with a fragrance, or plain wax to offer a soft glow, candles finish off the atmosphere. Without a doubt, I have a candle lit every evening. I do buy too many, to be honest!
When it comes to scented candles, I would always recommend spending a little bit more than you usually would. With a quality candle, the scent will be throughout the wax and the fragrance will last long after you've extinguished the candle.
This Nutmeg, Cinnamon & Bergamot candle by Arya Candles is a classic winter scent. The perfect scent to welcome guests into your home! The jar is simple to blend into the background and features environmentally friendly soy wax – my favourite type of candle wax as it burns so well!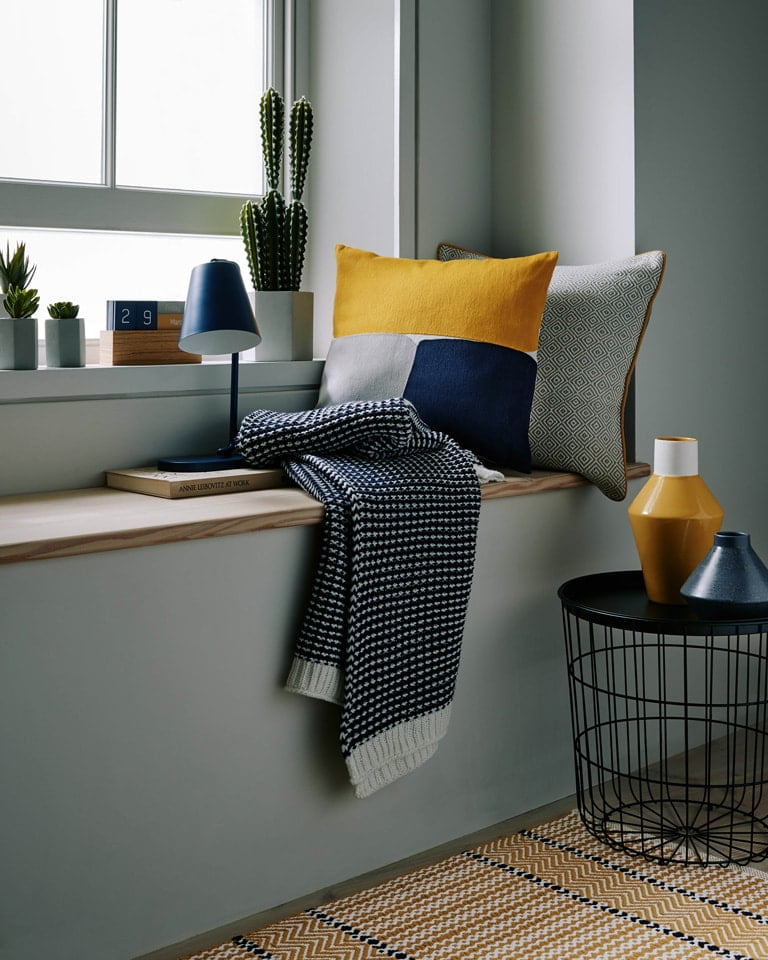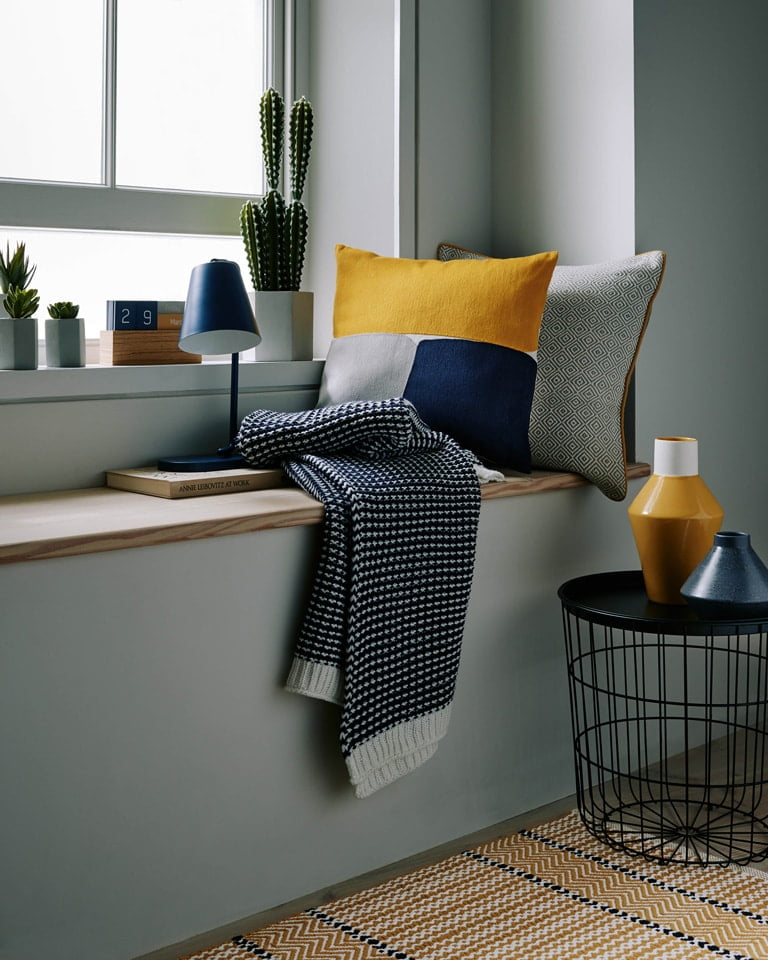 No lounge is complete without a blanket, soft lighting, a ton of cushions and a side table to place your coffee. I'm making it my priority this year to update a few items including my coffee table and cushions. After a recent visit to Sainsbury's and discovering their new Helsinki collection, I had to include it in this roundup!
The new Helsinki collection is full of modern pieces, ideal for the Scandinavian style home. This black wire side table is so nice, mixed with a few of the modern vases. Add a soft blanket to your sofa with a few of the modern cushions for a pop of colour. It's well worth taking a visit to your local Sainsbury's to discover this new collection.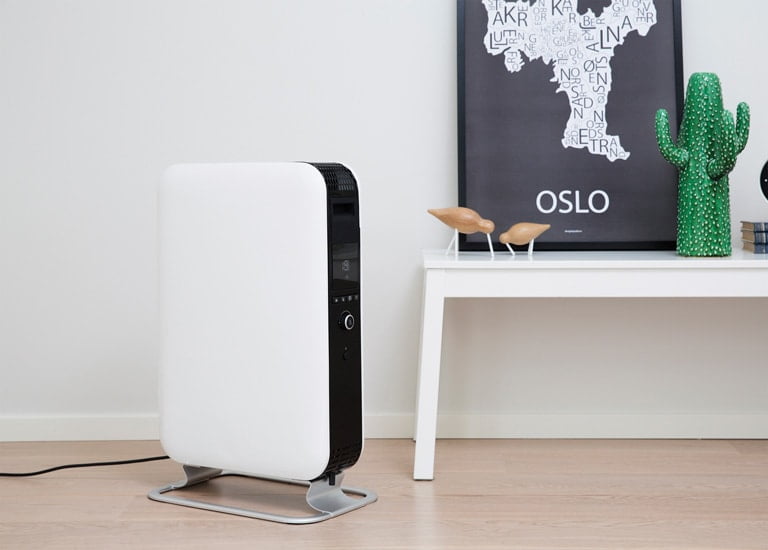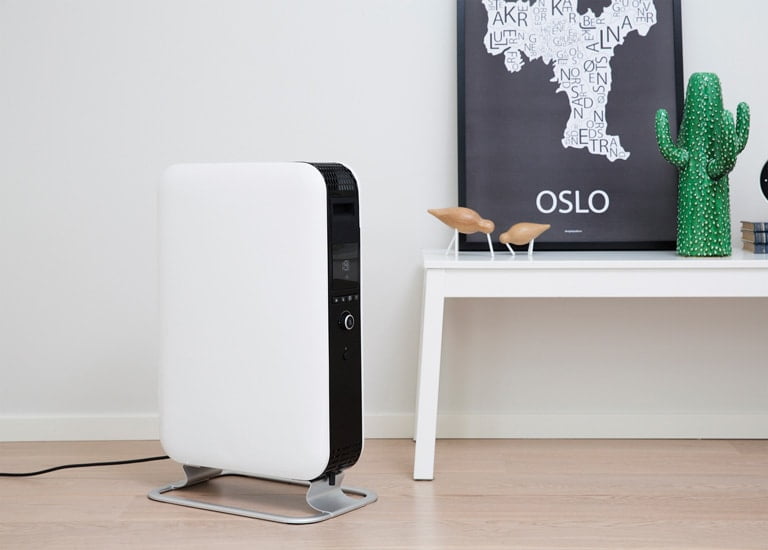 Do you have one of those rooms in your house which is slightly chilly? Sometimes shivering under a ton of blankets isn't ideal and it doesn't add to the hygge feeling. If you're looking to buy a heater to help keep you warm but hate the usual look of fan heaters and electric radiators, you'll love this Scandi-inspired heater.
This stylish oil heater is made by Norwegian heating company, Mill, which is sold throughout the Nordic countries where temperatures are regularly colder than the UK (yes really). With its modern sleek design, it will blend into the background of your room. For an added bonus, this heater features heat boost technology which heats your room 29% faster compared to an ugly traditional oil-filled radiator. Mill also offers a WiFi panel heater (perfect for your smart home!) and a convection heater. You can purchase the heaters from Selfridges, Costco and ao.com.
I hope my ideas will help you update your home this winter to make it a bit cosier! If you're snuggled up under the duvet and don't want to move to dim a light, you need to take a look at my smart home technology post so you can control devices from your phone.
Check back very soon for a new post where I round-up the newest collections launching this Spring/Summer!