With winter well and truly here, the best thing to do after a long day at work is to snuggle up at home and keep warm. These cold mornings also call for lazy Sundays where there's no alarm to get out of bed in the morning. Who doesn't love that?
If your bedroom is in need of a little winter revamp, my 8 top items to buy to help make your bedroom extra cosy will help! From the twinkling light of candles to thick and warm duvets, there are so many ways to make your bedroom a sanctuary you'll want to escape to.
1. Floor rug
If your bedroom has wooden floors, don't underestimate how cosy a rug can make your bedroom feel. Firstly, it helps insulate and absorb sound in the room. If you hear an echo in your room when walking around or talking, a thick rug will help dampen down the sound, similar to what a carpet does.
Getting out of bed in the morning and putting your feet on a cold floor is never nice. By having a large area rug which goes under your bed, it helps ground the space and also feels good underfoot. If you want your feet feeling extra toasty, we've recently discovered RugBuddy. It's like an electric mattress blanket but for your rug, so it's nice and warm when you step on it – great idea!
2. Winter duvet
A thick and comfy duvet is vital to keeping warm during the night. Pack away your thin summer duvet and put on something that will help keep you toasty. For the autumn/winter months, a duvet with a Tog rating between 10.5 and 13.5 is recommended. The higher the tog, the warmer it will keep you.
There are two main categories of duvet filling, synthetic and natural. This is always personal preference and no one is better than the other. I have a Microfibre 13.5 Tog Synthetic Duvet from Marks & Spencer which I've had for many years and love it. If you're seeking something which is eco-friendly, check out the Eco Duvet from The Fine Bedding Company which is made out of plastic waste using 100% renewable energy. Comfy, warm and eco-friendly, win!
3. Electric blanket
If you've never slept in a bed with an electric blanket before, you're seriously missing out! I used to own one (I broke the wire so need to buy a new one) and loved using it during the winter months. The best thing was to turn it on 15 minutes before getting into bed so it was nice and toasty.
Using an electric blanket on all night long will keep you warm without having to keep the heating on. That way, it's an incredibly good way of saving energy as these are very energy efficient. The Silentnight Winter Nights Heated Underblanket from Argos is a great choice. Simply lay it on your mattress, tie town with the cables and place your sheet over it. After your first night, you won't know how you've been able to live without one!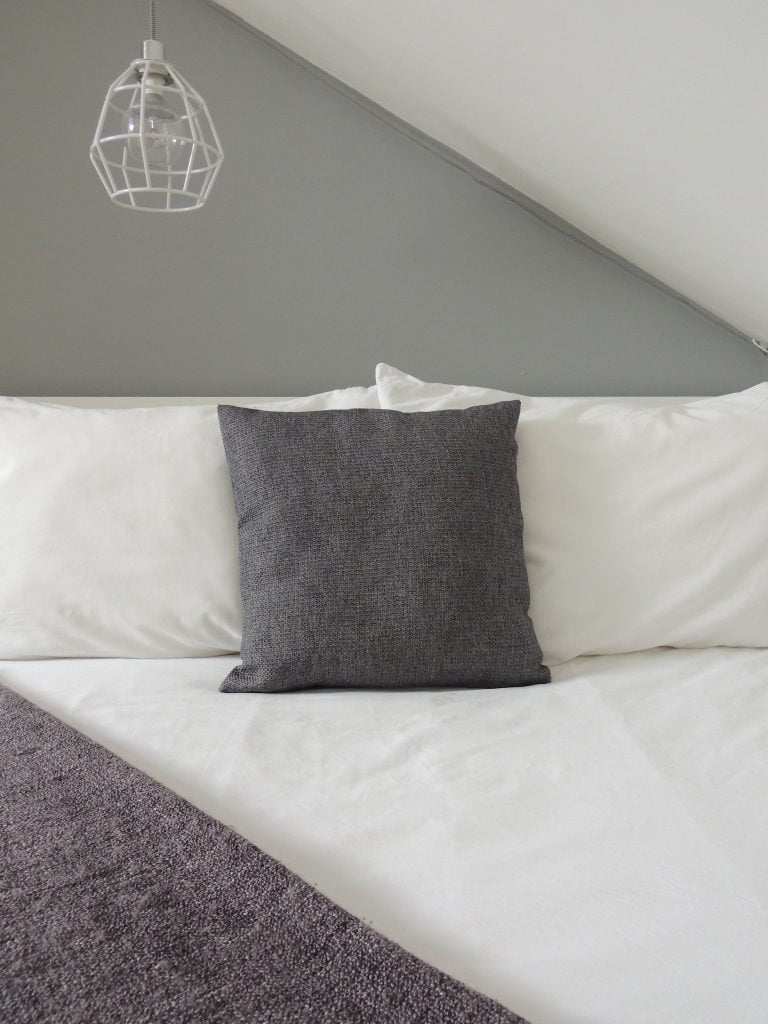 4. Bedding
Soft and comfortable bedding is a must and I always believe opting to spend a little bit more will help make your bedding last longer. However, it's still possible to pick up some great bargains. For cost-effective bedding, my favourite places are Asda and Primark which both have a great selection!
My pillows, duvet and bed frame are from IKEA and I chose the European sized versions. As the standard European sized bed and pillows are bigger than the UK counterparts, I always struggle to get bedding which is a perfect fit. However, I shouldn't complain, IKEA has some really nice bedding. At the moment I have the 100% cotton DVALA Quilt Cover and 2 Pillow Cases which at £17 for a double, you really can't go wrong. Especially as it's 100% cotton, which I would recommend for any bedding you may buy.
5. Mattress topper
Mattresses can be very expensive and although they should last however many years the manufacturers say they should, they don't always do and they tend to feel uncomfortable. If that's sounding like your mattress, have you tried a mattress topper?
A mattress topper is like a mini mattress for your mattress. They can be made out a variety of materials and come in many different thicknesses. Argos has a huge selection of mattress toppers with so many brands to choose from. They're a quick and cost-effective way to prolong the life of your mattress!
6. Blankets
What bedroom is complete without a few blankets? Blankets can help you keep warm when draped across the duvet, or simply used to wrap up in when you're watching the latest episode of your favourite series on Netflix. I won't go on about blankets too much, because I'm sure you have plenty!
During the winter months, I pack away my lighter and thinner blankets for thick, heavy and dark colours. On my bed at the moment is a beautifully soft grey Faux Fur Print Throw from Wilko. It looks great draped over white bedding and gives it that 'hotel bed' look. If you've got plenty of blankets, roll them up and put them in a wire basket beside your bed. Not only will these look good, but they're at hand to throw over the bed and change up your look regularly.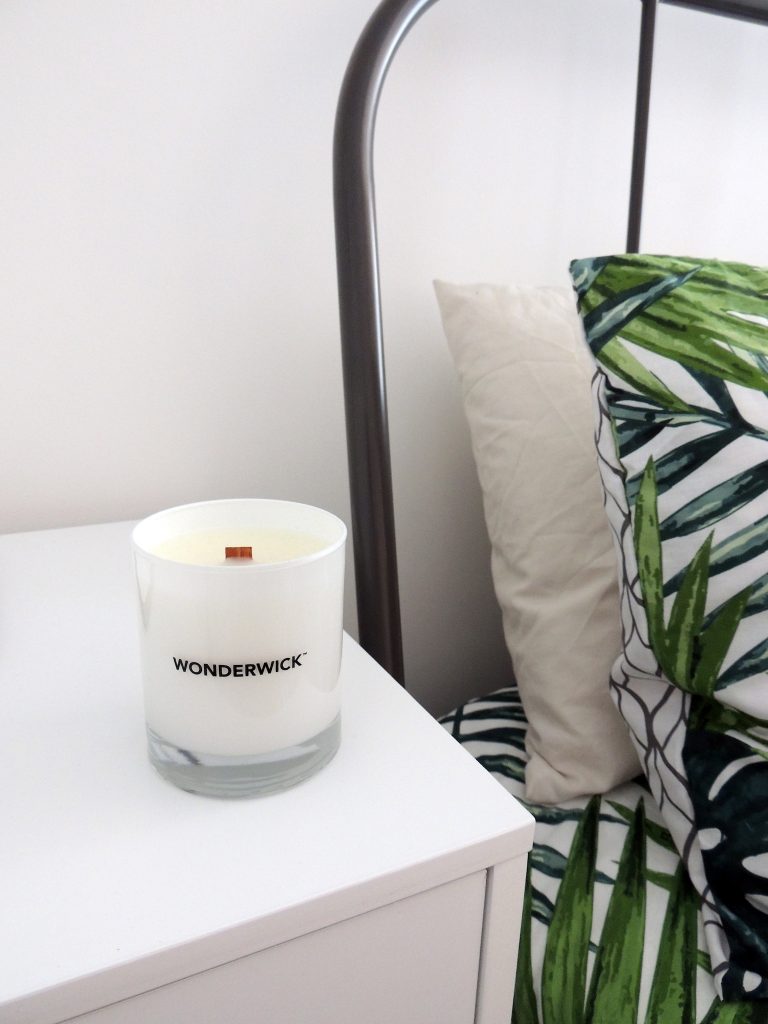 7. Candles
I'm a sucker for a good candle. If I'm in Homesense, I'll no doubt be going through all the candles! The flicker of candlelight produces a lovely ambience which is warm and inviting. Great for winding down in the evening before getting into bed. No wonder the Danes swear by them!
For winter, a scented candle can be a real treat. My favourite scents for this time of year are fresh fragrances like fir and balsam, mixed with some darker woody fragrances to add to the cosy feel. One candle brand I really like is Wonderwick. The scents of these candles are brilliant and the sound of it burning is even better. It makes a kind of crackling sound when burning, similar to a fireplace. Perfect for a cosy evening snuggled up in bed with a good book.
8. Lighting
It's well known that bright lights can interrupt your natural rhythm to drive off to sleep. This is why it's important to have the right kind of lighting in your bedroom. A bright ceiling light is never going to make your bedroom feel cosy. Switch it off, save that for getting ready in the morning!
Bedside table lamps are essential and pop some LIFX dimmable bulbs in them and you can set the perfect brightness. I also love the feature on the LIFX App which slowly dims the light over 30 minutes before it turns off. Great for drifting off to sleep! If you're limited on space, try a lamp wire hanging from the wall or ceiling. These look great with a warm glowing bulb. Alternatively, some LED string lights hanging on a wall look great. I have this set from Amazon which can be dimmed.
Those are my top 8 tips and ideas on making your bedroom extra cosy this winter. What advice can you share to help make a cosy bedroom? Leave your advice below!