Over the years, Tesco has been increasing and improving their furniture and homeware collections. With beautiful pieces of furniture in the latest styles, soft on-trend bedding and modern dinnerware, Tesco has become one the best places for affordable homeware.
In my recent post showcasing Tesco's Spring/Summer 2018 homeware, you'll see two modern collections alongside their premium brand, Fox & Ivy. All of which have had a nice upgrade for Autumn/Winter 2018. It was great to see these collections at their showroom last month and chat with some of their design team.
The countryside theme is still here, now called "Sweet Chestnut" and the modern Scandi-inspired "Oslo" is full of fresh modern designs. Finally, there are some stunning new pieces by Fox & Ivy and check out the bar accessories – I know what I need for Christmas parties! (Oh yes, mentioning Christmas in JUNE!)
Ready for Autumn/Winter 2019? Click here to discover the NEW AW19 collections from Tesco Home and Fox & Ivy. Soft blankets, twinkling candles and cosy bedding perfect for the new season.
Sweet Chestnut
The brand new Sweet Chestnut collection is unmistakably autumnal. With warm dark colours, soft throws and twinkling candles, this theme will fit perfectly in any home. Wildlife illustrations appear across many of the bedding and accessories alongside deep red berry and neutral grey colouring of the throws. This adds to a feeling of the countryside, snuggled up in front of a roaring fire. When you see these in store, give the blankets a feel as they are SO soft and snuggly – definitely on my wishlist!


Oslo
As much as I love dark warm colours for Autumn, I always fall back on bright and fresh colours bursting with Scandi-inspired designs. If you're like me, you will love the brand new Oslo collection. This is full of modern graphic prints which look fresh and stylish. The contemporary style of the dinnerware and soft furnishings will be on-trend for a very long time. I've spotted many items I'll be buying from this collection, especially the bedding!


Fox & Ivy
If you're seeking premium homeware at affordable prices, the Fox & Ivy brand at Tesco is one you'll love this Autumn. This collection is full of luxurious materials from 200 thread count cotton to soft and supple velvet, beautiful marble and exquisite fine china.
There's a mixture of colour tones throughout this collection with regal blue and gold accents through to lighter shades with floral designs, for a timeless look. The Fox & Ivy Nero Dinnerware made from stoneware look extremely durable and could easily be blended with accessories from the Oslo collection. If you're planning on hosting some Christmas parties this year, impress your guests with the new gunmetal barware which look incredible!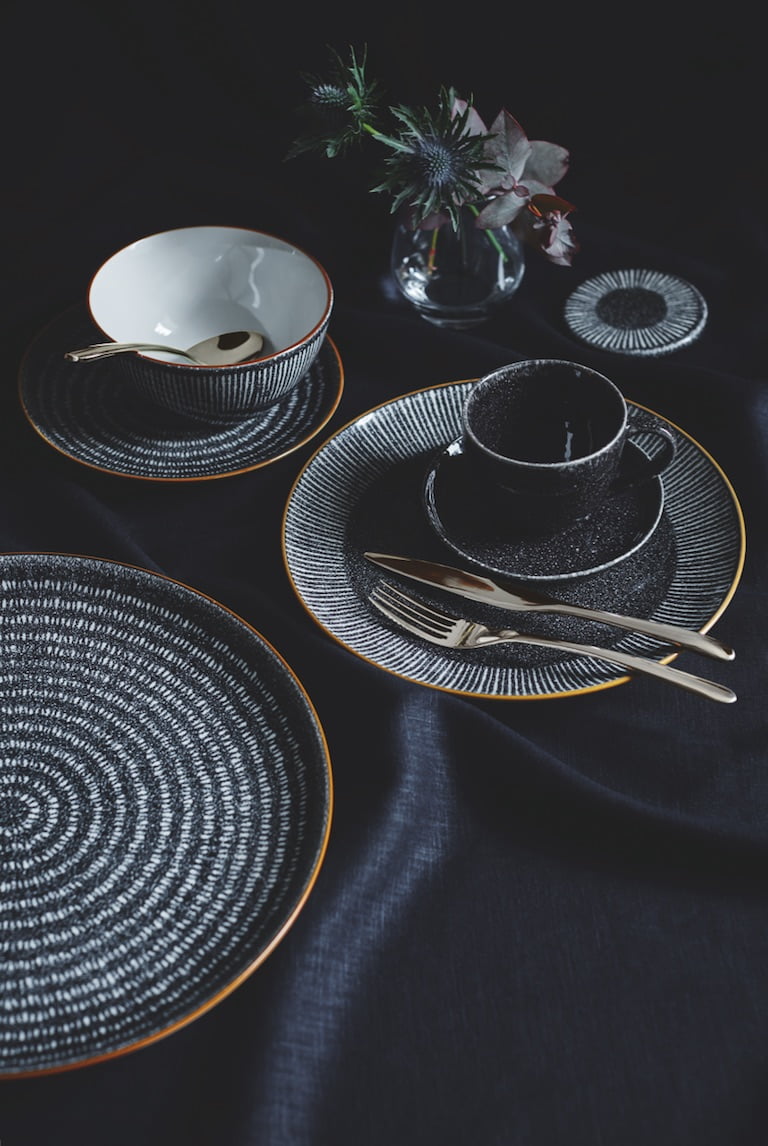 What did you think of this little preview of new homeware arriving at Tesco this autumn? Let me know your favourites below!
To shop the current Spring/Summer 2018 collection, visit tesco.com
The collections will be available in stores and online in Autumn. The prices provided above may differ upon release.