I hope everyone had an enjoyable April and made the most of the short spell of sunny weather that it gave us. I'm sure I speak for many of you when I say that the sunshine made me excited about a summer revamp of my home. It also made me realise that my garden has become quite the jungle over winter and so the battle to make it half usable will surely commence soon. I have some lovely monthly favourites for you this month. I hope you find something you enjoy.

These cushions come as a result of a collab from Handpicked by Kate and Rosehip & Wild. With the botanical theme not going anywhere soon, these are a lovely way of bringing the theme into your house! Especially if you are like me and are a bit colour shy, these are not too loud or green! 

I love everything about these. The design, the colours and the endless amount of uses for them. They could be used for plants but also for lots of different storage around the home. They also come in a great collection of colours, perfect for any home.

This collection of tableware comes from a ceramicist and designer-maker called Rachel Cox and has proven very popular due to the collections beautiful design and pastel colours. I tend to struggle to find pieces that make my kitchen look like they are there for style rather than just necessity and I feel these fall into both categories.

If I could spend all my money on bed linen I think I would. For me, they are the centrepiece of the bedroom and give you such an easy way of changing your room so quickly. I love the colours of these linens above. This kind of blush/peachy pink really keeps catching my eye recently which is strange because I have never been into pink before now. The rest of the range consists of some really wonderful colours or they have a classic white set which looks very dreamy!

A couple of years ago I don't think I would have looked twice at a garden chair but now I find myself staring at this longingly! The chair really speaks for itself with its beautiful design and finish. The only downside is it is on the pricey side – anyone good at finding those budget alternatives?

What more could you want from a garden table? It's different than anything I've seen before and would make any garden space instantly more stylish and exciting. I love the contrast between the stone base and wood top! In fact, this brand, in general, has some wonderful pieces for garden furniture so if you're thinking of doing a bit of a summer revamp then definitely check it out!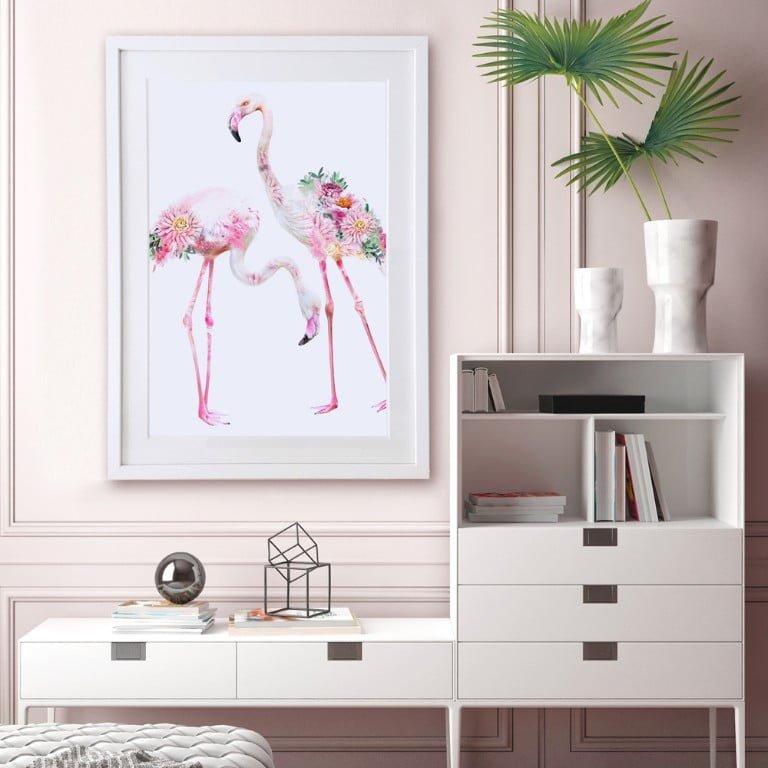 And finally, a bit of wall art to bring the sunshine and summer into your home. See, again with the pink, I am a changed woman! I think these art pieces mixing wildlife and botanicals are stunning and so on trend with the flamingos. They also have wonderful giraffe one that you should also check out!
I hope May brings us more sunshine and you enjoy the bank holidays if you have them off. Please spare a thought for us shift workers that will be missing out on the pub gardens and BBQs!
Until next time…