Does your home suffer from WiFi blackspots? Is WiFi feeling sluggish in areas of the home? A mesh WiFi system is exactly what you need and the Netgear Orbi could help you solve your WiFi problems – it did for me.
So what exactly is a mesh WiFi system? Put it simply, it's similar to what you get in hotels and offices, just much easier to set up and designed for home use. First up, you have the main hub which connects to your router plus a satellite hub. The main hub then sends WiFi to your satellite hub which also transmits the same WiFi signal, thus boosting your coverage.
I've never tried a mesh WiFi system before, so when the team at Netgear got in touch to see if I'd like to review the Netgear Orbi AX6000, I couldn't say no. My current wifi is provided by a WiFi/Router from Virgin Media and it's fairly good, nothing special. Most of the time I connect via ethernet, especially for gaming as I play all my games over the internet using Shadow.
The Netgear Orbi AX6000 was sent to me for free for the purpose of this review.
In the box, you'll find the main hub and one satellite. It uses the latest WiFi 6 which offers speeds up to 6 Gbps – this is so far superior to what I'm using now. More than I'd ever need and very future-proofed.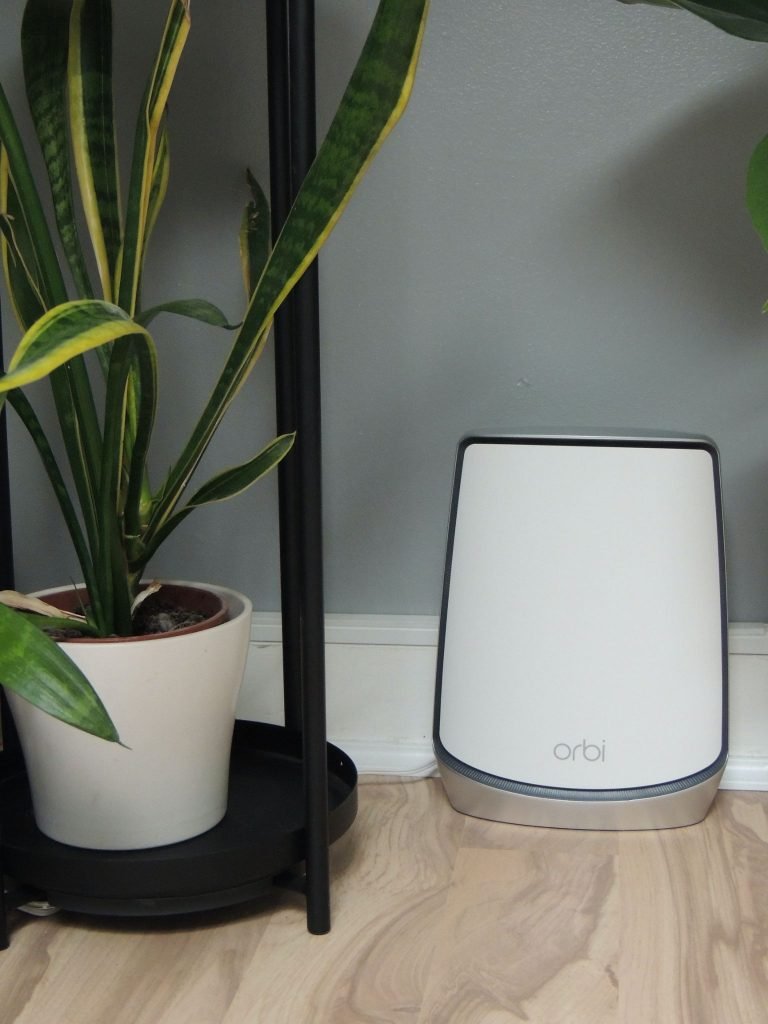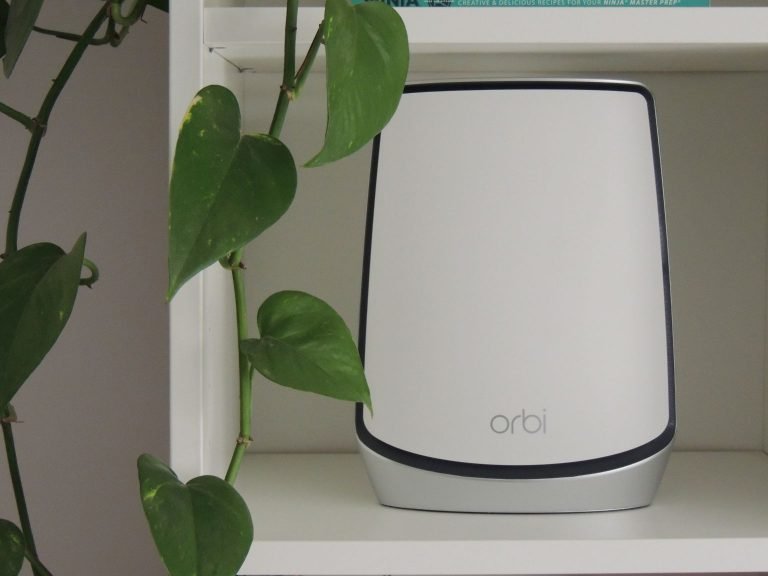 The design
A minimalist style of white with grey sides and bottom. There's no flashing lights, no huge branding and looks like something which could easily blend into the surroundings on a shelf or bookcase. I currently have one beside my TV upstairs and the other, downstairs on a bookcase. They mingle into the room and I forget they're there.
Setup
The setup was astonishingly quick. In the box, there's an installation guide that direct you to download the Orbi app to your phone which then guides you through the setup process. First of all, you plug in the main hub to your router and power. Once connected to the internet, find a location near the opposite end of your house for the satellite – this just requires power. In around 10 minutes, my new mesh WiFi network was set up and ready to go.
Originally, I thought the satellite would work as a standard WiFi repeater. Oh, I was wrong. The main Orbi hub and satellite have their own dedicated WiFi 6 connection with each other, processing all the data without interfering or slowing down your main network. This increases capacity and helps reduce any kind of data lag.
Very surprised to see that the satellite also features four Ethernet ports. If you've placed this in a location where you can plug devices that can use an ethernet connection, such as smart TV's and computers, I'd recommend this. It will give an even better connection and reduce reliance on WiFi.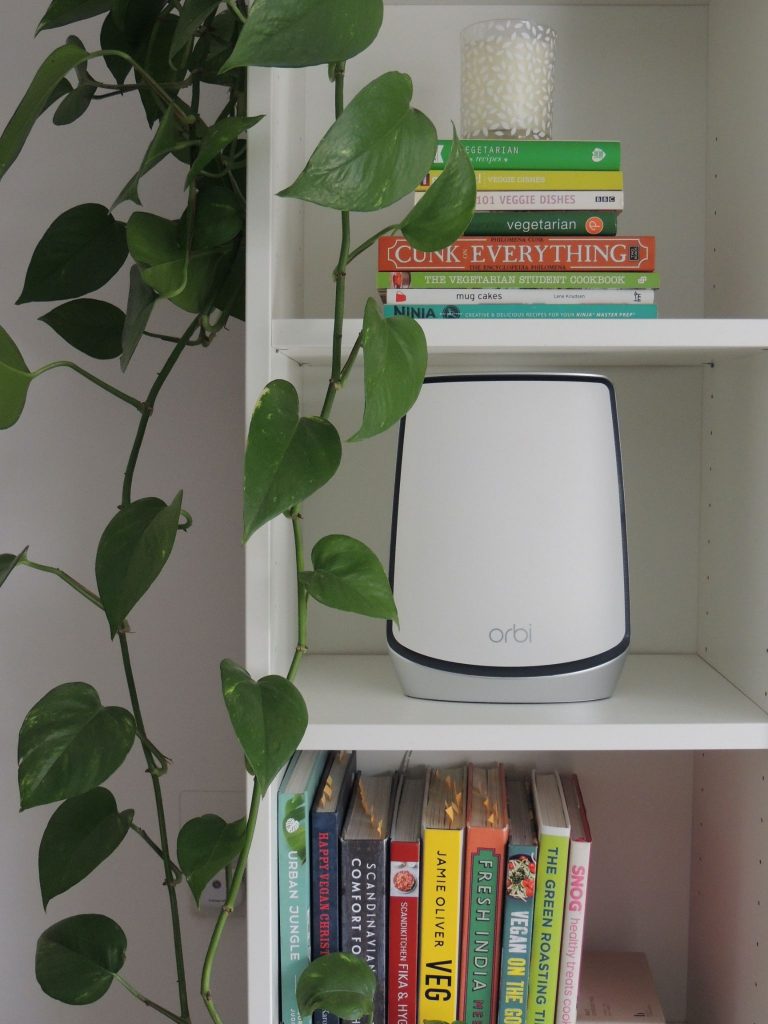 Performance
Firstly I wanted to see how it would handle me playing games using Shadow. If you haven't used Shadow before, it's a high-end gaming computer in the cloud, specifically set up to transmit your game over the internet. It's incredible and means I can play games in a higher quality than what my MacBook would be able to take if played locally. If you're looking to sign-up, use my referral code: RIC0SJ1Y
Usually, my WiFi connection would buffer a bit and there would be a few interruptions. Not anymore! I may be about 5 metres from the main Orbi, but I was seriously impressed. This is not what I got from my ISP provided WiFi router hub, far from it.
Now I know gaming works well, how does it perform when using my TV? I unplugged it from the ethernet and connected it over Wifi. It had no issues playing 4K video from Youtube, nor did the UHD content on Netflix give it any problems. Quick to load and smooth to play throughout.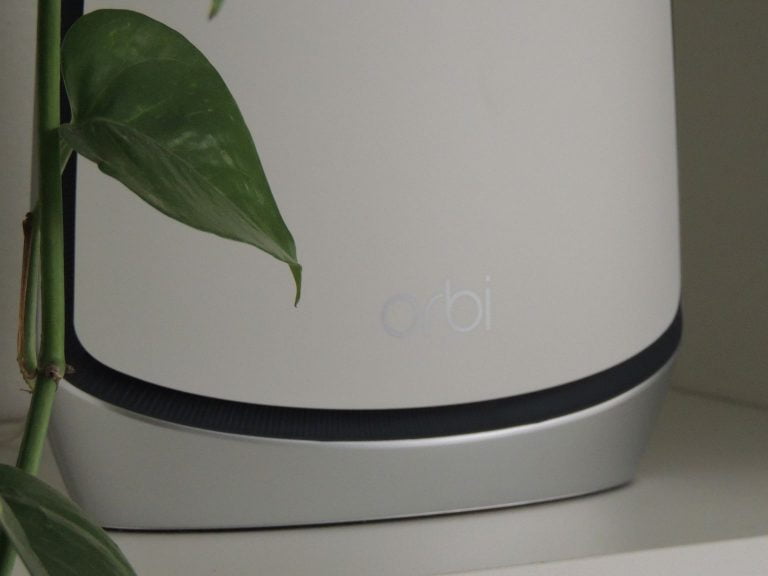 Wifi blackspots – did it solve the problem?
The areas in my home where the WiFi was either non-existent or painfully slow, were eliminated. One area I thought this would be tough to solve was my cabin in the garden (which I recently turned into a movie room, view the post here). Currently, I have a WiFi router in here, hooked up with a very long ethernet to the internet router. However, just connecting up to the new Orbi WiFi, was perfectly good for what I needed and achieved decent speeds.
Managing the WiFi
Now, this is something very new to me which my old WiFi router did not offer. As part of the initial setup, I installed the Orbi app. This app is packed full of features all focused on your internet connection. From the dashboard, you have a clear overview of the status of your connection, devices connected and many more options to delve into.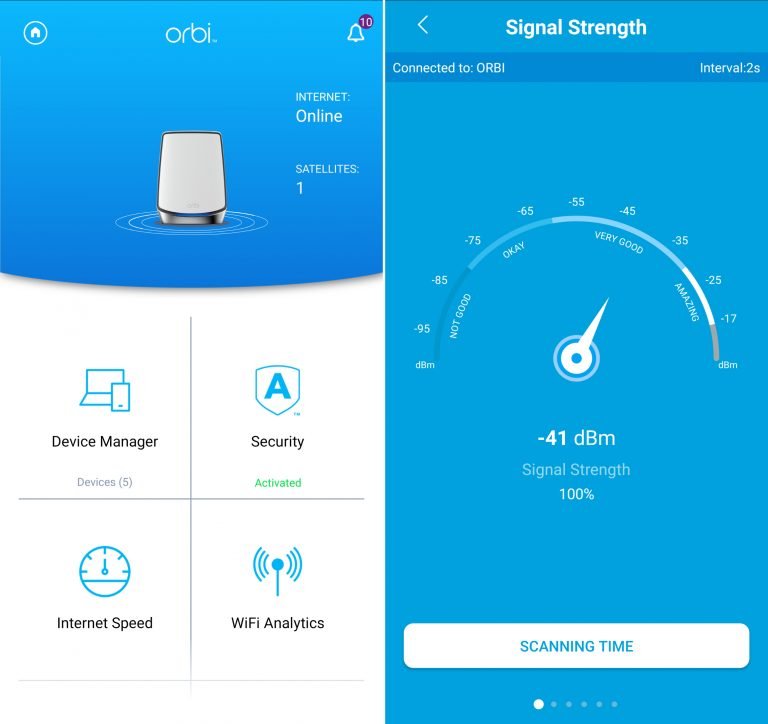 The one useful feature is the speed test which is powered by Speedtest. It performs your usual download, upload and ping test. There's also a section within this that records the history of your speed each time tested.
If you're trying to find out which rooms have the best WiFi coverage, the WiFi analytics section is very beneficial. You can name rooms and save the WiFi coverage under each one, including speed. Handy to use and a great way to find the ideal spot for your satellite. It also shows the WiFi signals around you and which band they're on. Of course, you don't need to take too much notice of this if you don't want to.

One feature I was seriously impressed with was Netgear Armor which is powered by Bitdefender. This is a router-level cybersecurity solution that protects all your connected devices. I had the free trial and it alerts you with a notification if it's blocked a phishing attempt on your network, regardless of what device it happened on. There are so many more features to this, so it's well worth a look. I'll be signing up for a subscription for sure!
Alongside your standard WiFi network, you can turn on a guest network. This enables your visitors to login using a separate password and not have full access to your main network. This can be switched on and off easily in the app if you don't wish to have it on all the time.
If you don't have your phone near you, the Orbi can easily link to your Google Assistant. There are only a handful amount of commands at the moment, but I'm sure they'll slowly integrate more. Commands such as asking rebooting the the router are useful, asking what the WiFi settings are and turning on and off of the guest WiFi network. Very useful!
So, what did I think?
This has been my first experience of a home mesh network and it's well and truly set a high benchmark. With the need to connect more and more devices throughout the home to our WiFi, the WiFi routers provided by internet service providers are sometimes just not up to performing their best.
If you're struggling to get a strong, fast and reliable WiFi signal throughout your house, then the Netgear Orbi AX6000 is a product I can recommend. Firstly, it just works very well and takes minutes to set up. Then quite importantly, it doesn't look ugly and can easily fit into home surroundings.
For further information on the Orbi, visit the website: netgear.co.uk
Purchase the Orbi AX6000 direct from Netgear: store.netgear.co.uk