So, we're just weeks away till Christmas. Can you believe it? Crazy!
Last year, we showed you how you can style up an empty fireplace for the festive season. This time, we thought we'd mix it up a little bit and involve some delicious food! Warning: This post will make you peckish!
Every year in July, companies host their "Christmas in July" press events. We went to many of them this year and discovered the best presents for Christmas and also the most delicious food. We tried so many different dishes and drinks that we've had our favourites for many months!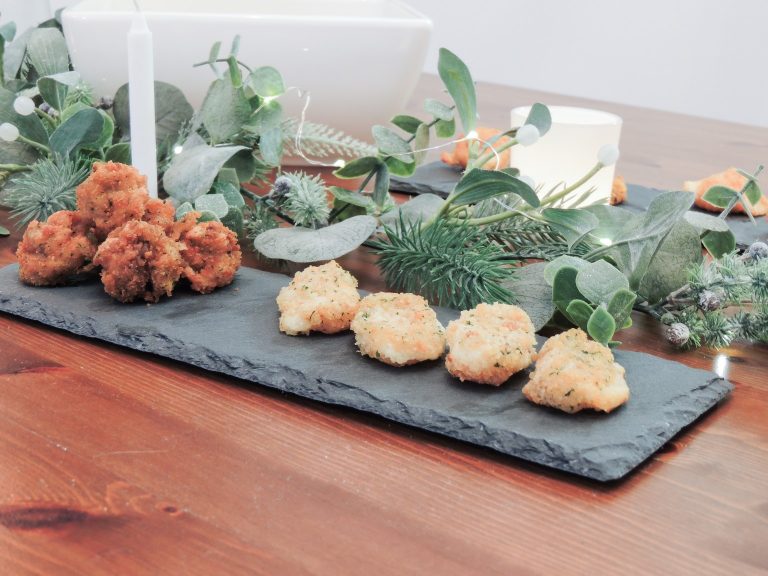 Both Laura and I are vegetarians and this year we have been pleasantly surprised by the amount of vegetarian and vegan options available. Finally, supermarkets are making some nice veggie party food!
If you're hosting a party over the festive period, either for Christmas or New Year celebrations, we put together a little table set up for some inspiration. We started off with this festive garland from Sainsbury's which comes with battery-powered LED lights. This acted as the centrepiece and added some colour.
We served food on black rectangle slates, a round marble serving board with the word "Nibbles" in gold from John Lewis and a grey stone serving plate from IKEA. For the crisps, a huge bowl from Homesense – which after photographing, we noticed we should've filled with many more crisps. We may or may not have eaten some whilst photographing.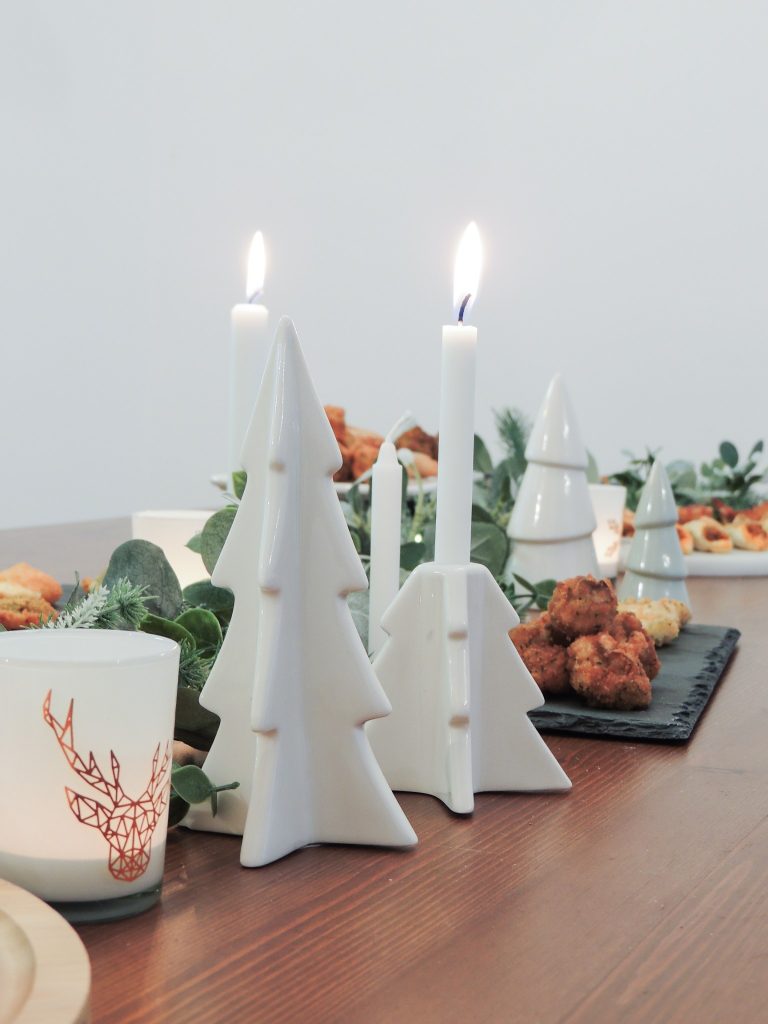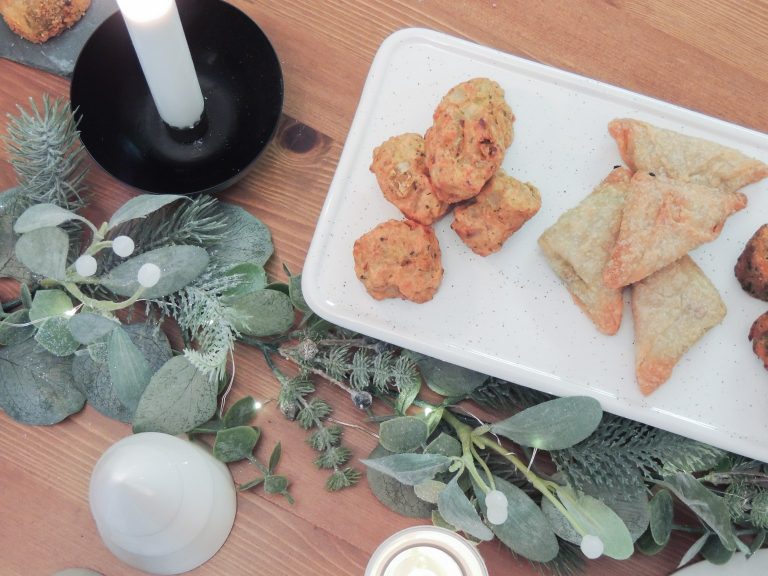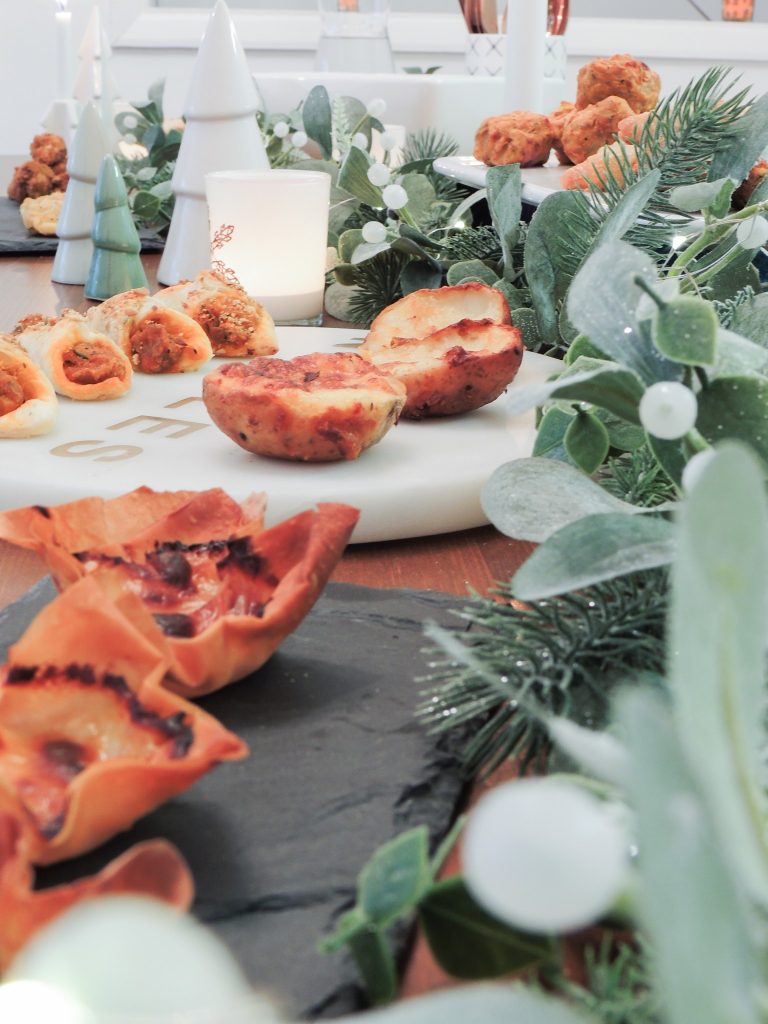 Table decorations are a must and we wanted to keep it simple, yet wintery. Dotted around the table are these cute little tree ornaments from Søstrene Grene which are adorable. Throw in the addition of tall candles and you've got a modern, stylish table full of party food.
Time to get onto the food! We bought party food from Marks & Spencer, Waitrose, Asda, Sainsbury's and Tesco. This time of the year is always best to stock up on frozen party food as it's always handy to have in the freezer.
We wanted to have a variety of different food available and were incredibly impressed with the selection this year. One of our favourites by far would be the 18-piece American Selection from Marks & Spencer. It featured six each of Filled Cheese & Onion Potato Skins, Mac & Cheese Bites and finally Jalapeño Peppers filled with Cream Cheese. These were so delicious!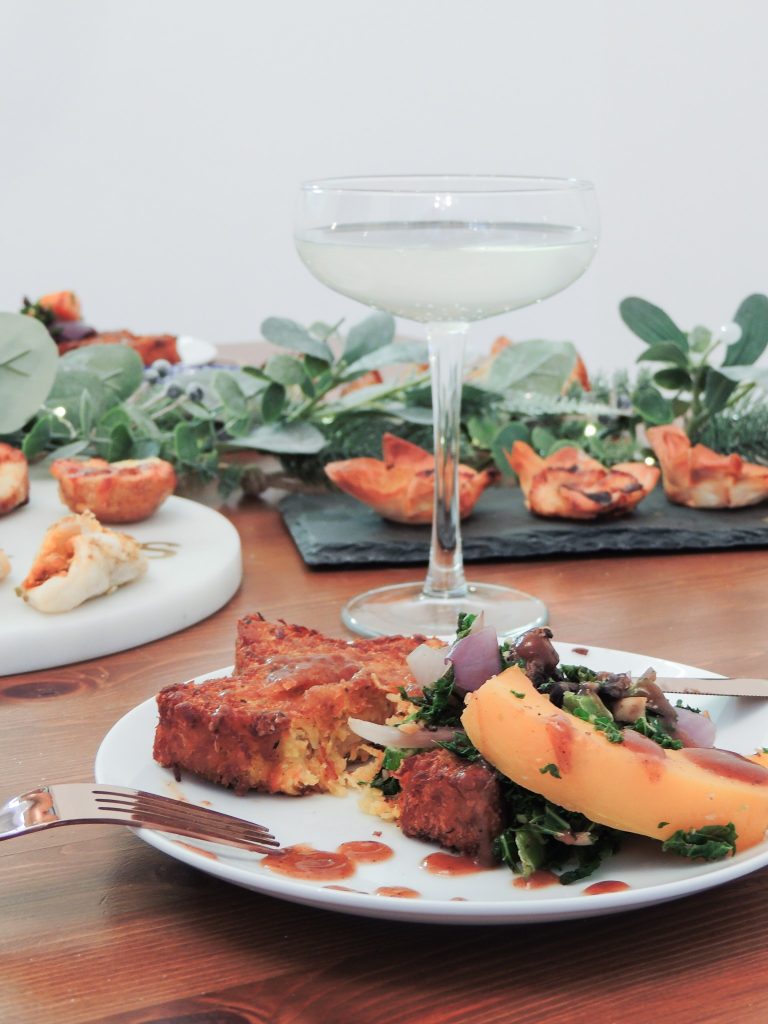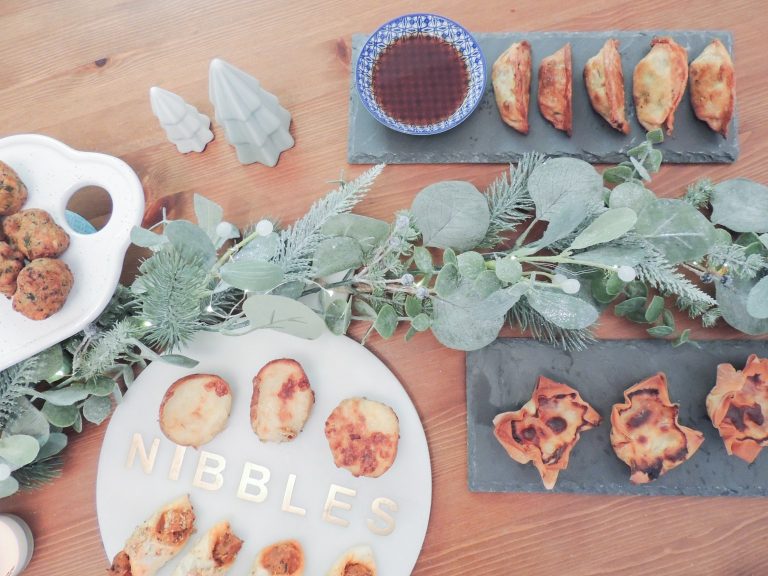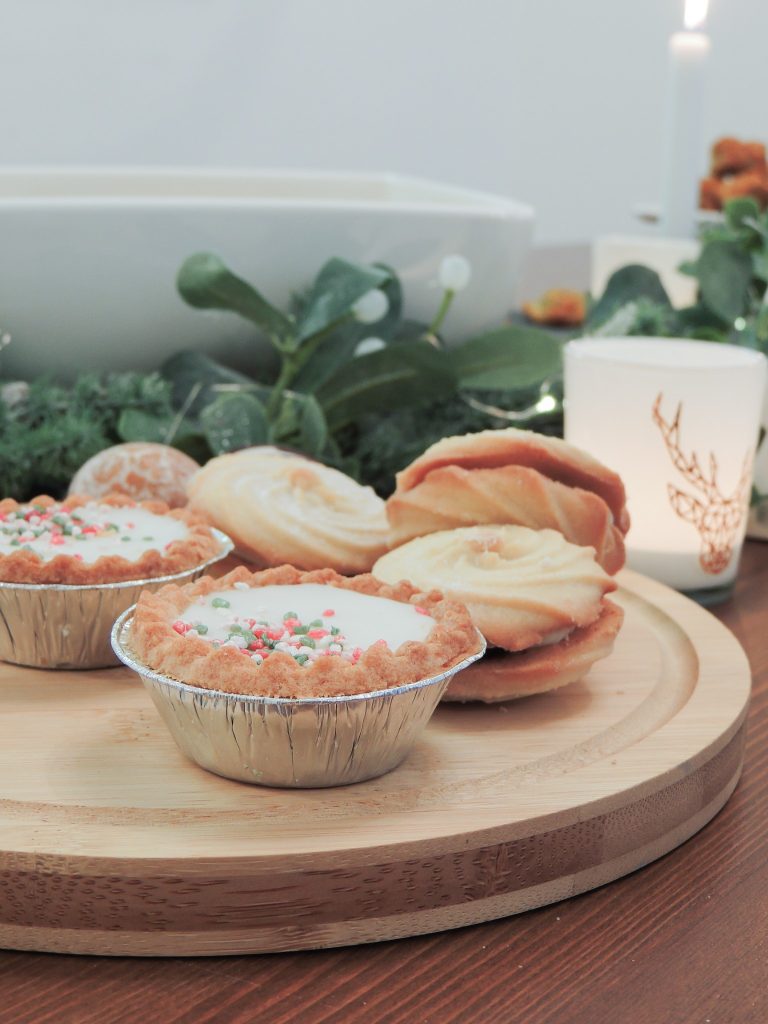 If you're thinking of serving a little bit more than just party food, the Vegetarian Parsnip Rosti Star Stack from Waitrose is ideal – I'm actually thinking of having this as my main on Christmas Day! The Parsnip Rosti is topped with Kale, Butternut Squash and Roasted Mushrooms. Drizzle with the Red Wine and Port Jus to make it look incredible. It tastes as good as it looks!
Various other party food we picked up were Vegetable Gyoza and an Indian Selection from Asda, Squashed in Blankets from Waitrose, Brie & Cranberry Tartlets from Marks & Spencer, Crispy Garlic Mushrooms from Sainsbury's and finally, Mozzarella Sticks from Tesco. This was the perfect combination and great for a party this festive season.
For sweet treats, you can't be without a few festive versions of your favourites by Mr Kipling. The Festive Bakewell Tarts are delicious and the Winter Whirls are even better. Have you tried the Gingerbread Winter Whirls? Now they're something I'll be stocking up on!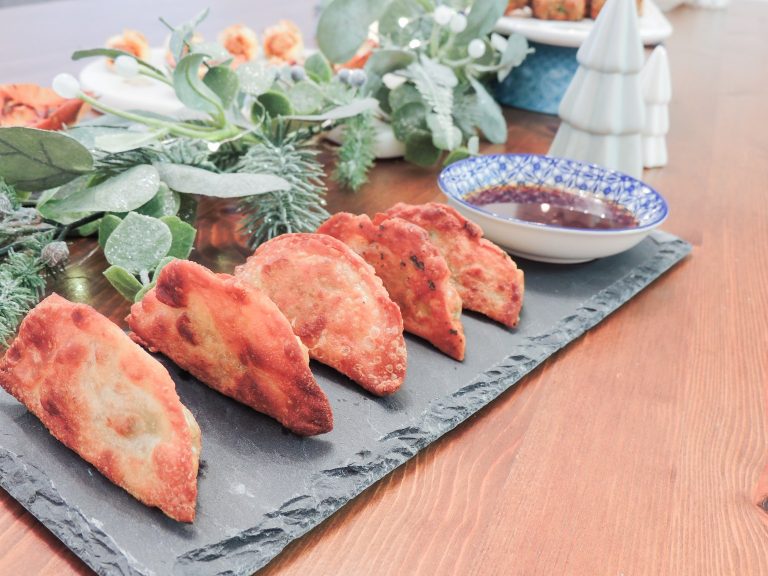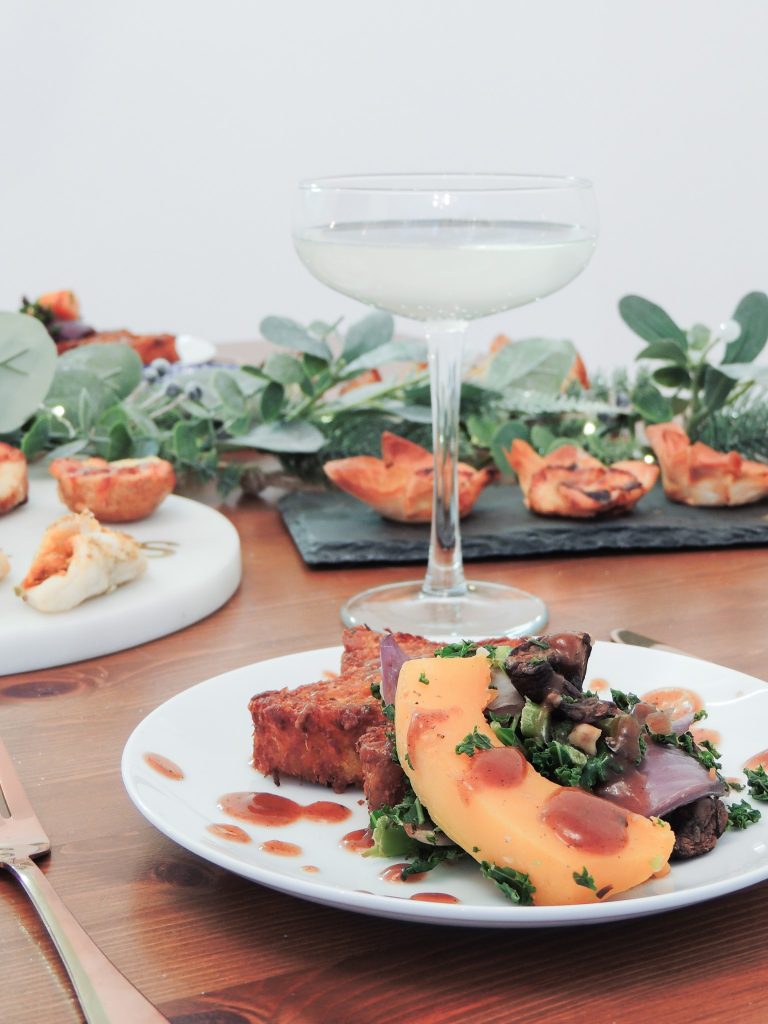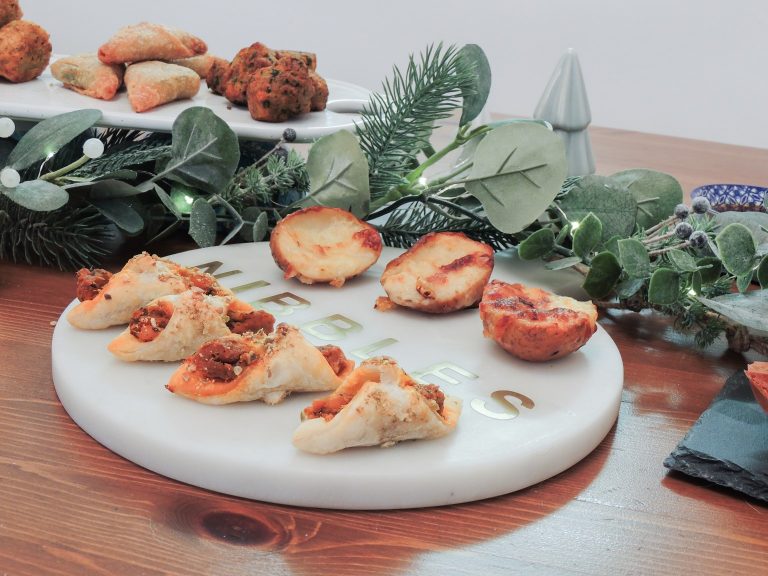 We didn't even get round to choosing some of our favourite drinks because we were too distracted by the food! Are you hosting a Christmas or New Year's party? Let us know what style you're going for in the comments below.