There's me thinking a kitchen renovation would be a fairly simple task, but oh was I wrong! However, I'm still really pleased with how my kitchen renovation has turned out.
Once again, this wasn't a renovation that was done in one go. It's only in the most recent months I've had a proper floor and kickboard fitted. It made a huge difference just finishing all the little bits.
Before
The original kitchen was installed in the late 90s and honestly, you could tell. With its limited storage, lack of sockets and poor lighting, this really wasn't up to scratch for the 21st Century.
Not to mention this also had a hatch into the lounge! This was blocked up and I placed a time capsule inside. So hopefully, one day in the distant future it may be found by a future owner.
Storage in the kitchen consisted of floor cupboards, one wall cupboard and a tall cupboard. Annoyingly, the electricity box and meters including the gas meter are located in this room. Fairly annoying as this took up valuable space.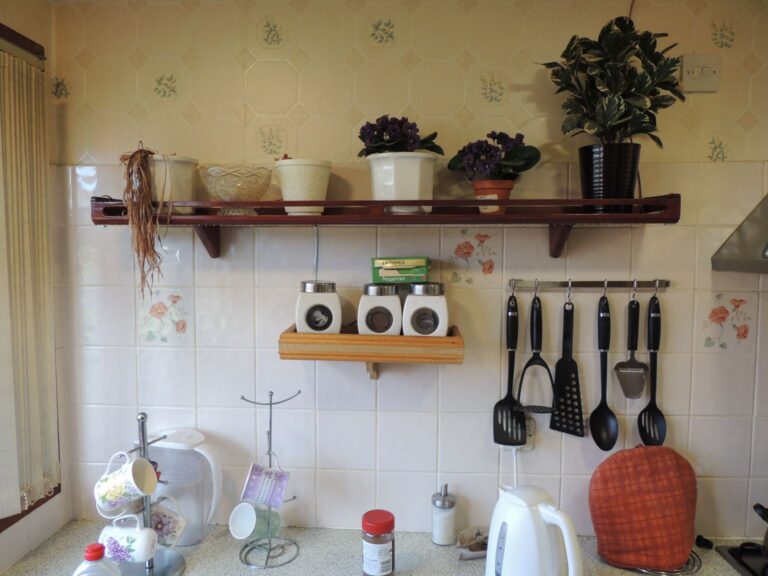 After
From the outset, I didn't want to spend a fortune on this kitchen but I did want it to be minimal, modern and with a Scandinavian vibe. This room is NW facing, so only gets a little direct light in the very late afternoon/evening. It can easily be a very dim space throughout the day.
The kitchen units, worktop and some appliances all came from Wren. My friend recently had her kitchen from Wren and my dad, that would be installing it, was always pleased with Wren.
As I was planning this in the Spring of 2021, there were still some pandemic restrictions in place. However, the team at my local showroom put together a virtual mock-up with my measurements, before getting it officially measured. I was able to visit my local store before confirming the order and I loved how it looked.



For a minimal look, I went for the J Pull kitchen in Lava Grey with matt cupboard fronts. I felt this suited the space very well as it wasn't too dark, nor was it too bright.
The worktop was a tough choice. I couldn't find something that would work well, especially with white tiles as a backsplash. I opted for the luxury laminate range in oak lodge in a slim 22mm. This is so good-looking, it adds a Scandinavian style and feels just like real wood. It has a texture on it, so it's not fully flat. This breaks up the plain cupboards, white walls and grey floor.
My main focus was increasing the storage so there would be more than I'd ever need. I then later realised I indeed did need this storage.



To cover up the electricity and gas meters, there's a full-height cupboard placed next to the fridge-freezer. This cupboard is full of shelves, carefully cut around the meters at the back. I use this for appliances, recycling, cookware etc.
To keep with the sleek and minimalist style, I opted to have all my appliances built-in. However, next time I definitely wouldn't have a built-in fridge-freezer. Yes the one I have wasn't the most expensive, nor was it the cheapest, but it's annoyingly pretty small – especially when it comes to the freezer. I've resorted to taking drawers out and stacking things previously!
The wall cupboards are huge, they go right up to the ceiling which is ideal for storing pretty much everything you could store. To my surprise, I've managed to fill these cupboards up, whoops.
On the floor cupboard, they're pretty big, especially the corner ones. My one disappointment is the drawer unit. It isn't a "normal" size as it's slightly narrower. This has made it annoying for the size of the cutlery tray (I ended up buying a compact JosephJoseph one) and fitting in pots and pans in my perfect positioning. But it will do, I know in the future I'd ensure I get a normal width one.



Considering the kitchen is small, I've still managed to get in a full-size dishwasher, a spice drawer and even a narrow wine fridge. All these little extras make this space work well.
Lighting is important to me and I wanted to ensure it was flexible with multiple light sources. Whether I was cooking in the evening or entertaining friends. In the ceiling, I have rotatable spotlights on a dimmer. These have been angled to ensure no shadows are cast when standing at the worktop.
On the underside of the kitchen cupboards, I installed a long LED channel with a misted white plastic cover. This makes the LED strip inside give off a nice even warm glow, without any of the little LEDs on show. These are wired into the main light switch and are also dimmable.


The tiles were something I saw on a TikTok cooking video once, they were just placed on the wall differently. I couldn't find the exact ones but after plenty of searching, I managed to track these down. They've got a nice matt feel to them and the black lines against the white contrast extremely well. I did splurge on them, but it adds a bit of fun to the plain kitchen.
For the flooring, I opted for vinyl tiles which clicked together. Not only are these very hard-wearing and water-resistant, laying them was extremely easy. With a built-in underlay, it was as simple as clicking them together. I'm truly impressed with the quality of these.
As soon as you walk into the kitchen, there was this small space where the cupboards end. When I ordered my kitchen from Wren, I mentioned to the agent that my dad would make some built-in shelves to fill this space. Therefore, I was able to order an extra door with my kitchen order to be cut down and used for shelves.


This little space now fits a slim bin, and food waste bin and at the top is full of my cooking books. I'm glad I was able to make use of this little bit of valuable space as I didn't want to simply cover it up.
I'm pleased with the overall look of the kitchen and everything I've managed to fit inside. I've squeezed so much storage into this room which is exactly what I wanted to do from the onset.
The total cost of renovating the kitchen, including appliances, tiles and lighting came within budget. I've detailed the costing below as this might be helpful if you've got a similar-sized kitchen. This is based on 2021-2022 pricing as I purchased different things over many months.
Kitchen Appliances and cabinetry
Sink
Tiles, Flooring and Finishes