Scandinavian style interior décor is celebrated for its minimalistic yet beautifully one-dimensional design, using a predominantly all-white colour palette, which when done right can make your kitchen seem brighter, lighter and all round much more sophisticated.
We asked Interior designer Vanessa Arbuthnott about how we can turn our kitchen into a Scandinavian paradise. Vanessa shares 5 top tips for creating a Scandinavian style kitchen space.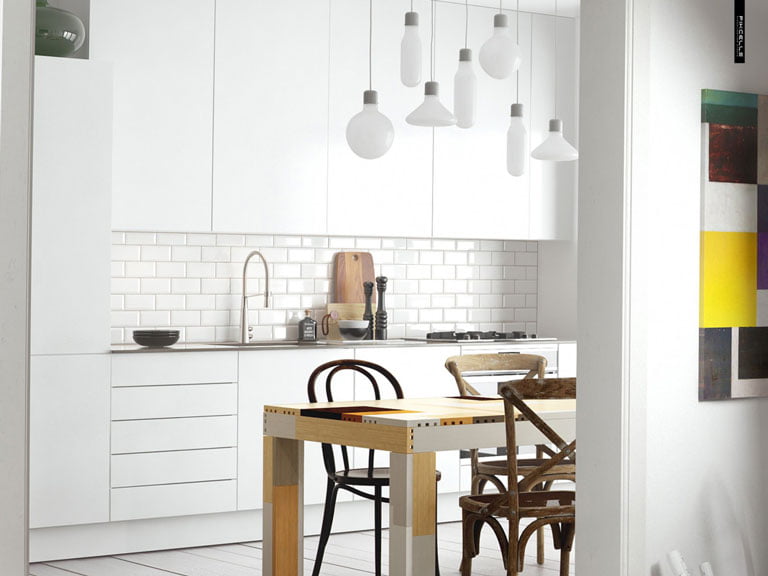 Simple spaces
If you want to create a real Scandinavian style kitchen, your best bet is to opt for all white units and general décor. Using a lighter colour scheme will allow much more light to flood in and reflect off the walls, giving the illusion of a larger kitchen space. It will also give your kitchen a modern feel and the units will allow much more storage space for those bits you want to stow away.
Feature lights
Having hanging lights in your kitchen are all the rage at the moment, and many people are opting for these over standard lights or spotlights. There are so many available to suit the different kitchen styles, perhaps opt for low hanging cream lights which will give your kitchen character and are also much brighter than standard lighting, or maybe a unique floor lamp in the corner of your kitchen which would add drama to the design.
Wooden flooring
Wooden floors are a must in any kitchen. They are much more practical and they are also a key component in any Scandinavian style kitchen. Other great options are ceramic tiles or stone flags, both are easy clean options.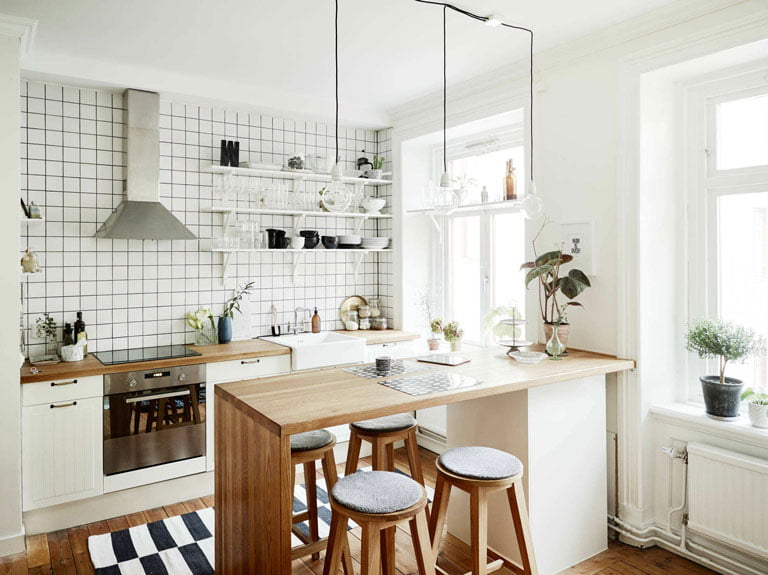 Bright furniture
In true Scandinavian style, if you have an all-white themed kitchen the best way to add a pop of colour is by adding various different pieces of brightly coloured furniture. For example, many people may opt for a Smeg fridge, house plants or vibrant coffee machines which add a touch of colour without going over the top. Why not design your own bespoke made to measure furniture with some Scandinavian inspired fabric? Vanessa's woven collection includes some scandi style designs including the vibrant pink and yellow Baltic stripe or the Lapland cornflower stripe, something a bit more out there.
Contemporary art
No Scandinavian kitchen would be complete without adding some wall art into the mix, whether you opt for a large feature canvas or just a simplistic frame and with a monochrome image, it adds to the character without over doing it.
Thank you to Vanessa for sharing these top tips with us! You can browse Vanessa's beautiful Scandinavian Woven Collection here: vanessaarbuthnott.co.uk