Oftentimes, new build apartment blocks can lack a little style. When I say style, I mean the entrance and communal areas. They're either very basic and nothing design-inspiring or a little over the top. Something you wouldn't have in your own home!
When it comes to renting an apartment in London, Quintain Living in Wembley Park seems to have ticked all the boxes. Last year I featured one of their design-centric buildings, Beton. You can view the stylish apartments here.
One of Quintain's new developments is Madison, a Mid-Century Modern designed building which oozes stylish sophistication. A few weeks ago, I was invited to take a visit to explore the design of Madison. So I wanted to share this stylish development with you.
Location
First up, Madison is located in Wembley Park, London. It's metres away from the prominent Wembley Stadium. However, if you haven't visited in a long time, I can definitely recommend visiting one afternoon!
Spread around one side of the stadium is a brand-new neighbourhood full of places to dine, shop and meet friends. For foodies, you'll find over 50 places to eat and drink including Boxpark which has over 20 global street food vendors (I went recently and loved it). One place which would be my weakness if I lived here is Bread Ahead, an artisan bakery. Oh my, the smell of fresh bread walking past smelt amazing.


Dotted around all the buildings are little pockets of greenery with trees, grass and play areas. Not only that, they have fenced dog zones, so you can safely take your dog out for a little wander on the grass. So cute!
Just over the road from Madison, there's plenty of work happening with the creation of a brand-new park. This park is a huge space and will be filled with trees, grass, and plants. This new park will make a great addition to Wembley Park.
Mid-Century Modern Interior Design
Each of Quintain Living's apartment blocks features a different style. You'll find retro minimalism, Scandi-inspired and many more.
Madison is designed with a mid-century modern style, starting with its name, inspired by Madison Avenue in New York, renowned for its reputation as a centre for America's advertising giants. Stepping inside, you're greeted with a beautiful dark wood panelled wall, mid-century sofas and stylish lighting.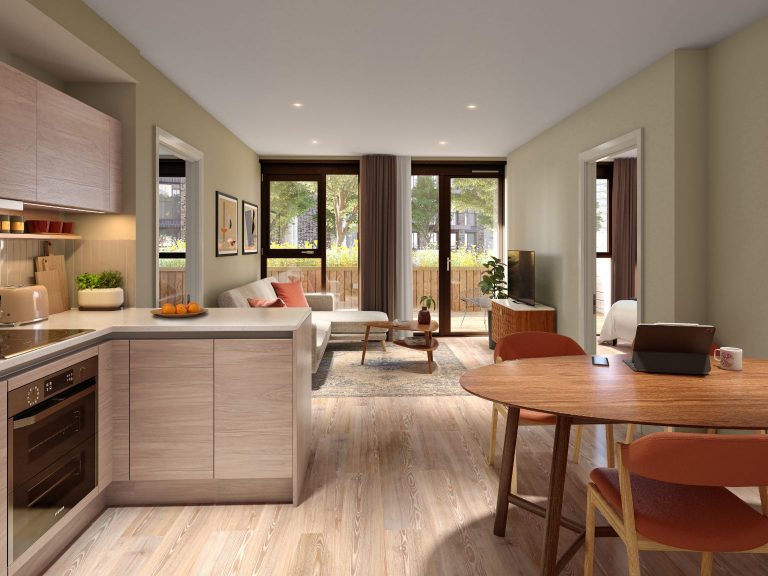 There are 381 homes to rent from studios, one-bedroom, two-bedroom and three-bedrooms. All of which have a mid-century flair to their design.
Apartments are available to rent both unfurnished and furnished. If you do go for a furnished apartment, you'll find the latest mid-century-inspired furniture pieces in your new home from John Lewis. I've spotted many great design pieces in their store, so no doubt you'll spot them in the apartment.
Of course, if you don't want to spend all your time in your apartment you can head out into the social areas. These are expertly designed with the mid-century style and are filled with interior inspiration.


At level one just above the entrance lobby, you'll find the resident lounge. There are sofas surrounding a fireplace, desks for somewhere to work and even a fridge for drinks. This place is a great space to meet with friends and neighbours or even a little change of scenery when working from home.
Off of the main lounge area are two closed-off areas, one of which features a huge sofa and TV. Residents can rent these spaces for get-togethers with friends – what a great idea. Especially if you're hosting people to watch something on TV.
Heading up to the roof, you'll discover the sky lounge looking out across London and Wembley Stadium. Step outside onto the rooftop garden to discover little areas to sit and relax, a lawned area and incredible views. Surrounded by big planters and greenery-draped archways, this would be my favourite place to relax.


Connecting both of Madison's towers, you'll find the podium garden. There's a large lawn with large planters surrounding it with benches and places to hide away from the world. There's also a fenced lawn area for pets and a play area for kids. I love the BBQ area where residents can rent one of the BBQs and get their friends and family together on the large picnic bench.
Big thank you to Quintain Living for giving me a tour of Madison last month. I can't wait to discover the new up-and-coming developments.
For further information, visit: quintainliving.com/madison