Ready to get some apartment envy? I'm already very jealous of the residents of this new development by Quintain Living in Wembley Park, London which is just full of the very best styling. I'm thrilled to share this development with you!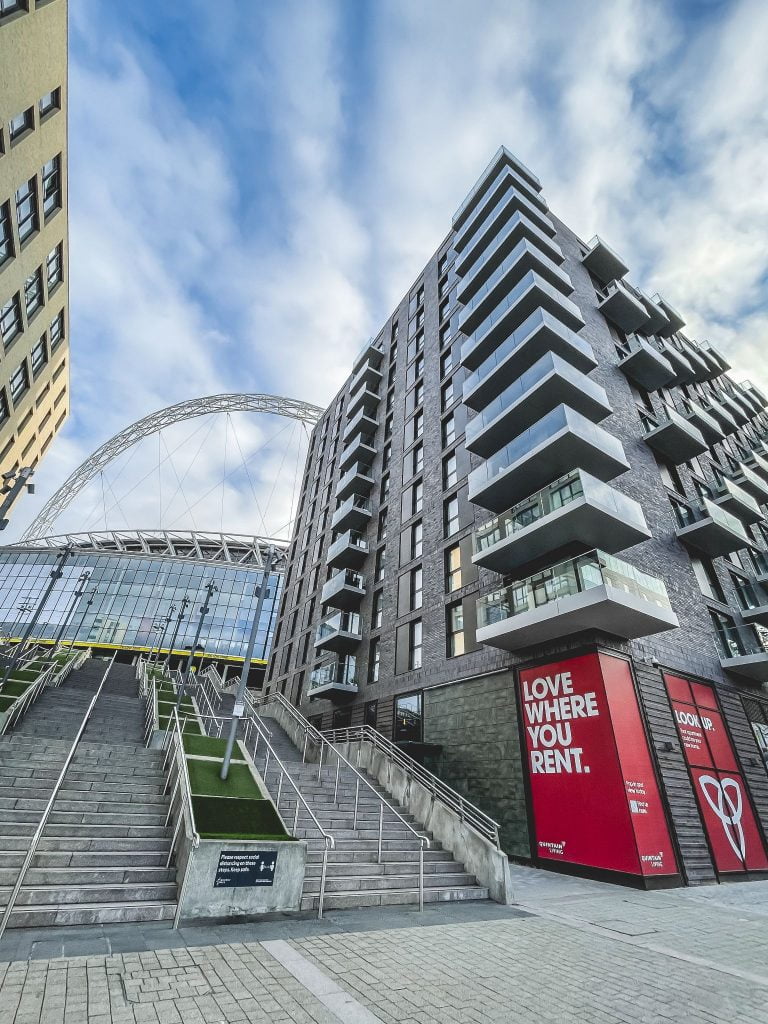 The location
Located in Wembley Park in London, right next to the famous Wembley Stadium is Beton. This trendy apartment block oozes style which I love. Yes, I know I love white walls and minimalism, but the styling of Beton just stands out for a good reason.
First up, the name 'Beton' is French for concrete. The building was named this for its exposed concrete styling, clean lines and monochrome base palette of colours. The beautiful styling of these apartments is the work of boutique design agency Fossey Aurora and furniture specialists Clippings.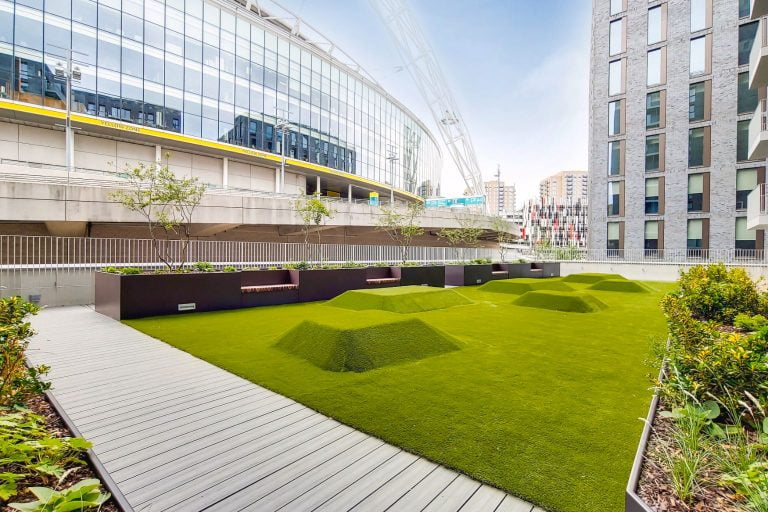 The design
The base of the styling features blacks and greys, but with pops of bold bright colours dotted around the apartments. Fossey Aurora chose lemon and lime colours, inspired by pop art. These work perfectly alongside the darker more muted backdrop.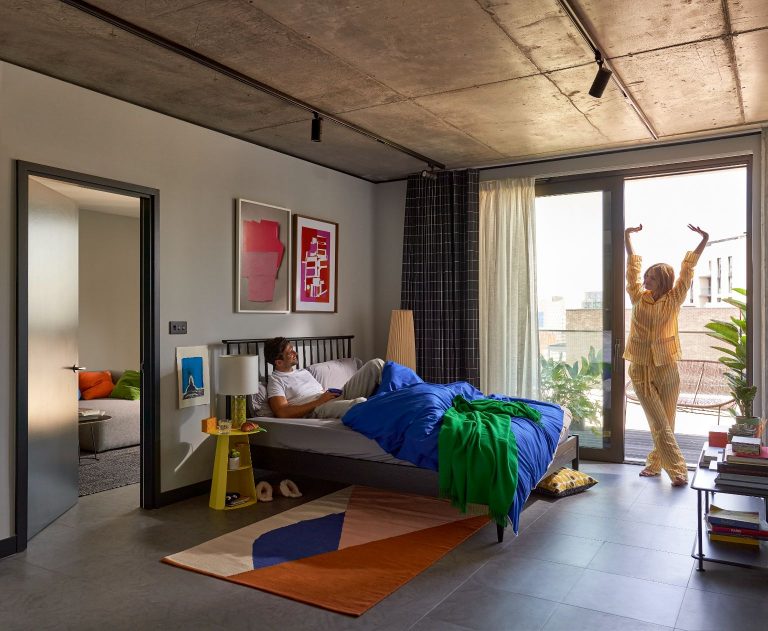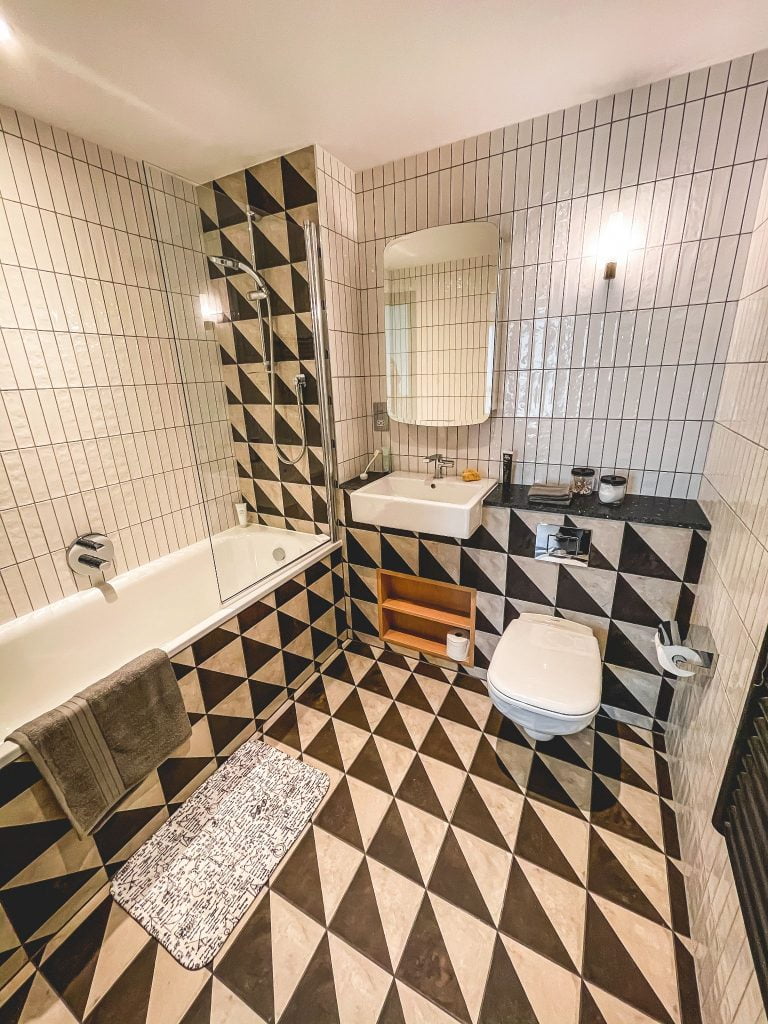 "We knew from the outset that Beton was all about impact – about creating something bold and bright, something to combat the drab greyness that we all associate with 2020. Beton's design was all about hope. Hope – and lemons."

Fossey Arora
Now just look at this beautiful kitchen – oh my! The bottom cabinets in black work perfectly with the wood wall cabinets above. This look can easily be created if you're planning on revamping your kitchen. It's an excellent way of injecting a block of colour, but not too much of it.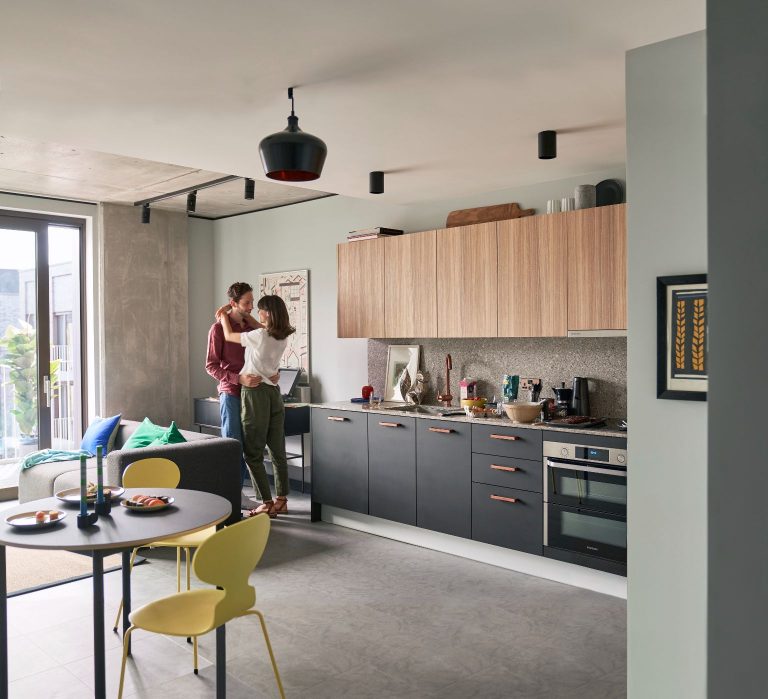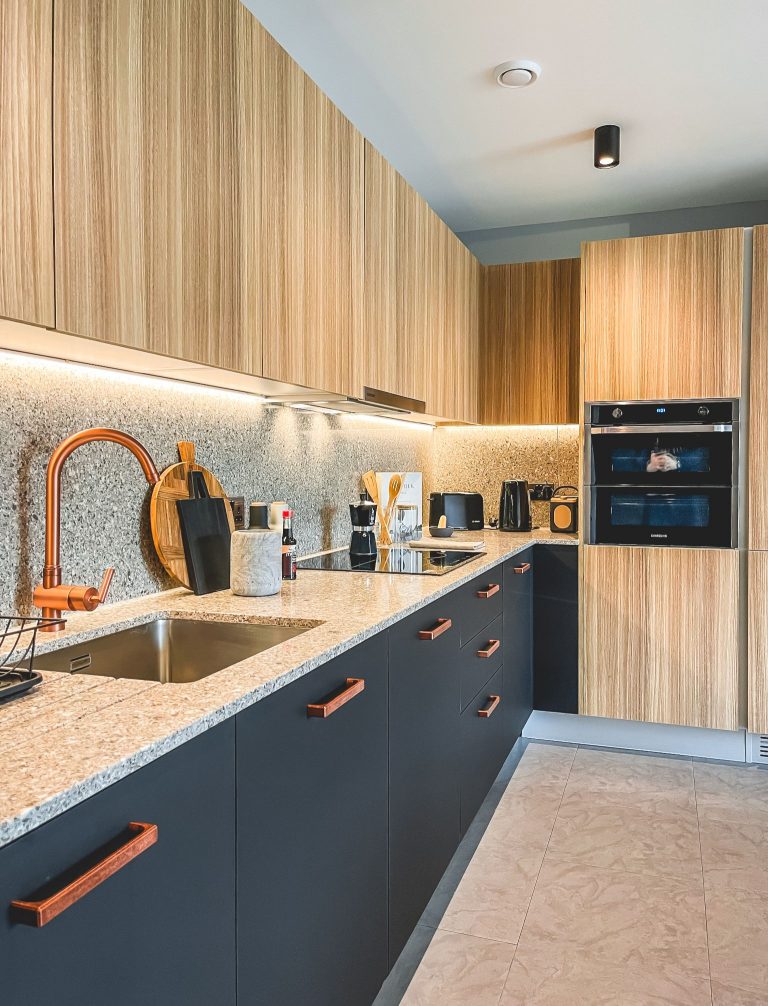 The furnishing in the apartments fit in perfectly with the surrounding architecture. You've got natural elements such as wood sitting alongside the raw industrial concrete and vibrant pops of colour. It's bold, vibrant and full of energy.
"We were inspired by the pop art movement, so together with Fossey Arora and Quintain Living we took Beton's beautiful monochromatic base colour scheme and punctuated it with bold accent colours of red, green, yellow and blue. This juxtaposition of austere and playful creates a strong visual identity, which the whole team felt was very bold and powerful. The colour was introduced through some very striking pieces of furniture, from electric blue side tables and bright red and yellow bedside tables to an array of impactful stools and chairs."

Giorgia Ferlin, Sales Director, Clippings
The expert team at Clippings used Deadgood's 'Working Girl' lounge chairs alongside Menu's 'Afteroom' counter stools which injected a pop of colour to the spaces. The neutral black and grey Hay sofas blended in with the monochrome styling of the architecture, with colourful cushions to bring them to life.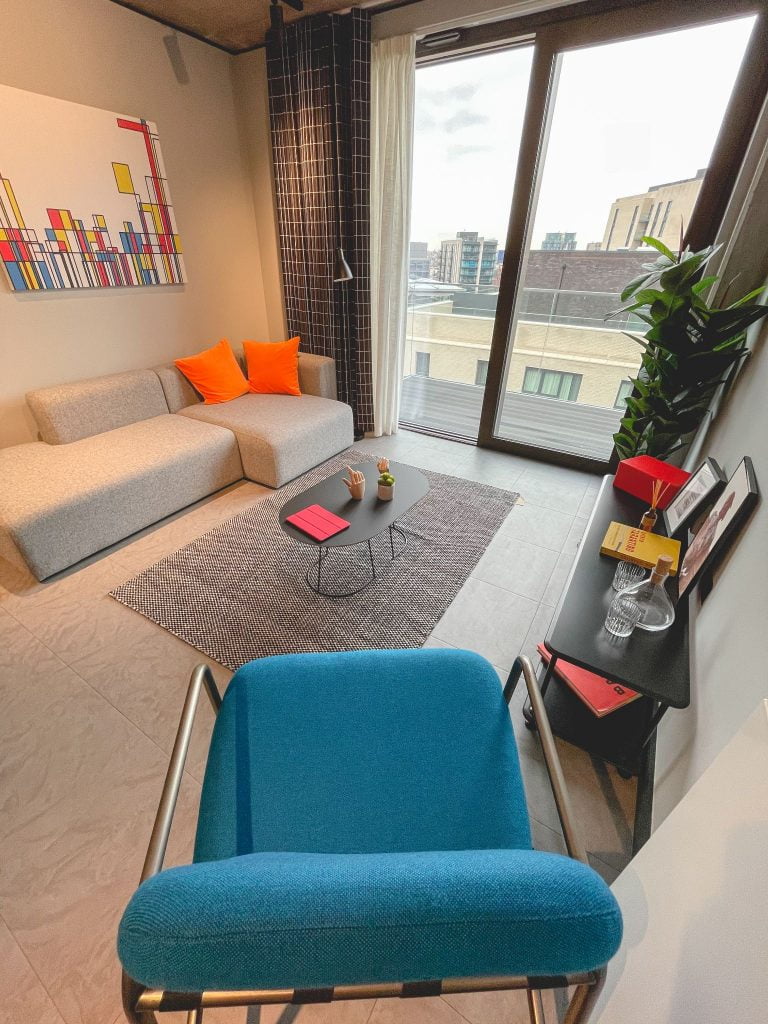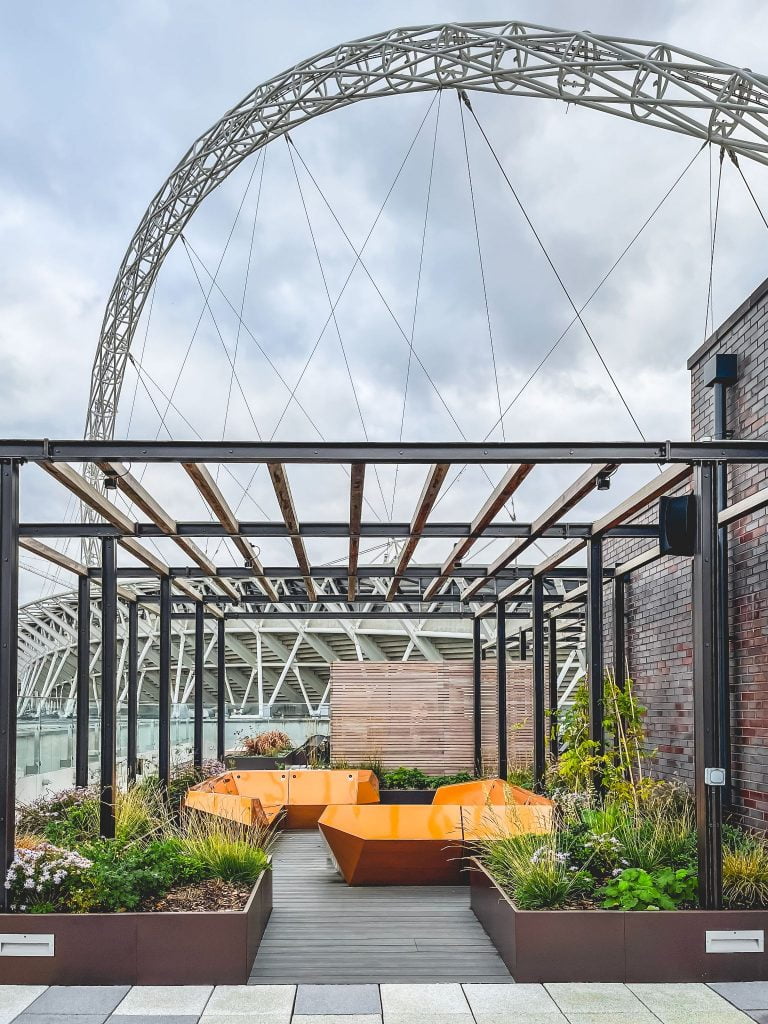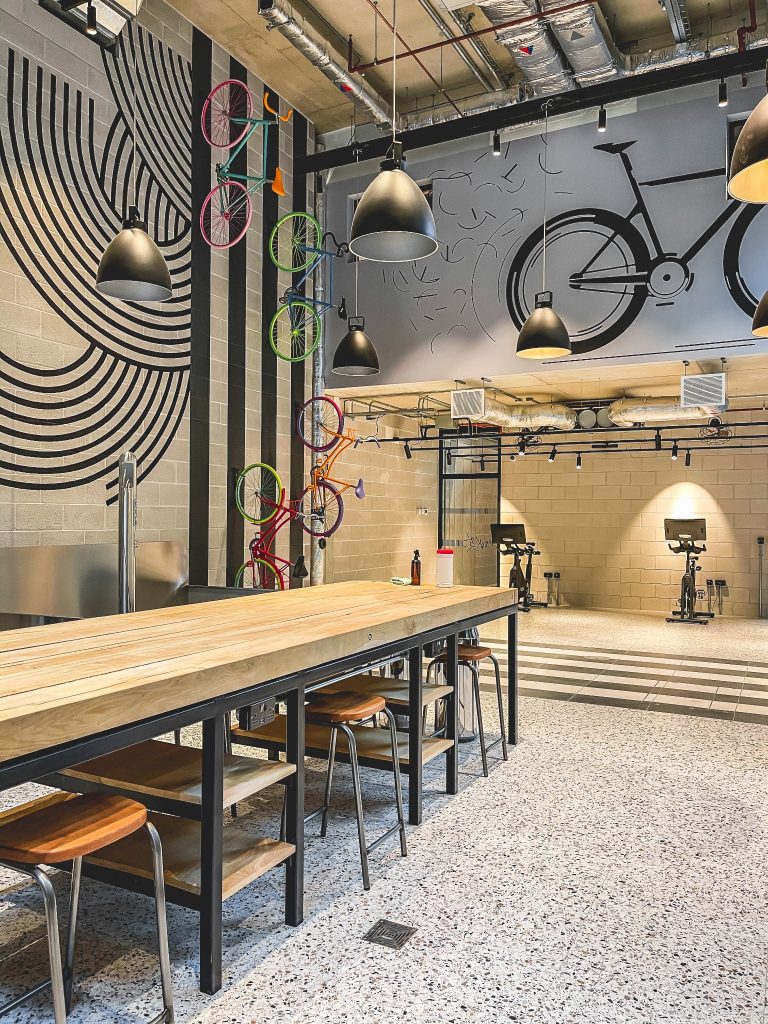 Residents of Beton are extremely lucky with a stunning rooftop garden – which now makes me want to build a pergola! There's also a cinema room, WFH mezzanine, retro games room and a bike workshop. All in all, this development looks like a beautiful place to live and full of design inspiration.
Thank you to Quintain Living for letting me share this new development!
For more information, visit quintainliving.com/beton