Are you ready for some cosy autumn homeware? This is my favourite time of the year and I am READY FOR IT! I've already spotted Halloween decorations in Homesense, but I'll save that for another post.
I've rounded up some of the very best and latest autumn homeware and furniture from the brand new AW22 collections. If you're looking to get new furniture or spruce up your home with some autumn decorations, you might find something you love in this post. Bring on the autumn vibes.
Throw on the knitted jumper, pour yourself a hot drink and get ready for autumn home decor to make everything feel cosy this fall. Found something you love? Let me know in the comments below.
Looking for my favourite homeware and furniture from Spring/Summer 2022 (most of which will still be in store)? You can view this here on my previous post.
Header image: Lights4Fun, TruGlow lighting collection
Lounge furniture and decor
The easiest room to update in the house is of course the lounge. Whether you go for some new autumn homeware and decor, or you're in need of brand new furniture, there's plenty on offer from the top retailers this autumn.



Loving the autumnal and Halloween decorations from Wilko this year. From light-up garlands to super soft throws and cushions, you can easily find something to inject a few autumn vibes into your space.


I have a fair few lights from Lights4Fun and I'm always impressed. Their TruGlow candles are perfection. I'm telling myself I don't need any more pumpkin lights, but these are so tempting. Lights4Fun, why do you have such beautiful autumn decor?! My poor bank balance!


Dunelm has really taken the mid-century style in their new Elements furniture collection. I'm absolutely in love with this and it could very easily be mistaken for an original mid-century tall sideboard. I'm seriously impressed with this!


The 'Nordic Life' collection in B&M is what I'm living for. It's full of Scandinavian inspiration, with simple geometric designs, neutral contrasting colours and soft textiles. You can well and truly have some good hygge moments surrounded by this. Don't just walk to B&M, run, before this sells out!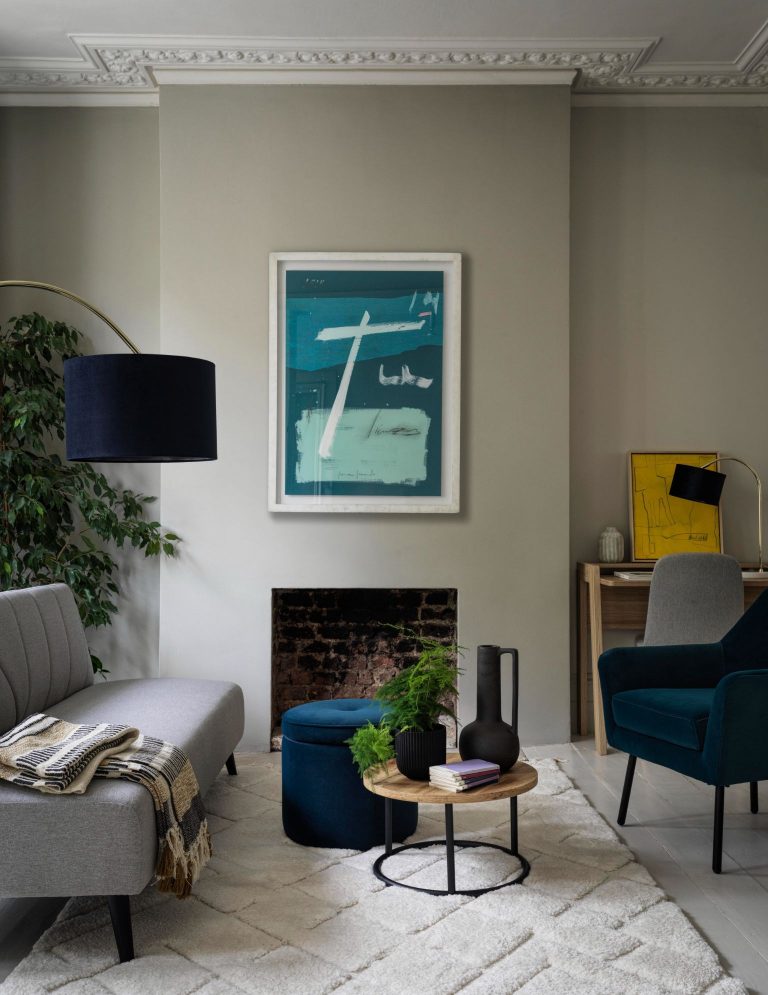 Bedroom furniture and textiles
The cooler weather is starting to arrive, so to make the most of it (and to make getting up in the morning even harder), now is the time to give your bedroom a refresh. Get the thicker duvet out, soft bedding and light a few candles – you're ready for a cosy evening.

The 'Nordic Life' collection at B&M is a big winner for me. The simple check colours, waffle bedding and soft blankets are definitely needed when the temperature drops.

Now doesn't this bed look oh so cosy? The 'Modernist' collection is full of vibrant colours and soft textiles that will easily and quickly change the look of any room. Simply changing the colour of your bedding can make a huge difference to your bedroom.



Bathroom accessories and textiles
Come the chilly winter evenings, your bathroom will end up being your very own at-home spa. Get ready with soft fluffy towels, scented candles, your favourite book and of course, a glass of wine. Autumn homeware trends in the bathroom are usually inspired by the larger collections in other rooms. However, many bathroom styles stand the test of time and seasons.



This simple black-and-white design at George Home is something every bathroom can easily achieve. The zebra print plays off really well, with little illustrations and the printed toothbrush holder and hand soap.
Honestly, the 'Nordic Life' collection at B&M is possibly my favourite so far of AW22. The styling, colours and look are just what I love. I need to get myself down to a store very soon.

Kitchen and dining
As we migrate back from outdoor cooking and eating, now is the perfect time to spruce up your dining spaces. You could go all-out and treat yourself to a new dining table (thinking of a Christmas get-together) or simply make your dinners with friends TikTok-worthy with beautiful autumn decorations and candles.


If I don't already own my original mid-century dining table and chairs, I would 100% buy this mid-century-inspired dining table from Dunelm. It is absolutely beautiful! The pop of colour from the rug and wall really helps the dining table, chairs and benches stand out.