Large flat-screen TVs have pretty much become part of the furniture in modern homes. An essential we all love, especially for all those binge-worthy boxsets. However, more and more of us don't have that huge collection of DVDs or don't necessarily need loads of media storage. But what do you do with the TV?
The best way to have a minimalist look in a room is, of course, to have the TV on a wall. This isn't at all practical if your wall can't support a TV or you rent your home. Alternatively, the only other way is to have the TV on top of another piece of furniture you use for storage. But what if you don't need that storage under the TV? This is where a TV stand comes into play.
When I think of a TV stand, my first thought is those ugly ones you see at exhibitions or in hotels. The metal things with wheels and a little shelf – who would want that in their home? Nobody and for good reason!
I first fell in love with the Samsung Serif TV which featured this sleek wooden stand. It was so Scandi and stylish! However, I wasn't keen on spending hundreds on a new TV just because I liked the stand.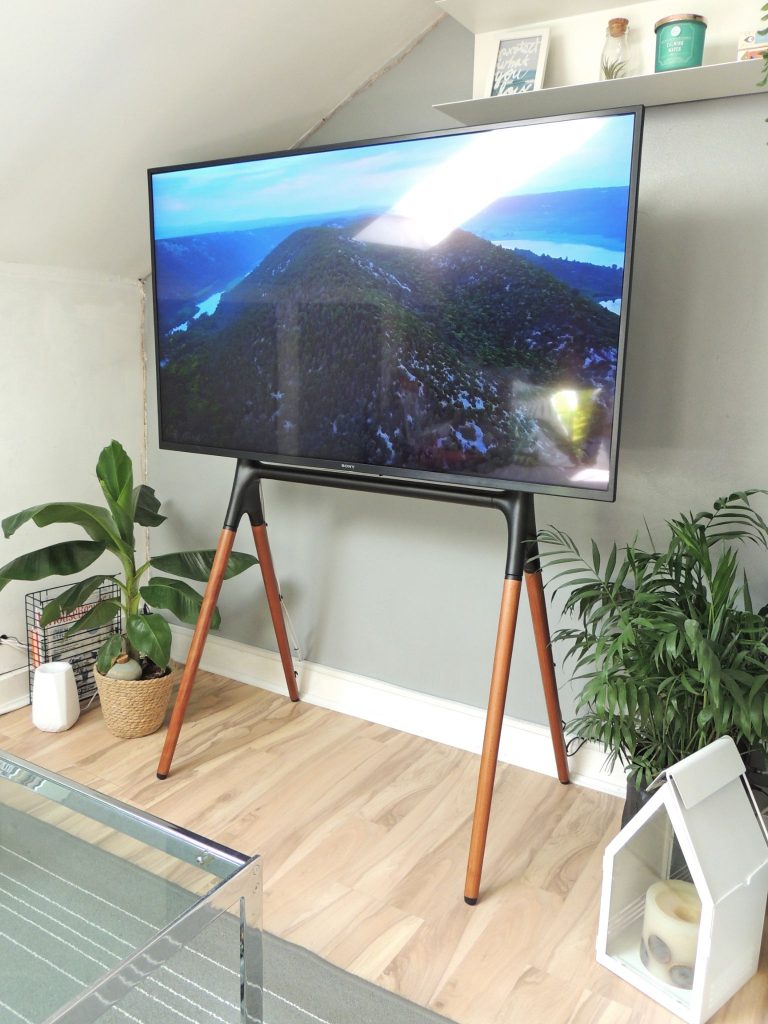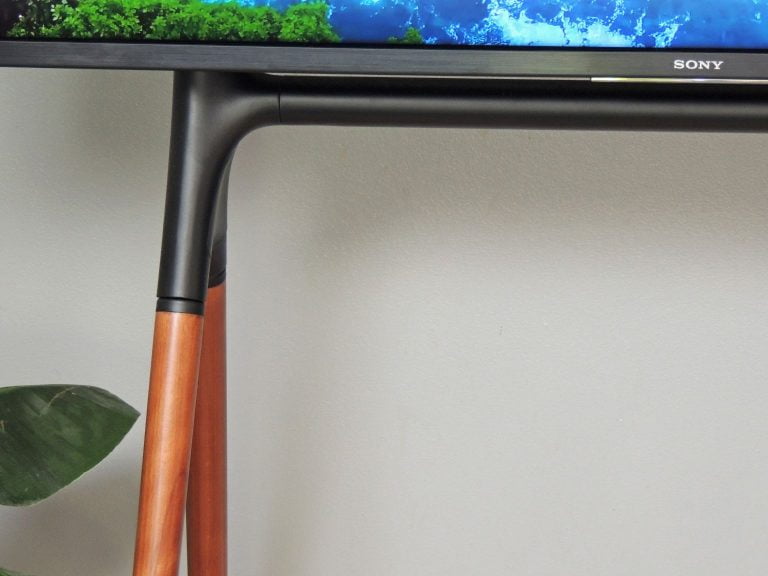 There were a few minimalist TV stands I found, but these were very pricey and near enough the same price as my TV. After spending a while searching around, I came across the brand Forest AV. They supply many top brands with audio and visual equipment which looks to be mainly for exhibitions and commercial use.
After spotting the easel TV stand I knew it was perfect. I had seen one very similar before by a big brand name but at twice the price. Luckily, my TV is 49″ so the smallest size this stand is suitable for. I ordered online with standard delivery and to my surprise, it arrived the next day.
The design of the stand is very reminiscent of the Samsung Serif TV stand which I love. The matte black metal frame and wooden walnut finish legs look extremely stylish and could easily fit with other furniture, especially mid-century and Scandinavian.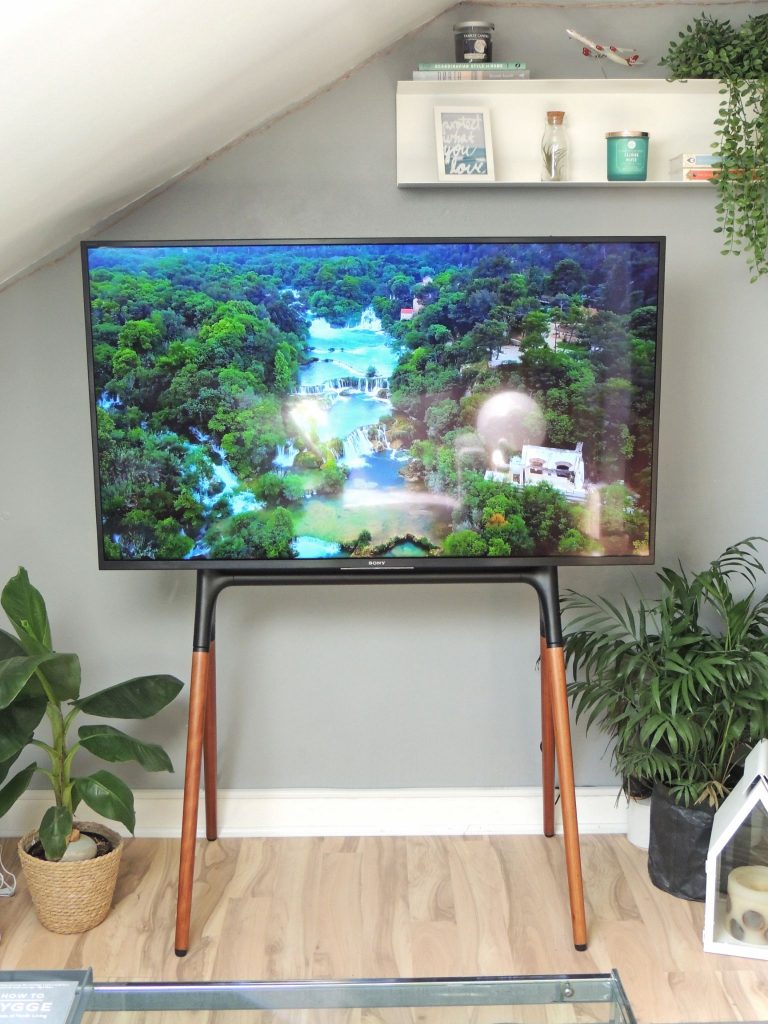 The frame itself is pretty weighty and extremely sturdy. It was easy to put together by screwing the legs into the mainframe and the fixing poles. Getting the TV on the stand was a bit tricky and with my fixing brackets for the TV being right at the bottom, rather than in the middle, it was a two-person job. Not helped that I put it together in my loft conversion with a low ceiling!
Once the TV was on, it looked brilliant! The stand comes complete with cable clips which can be screwed into the legs of the stand enabling you to run wires down them which hides them when looking from the front. So the wires didn't run along the floor, I bought some cable trunking from Homebase and stuck this to my skirting board. This enabled me to run all the wires in the trucking along to a cable tidy box.
The only device I have plugged into my TV is the Virgin Media TiVo box. Luckily, the space between the back of my TV and the frame was just enough to rest the TiVo box on. I secured it with some velcro tape just to be extra secure.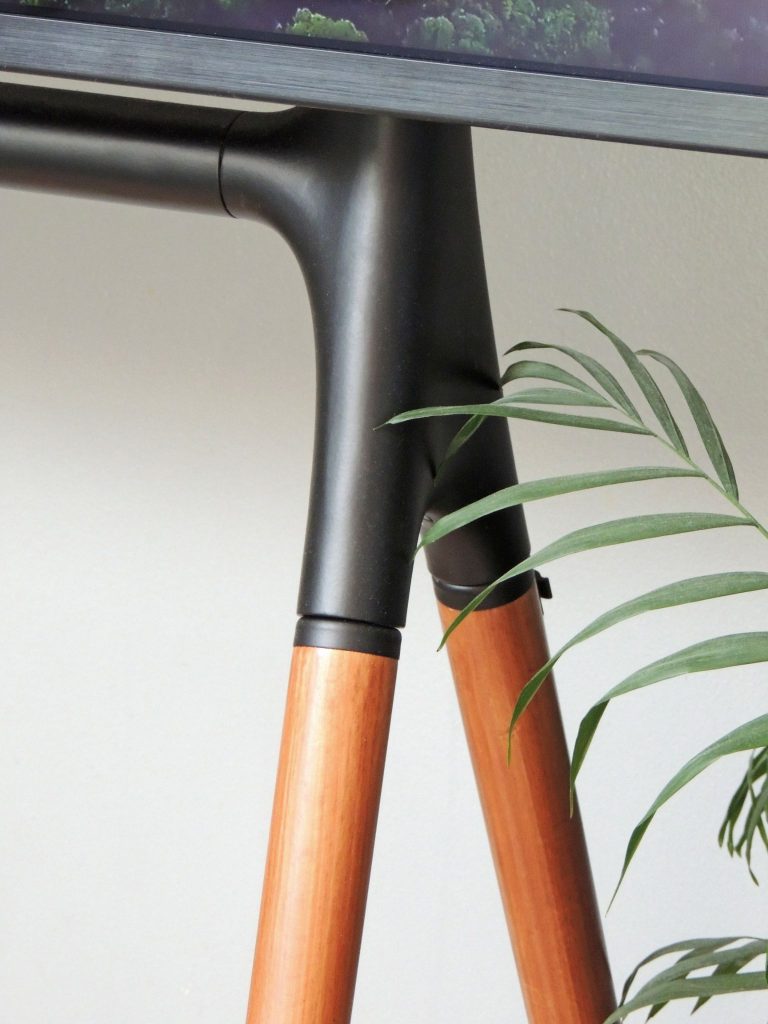 Conclusion
The overall look of the TV on the stand is perfectly minimal and completely suits the space. There are many rooms in a house where this TV stand would work very well and look stylish. I've had many comments on the stand already as it's so unusual!
If you're looking for a minimalist easel TV stand I can highly recommend this stand. Forest AV has a few other stands including tripods which enable the TV to be swivelled left and right.
The Easel TV Stand is priced at £175 and is available from Forest AV. Purchase online: forest-av.com
This post is in no way sponsored and all comments are genuine.