As soon as I think of technology for the home, all I think of is smart connected devices, WiFi bulbs, TV's etc. The one place I tend to forget is the kitchen, the place where we spend quite a lot of our time cooking, eating and socialising. A kitchen is the heart of the home, so why not fill it with tech that will help on a day-to-day basis?
From WiFi plugs to innovative minimalist Bluetooth speakers, I've rounded up some of my favourite must-have tech for the kitchen. Some of these aren't really "tech" per se, but the latest innovations have really improved their use – take the QETTLE boiling water tap below which I love!
What tech do you have in your kitchen? Let me know in the comments below as I'm always looking for ideas on what to add to my wishlist!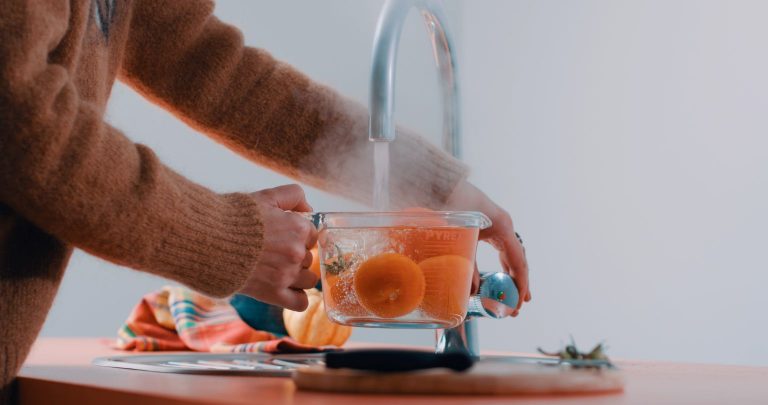 First up is a must-have for anyone who dislikes small kitchen appliances taking up space, the QETTLE 4-in-1 Boiling Water Tap is ideal for all kitchens. If you've been thinking of saying goodbye to your kettle for a long time, now is definitely the time to do it. This tap delivers 100°c boiling water in seconds and also cold filtered water. No more waiting around for the kettle to finish boiling for a hot drink and it also avoids wasting energy by boiling more water than you actually need.
The QETTLE tap simply replaces the normal tap in your sink as it can dispense your normal hot/cold water and also the cold filtered/boiling water. Placed under the sink is a 4-litre large tank which is enough boiling water for 8 mugs or 1 large saucepan. When the tank is on standby, it costs just 3p a day to run. With so much insulation, it's extremely energy efficient and keeps water at 105°c so it's ready whenever you need it.
You can also say goodbye to a filter water jug as this tap has a built-in filter cartridge system which is placed under the sink. This delivers fresh great-tasting drinking water free from contaminants and chlorine. The filter cartridge is easily replaced (recommended to be replaced every 6 months) and is 90% is recyclable.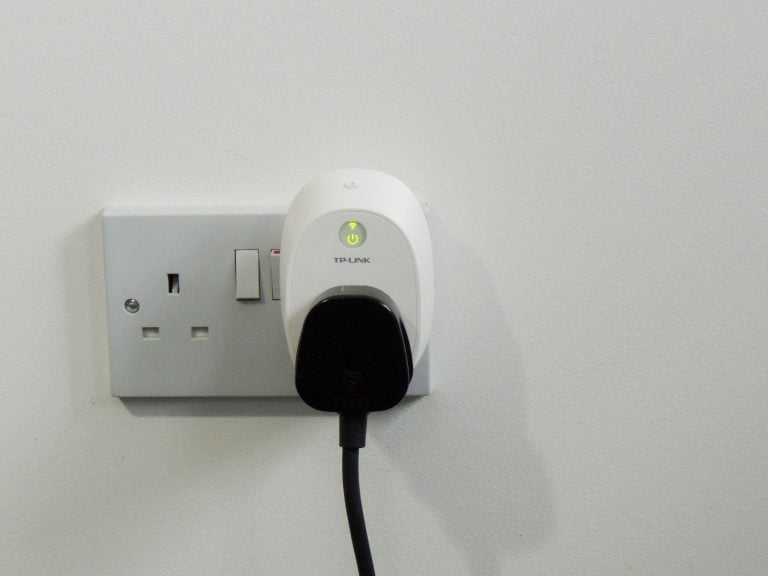 If you've read any of my previous technology features, you'll know that I absolutely love the TP-Link Kasa Smart Wi-Fi Plug, it's my absolute must-have for any smart home. For the kitchen, however, the HS110 model features energy monitoring which is a useful feature for knowing your energy usage for whatever device is plugged into it.
Plug a lamp into this which you can turn it on hands-free if you've got an Amazon Echo or Google Home in the room to switch the light on, ideal if you've got your hands in a bowl of cake mixture. You could even use it on the coffee machine so you can turn it on from your phone as soon as you get out of bed. The usage options for these versatile smart plugs are seriously endless!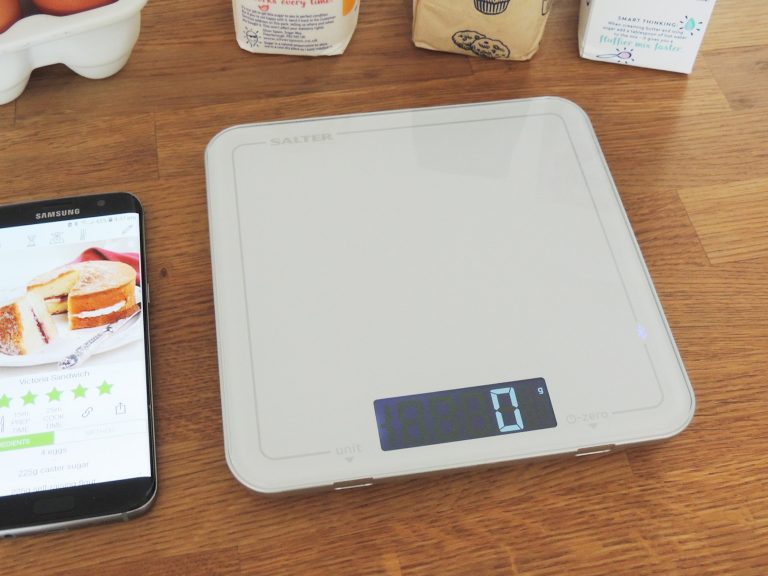 Didn't think the basic kitchen weighing scales could get a tech upgrade? Think again! The Salter Cook Bluetooth Scales is one piece of kitchen tech I own and cannot live without. Simply set the app up, import your favourite recipes from websites such as BBC Good Food or find one provided by Salter and get cooking! You can even add your own recipes to your personal in-app recipe book.
By following the step-by-step recipe instructions, you can weigh each ingredient precisely with an alarm sounding if you put too much into the bowl. The weight can easily be reset so you can add different ingredients into the bowl, thus less to clean up. Win-win!
Alongside the weighing scales, I have the Bluetooth Thermometer. Two probes with one for the oven temperature and the other for food temperatures. You can monitor the oven temperature to help ensure whatever you're cooking doesn't come out burnt – just don't forget to take it out, but don't worry, there's an in-app timer for that too!
Not all technology needs to take centre-stage with screens and flashing LED's, even some of the most simple items will make a great addition to your kitchen. Take the Sound Bar Plus from Magnet Kitchens for example. This Bluetooth speaker is designed and fitted directly in the plinth under your kitchen cupboards. With it being hidden away, you wouldn't even notice it's there until you switch on the sound.
If you love a minimalist look in your kitchen but also like music whilst your cooking or entertaining, this soundbar is a great addition. No more speakers on the worktop or fixed to a wall, this is one piece of kitchen tech which will definitely be well used!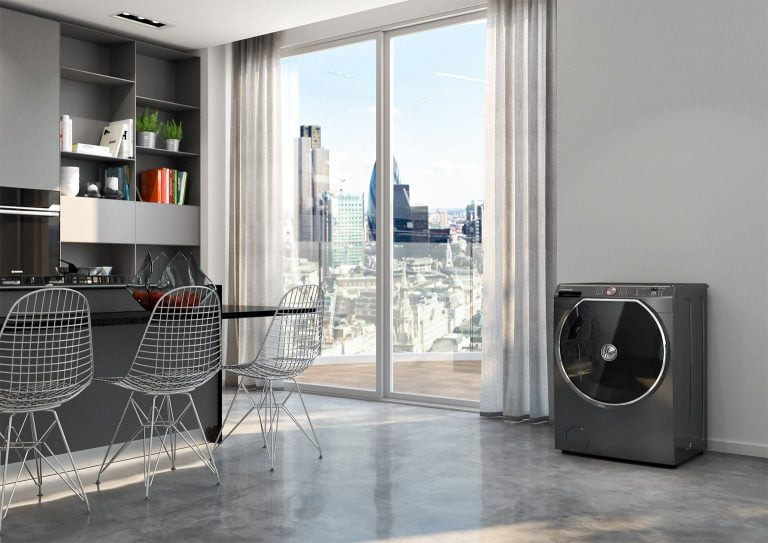 I know what you're thinking, why is a washing machine on this list. Well, this is the latest Hoover AXI Washing Machine and it's packed full of innovative features and artificial intelligence (yes, AI in a washing machine)! Plus, it looks sleek and modern whether you have it in your kitchen or laundry room.
With the Hoover Wizard app (also connected to Amazon Alexa and Google Assistant), you can use the guided washing feature which works out and suggests the most appropriate washing programme. It also uses your location to check the weather so it knows the best time to start the wash so you can let your laundry dry outside without rushing out when it starts to rain.
There are so many other features such as auto dose which dispenses the right amount of detergent and softener depending on water hardness and wash programme. If something were to go wrong, error information can be sent directly to Hoover's help team to better solve issues quicker. You'll also get seasonal reminders when to wash seasonal clothes and it also explains what those mystifying washing labels mean!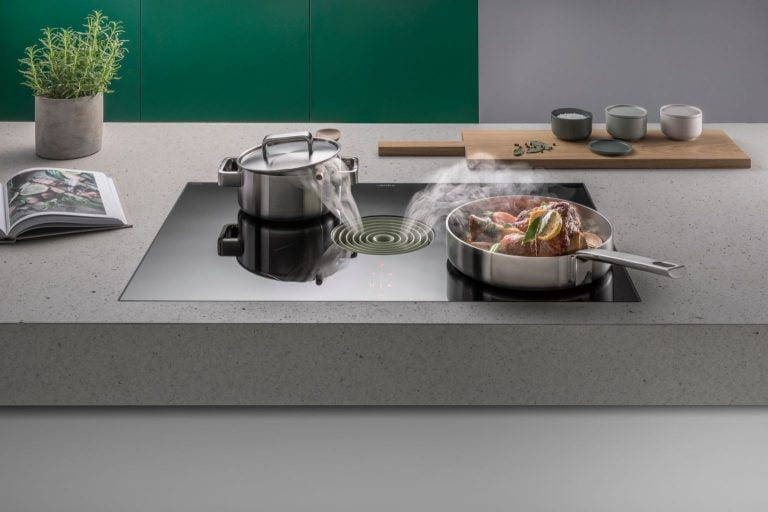 If you're planning on completely revamping your kitchen, this unique hob with built-in extraction will make you wonder how you lived without it before. Without the distraction of a hob hood hanging overhead, especially on an island, it will make your kitchen feel more spacious.
The BORA Pure is an innovative compact extraction system built right into the cooker hob itself, sucking away steam and odours. Located in the centre of four induction hobs, the fan is minimalist and can easily blend into the glass top. Alternatively, choose a different colour for the grate for a pop of colour.
Cleaning is also made easy as all parts that come into contact with cooking vapours can be easily removed and popped into the dishwasher. Operation of the fan is even easier, it automatically adjusts the power level depending on current cooking conditions, so all you need to focus on is cooking!
If you're looking to grow more vegetables and herbs at home, the Elho Light Garden is absolutely perfect for you! By growing food at home you not only cut down on food miles, you have complete control over the growing process and it is as fresh as it can get. I'm growing more vegetables this year and I cannot wait to start trying them!
This growing station is a must-have for any kitchen, it features a special coloured LED bulb by Bulbo to optimise growth from seed to blossom. The light also has a day/night cycle which keeps the light on for 15 hours and turns off for 9 hours (which slowly turns on/off to mimic a sunrise and sunset). There are different lighting cycles which you can choose from depending on what you're growing.