Ready to turn your home into a winter wonderland? If you're not sure what style to go for this year, or you're just in need of some inspiration, this post is for you. I've rounded up some of the best must-have Christmas decorations that are on trend and look brilliant.
This year there is a big trend for greenery. Whether that's in the dark or muted green of the walls, or with plants such as a garland around the mantelpiece or a vase full of fir branches.
Christmas Decorations
Ready for some beautiful decorating inspiration? Here are my favourite looks for Christmas 2023. Many of these backdrops are a muted green colour palette which I really like the look of. Plenty of greenery, warm twinkling lights and most importantly, a huge Christmas tree.


I love the layering of different garlands that M&S have created above. I think this could work really well in many different areas such as along sideboards or bannisters.

Don't just put your garland along the mantelpiece, lift it higher and go along the picture rail. Love the look of this! If you've got a picture rail above your fireplace, will you be trying this?


The vibrancy of the white stars and tree decorations against a dark blue wall looks perfect in this shot. It really stands out and is a statement feature.


Neutral Christmas Decorations
This is definitely my favourite style, a neutral Christmas theme. It has hints of Scandi styling throughout with plenty of white colours and natural elements such as wood and metal. Snowflakes, stars and little houses – these are well and truly Scandi and look amazing. You can never have too many hanging stars 👀

Hanging wire lights down the staircase definitely looks magical when all the lights are dim.

I'm telling myself I don't need those brown paper stars, but I do, they look amazing!

Stylish dining
Time for the big event… Christmas dinner! Or if you're the host for friends and family throughout the festive period, here's some inspiration to help you create a magical dinner table setting.

Space to hang some branches with decorations above the table? This well and truly looks striking and will be amazing in photographs!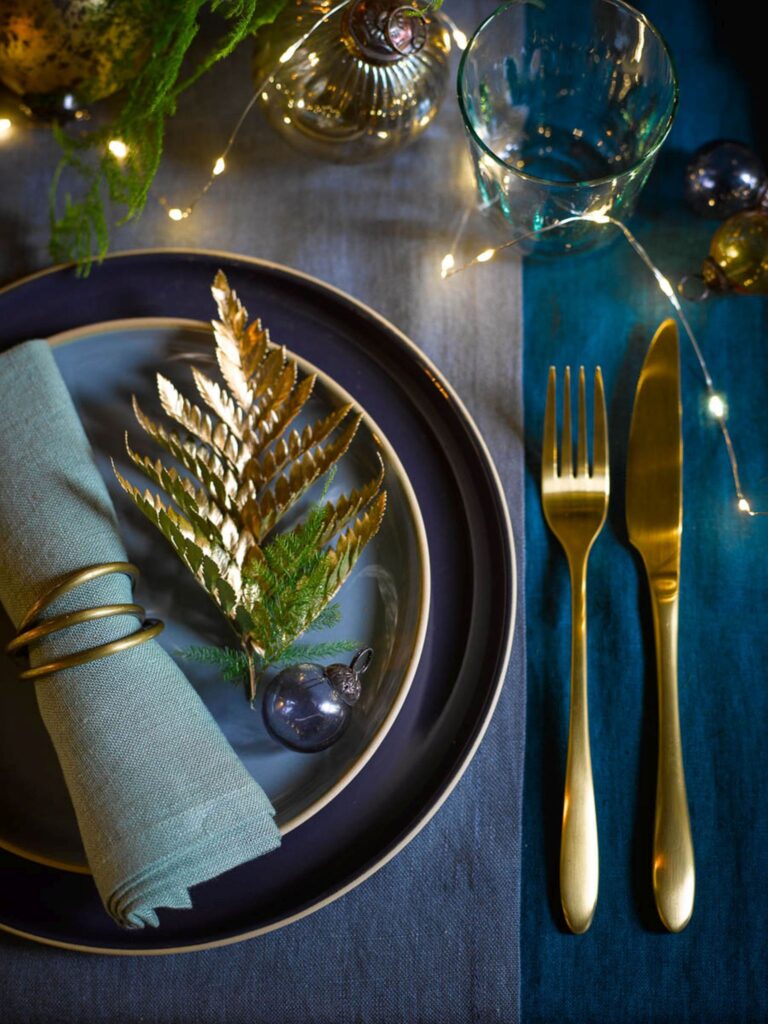 The touches of gold alongside the dark navy here work perfectly. I love how the stylists and Garden Trading have included this warm colour with the cutlery, fern leaf, baubles and napkin rings.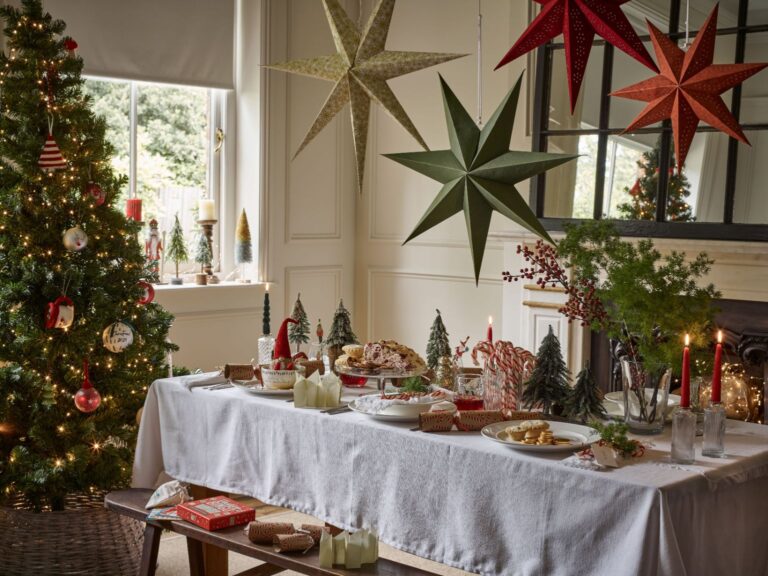 Dobbies this year have well and truly gone for paper stars and I absolutely love it! These not only look great for Christmas but easily suit New Year celebrations.

This neutral look with simple Christmas tree ornaments dotted along the dining table gives a very minimalist look but works perfectly. Definitely a style you can easily re-create.


Front door decorating
Welcome guests with a beautiful and festive front door look by showing off your favourite wreath, garland around the door and of course, lights – loads of lights. The styles below look brilliant and very minimal, yet festive.



I'm in love with this simple light-up outdoor wreath from Cox and Cox. It's minimal, yet strikingly beautiful. The warm white LED's will definitely light the way to your front door.

If you don't fancy a wreath, this bunch of greenery with some ribbon works really well. Whether you do it on your front door or a side door, it definitely adds a festive look.