Can you believe we're already in November? October pretty much disappeared! However, it does mean one thing, Christmas is on the way and I cannot be more excited for the festive season! Candles, chilly weather, twinkling lights, everything about it.
If you love the idea of a real tree but dislike the dropping needles and general care of it, then an artificial tree is perfect for you. Not only are artificial trees ideal for using year after year, but they have also improved a huge amount over the years. The introduction of realistic needles (made out of PE) can really improve the overall look.
PVC and PE Christmas Trees
For many years, artificial Christmas trees have been made out of PVC (polyvinyl chloride) which is basically strips of PVC wrapped around thin metal branches. They look great from afar, but when up-close, it's obvious that they're fake. Plus, many of these have a perfect cookie-cutter Christmas tree shape.
With the introduction of PE (polyethlyene) Christmas trees, they've become extremely realistic. These particular trees have had their branches moulded out of PE from a mould taken from an actual tree branch. This results in a 3D branch effect that looks incredibly realistic. To make it even more like a real tree, the "perfect" shape has been made to be bushy in different areas.
A tree made completely out of PE would be incredibly expensive. So having a mixture of PVC and PE means you can have a realistic looking tree but at an affordable cost. Yes, this type of tree is usually more expensive than the PVC versions, but they look much better!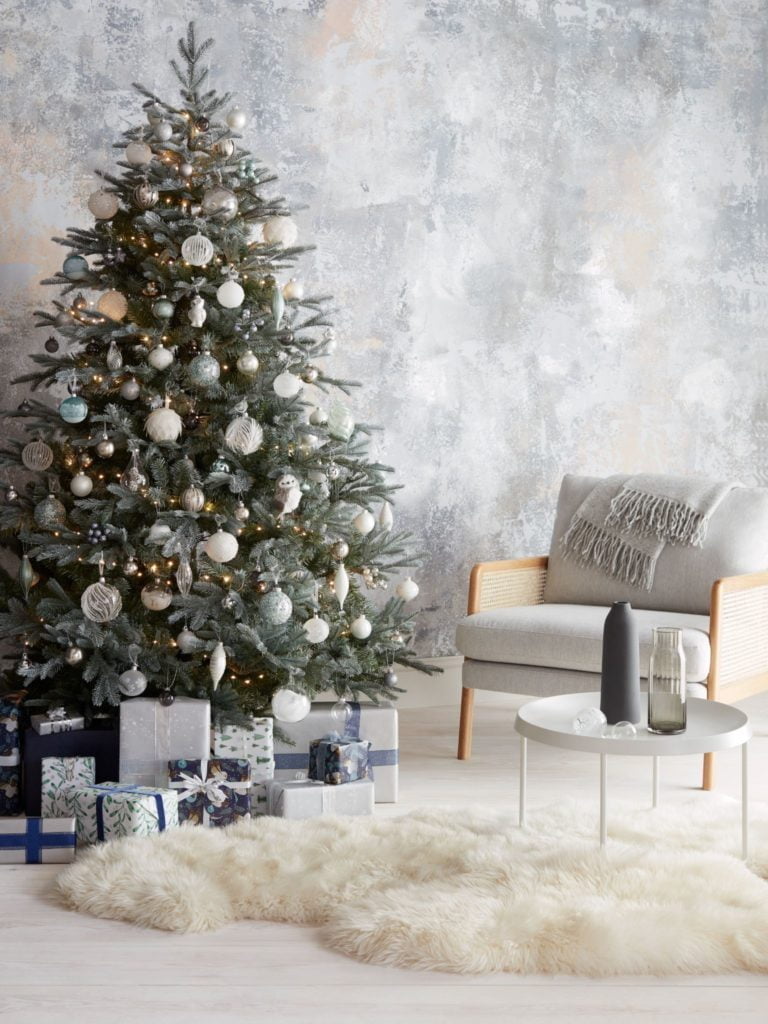 This tree from John Lewis looks incredibly modern and is extremely bushy! It has a distinctive blue-green tint of the Blue Spruce and features PE tips on the outer edges which look realistic. The irregular shape also means it looks real and could easily fool your visitors into thinking its real!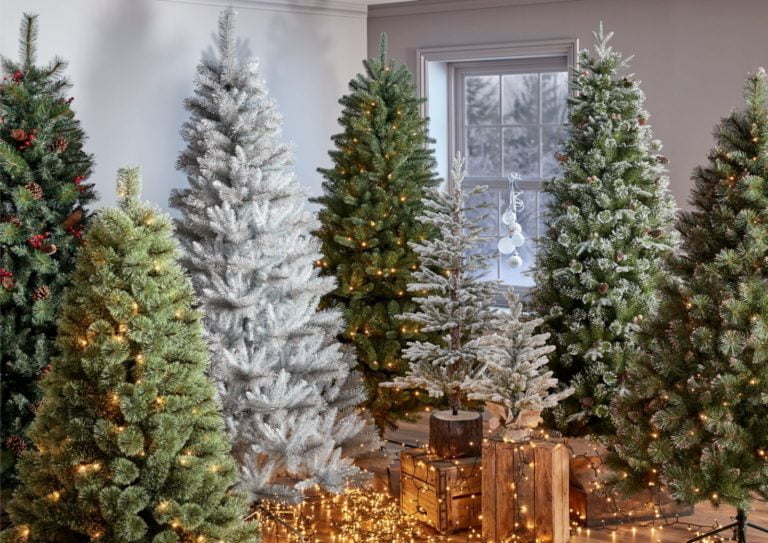 Look at all these trees from Homebase 😍 First up, the 4th tree in from the left is the 7ft Monterey Prelit Premium Tree which will look great covered in decorations. The little tree just in front of it is the 4ft Snowy Larch Artificial Tree which looks like its been out in a snow storm. I love it!!
I have raved about White Stores to everyone I know as I ordered my Christmas tree from them two years ago (and currently ordering a second) and absolutely love it. They stock incredibly realistic Christmas trees made by Kaemingk at an excellent price. You may see this particular brand of tree in other garden centres, but if you check out White Stores' website, they're often better value. I have a Noble Pine 7ft tree which looks very similar to the one above and it looks amazing!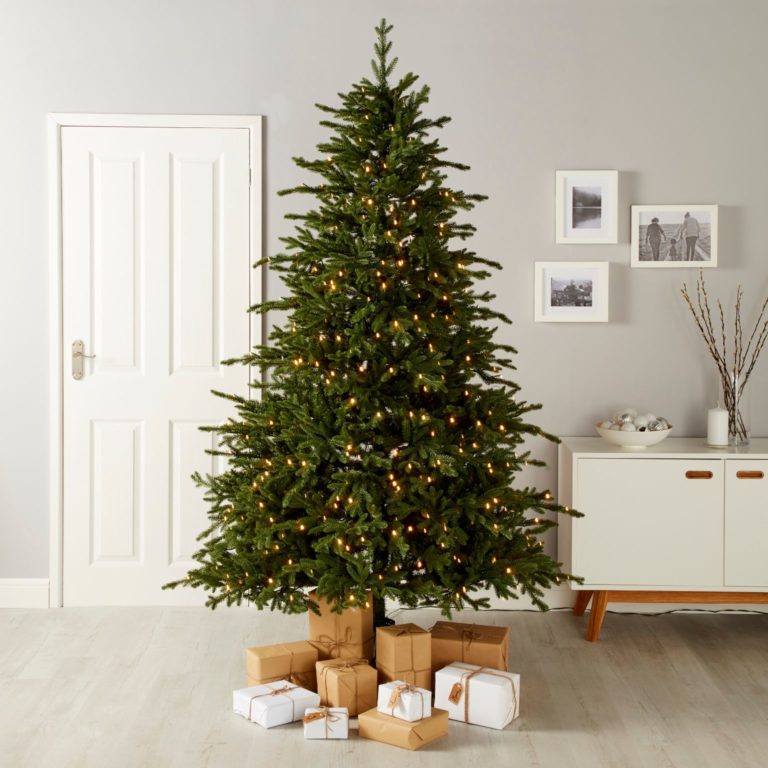 Forget the stress of putting the lights on the tree with this pre-lit tree from B&Q. It is evenly covered in 600 warm white LED lights, meaning no patches where there are hardly any lights, don't you just hate that when it happens! If you're in B&Q, remember to finish off your tree with a rattan tree skirt, I've just picked one up in grey. Can't wait to see how it looks!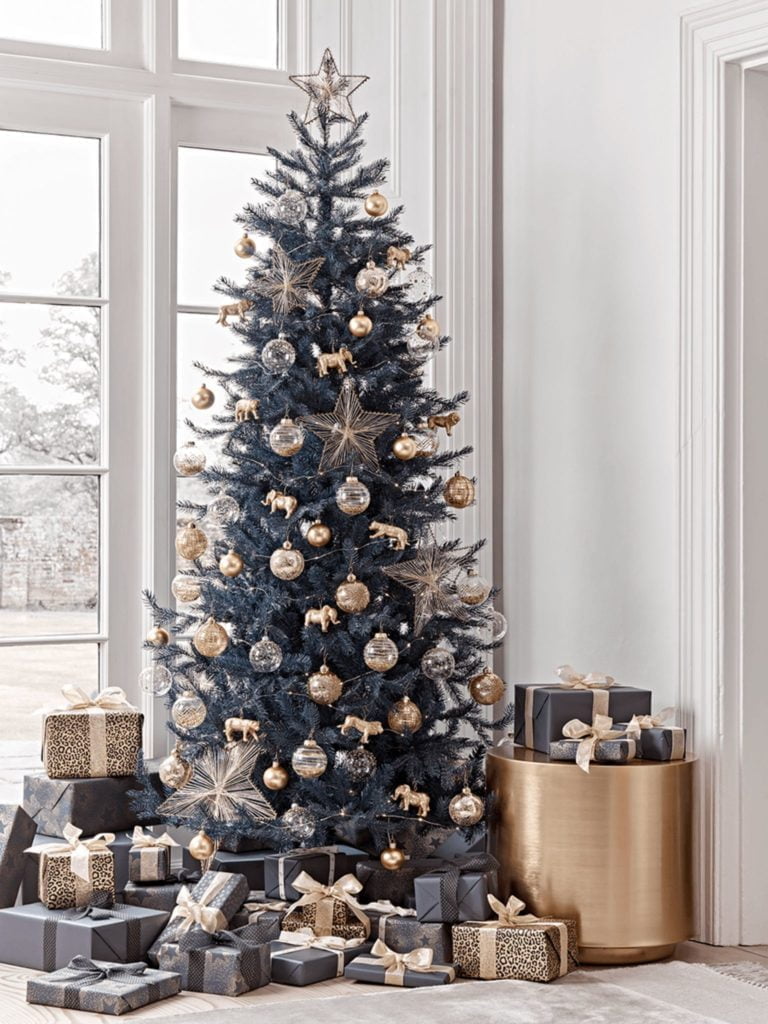 This tree has a nice dark colour which looks brilliant styled with warm copper and gold decorations. Who wouldn't want their tree decorated like this in their home? If only the Cox&Cox styling team could decorate my Christmas tree as this looks beautiful!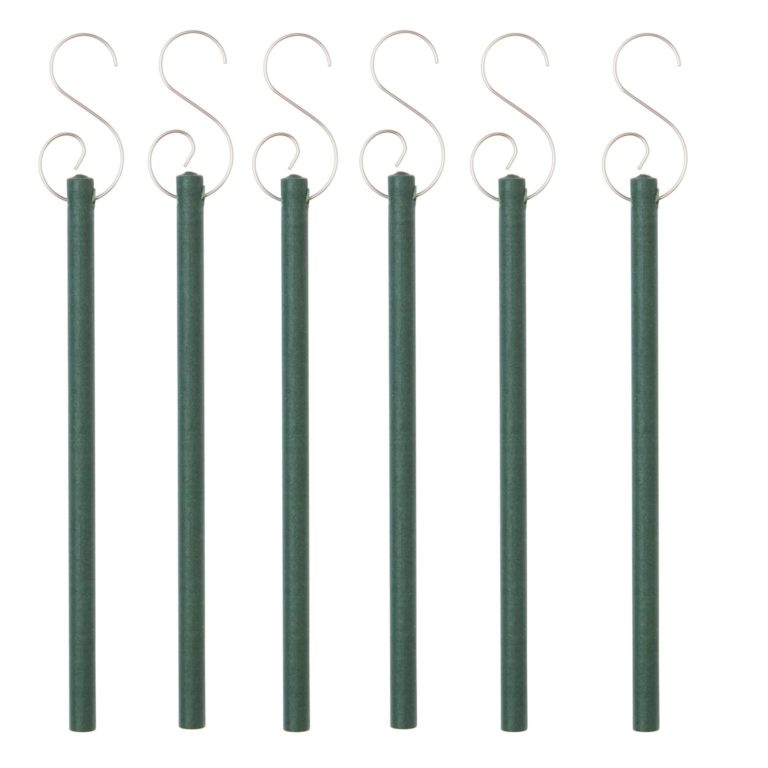 Finally, a must for any artificial tree are ScentSicles scented sticks. They come in a range of different scents, but by far my favourite is anything that resembles a tree. The White Winter Fir sticks feature the scent of a fresh-cut Douglas fir. Each stick gives off the scent for around 30 days, so pop one in every two weeks for a nice strong scent by your tree, enhancing the feeling of a real Christmas tree. The scented sticks are made from all-natural, biodegradable, FSC grade recyclable paper which is infused with the scent.
I hope my festive Christmas tree round-up has helped you decide on the perfect tree this year. Have you got a particular favourite? Let me know in the comments below 🎄