The one room of the house I have yet to blog about is the hallway. Nearly every house has one and its usually the first thing people see when entering your house. It can be a simple room but very hard to get it looking right.
Many hallways form the space between the front door leading to the stairs or other rooms. As we've seen in so many house renovation TV shows, blogs and magazines, a well-thought hallway can make a great statement upon arrival!
In this post, I'm focusing on hallway storage. Ideal for stashing away jackets, bags or anything else you may need right at the front door before you leave the house. Some hallways can become a dumping ground, but don't despair! With some great storage furniture, this needn't be the case!

This Nature Small Wooden Sideboard from Cuckooland is ideal for the hallway or any other room in the house. Having a versatile piece of furniture such as this means if you move house, you can easily repurpose its use in another room. They also sell other matching furniture so it will never look out of place.
The clean lines and solid oak top and legs make this look great in a modern home. It's my favourite Scandinavian style! It features two doors with shelves inside. Great for storing baskets full of bits and bobs you may want to hide away. The top of it is great for adding a few decor pieces, a bowl for your keys and even smart home tech such as Google Home – ideal for turning on your lights as soon as you arrive home.

If you don't have much floor space, the Pocket Coat Hook Shelf from April and The Bear is perfect. It comes in either black and army grey, the latter being my favourite. With 7 hooks, you can hang up plenty of items ready for when you leave the house.
The shelf above the hooks works great for displaying some nice decor pieces such as a plant or mirror. Also, the perfect place to put letters and your keys. I absolutely love the look above with the grey colour on plain white walls. #HallwayGoals

I've started to become a fan of open clothes rails and this Gold Coat Rack from Home Lust is so nice! It looks simple, elegant and ideal for any hallway. However, with it being open, you'll be forever making sure everything is hanging on the hooks perfectly! (Or is that just me, perfectionist!)
This is light-weight which makes it easy to move and slim-line, meaning it won't get in the way of one of one of the busiest rooms in the house! It comes in two size variations (Tall and Slim with Hooks featured) depending on your space. The hooks are great to hang up jackets and the shelf at the bottom is ideal for a storage box or shoes.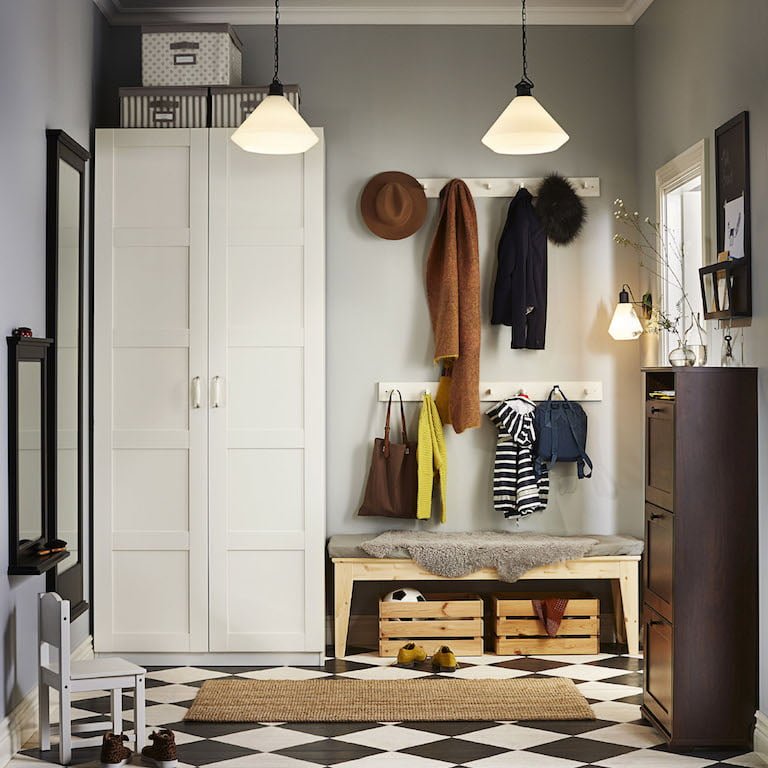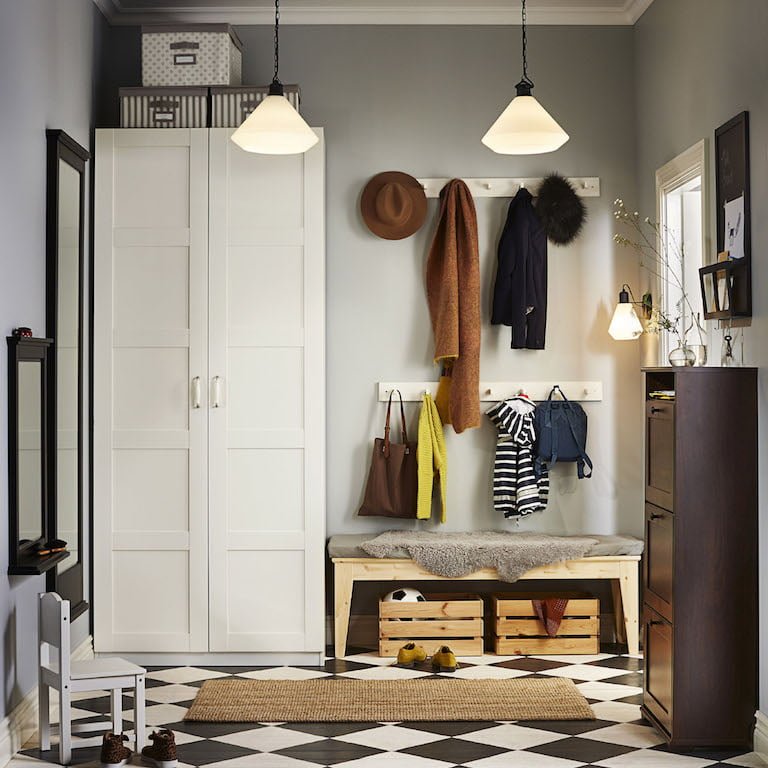 One of my favourite places to go for storage is, of course, IKEA. As you've probably seen in our Instagram Stories, Laura and I love an IKEA shopping trip. Storage options are endless here, but if you've got space, a wardrobe is a perfect place to store away winter coats, shoes and anything else you want out of sight. Place a small bench next to it and you've got somewhere to sit when putting on shoes before heading out.
To hideaway shoes, IKEA has some great cabinets for this very purpose. In the image above, there's the BRUSALI shoe cabinet with a little open shelf above the top compartment. This little cubby hole is ideal to stash away letters and anything else you don't want on the top. I own the TRONES shoe cabinet which looks simple and is a very cost-effect way to store away shoes.

Here is another great shelf/coat rack combination which is ideal for limited floor space. The Giro Hanging Coat Rack by BePure, available at Next, has a strong urban rustic style. With its combination of metal and wood, it can work in many homes styles.
This would look great in a country cottage style home, in a modern hallway or even in the bathroom. Versatile storage furniture like this is so handy enabling you to change the look of your home easily. The shelf above the hooks is the perfect place to display your favourite items too!

If minimal style and space saving is your thing, this will be perfect! The Fläpps Clothes Rail Hängrail by Ambivalenz on OOSTOR.com isn't your ordinary coat rail and unlike anything you've seen before. The slim-line rack/shelf combo folds up so it disappears against the wall. Only when you need it you can pull the shelf down and use it for storage.
Made out of birch plywood with stainless steel hinges, it's incredibly durable and looks modern. It comes with a unique wall mounting mechanism which is specially designed for this product. Making taking it off the wall and using the shelf somewhere else effortless. I really like this shelf and want it for myself!
What are your favourite pieces of storage? Let me know in the comments below! I'm going to start working on more hallway inspiration in the coming weeks. Stay tuned!