Working from home has many benefits. From a small commute, making tea just for yourself and most importantly, choosing where to work. Most of the time I work from my small log cabin in the garden. As this is separate from the house, I've been able to decorate and style the space just how I like it. That includes the furniture, layout, paint etc.
A few weeks ago, BenQ reached out to us about their brand new e-Reading LED Desk Lamp. I jumped at the chance to give this lamp a try. I love all things lighting but failed to get nice lighting in the office.
My pet peeve is when lights are awfully too bright, this is an office, not an airport hangar. But then if they're too dim, I'm being blinded by my computer screens. Especially in Winter when lights are being used more, I like to get it just right.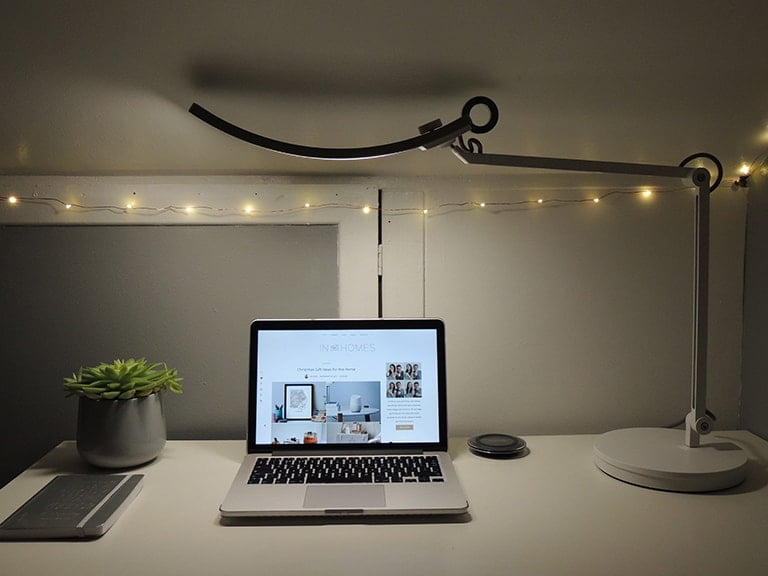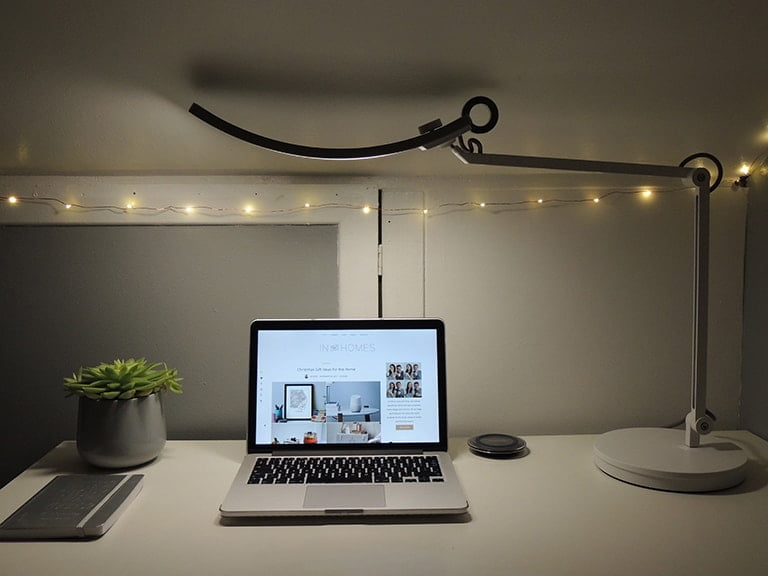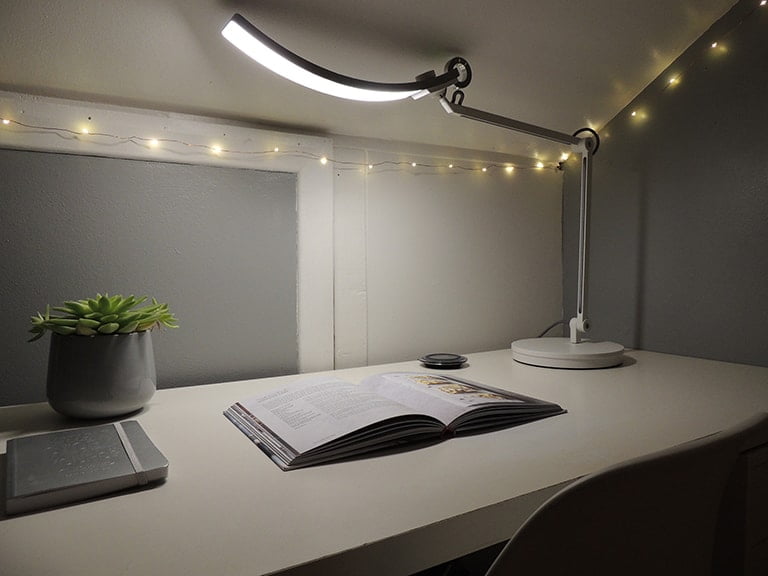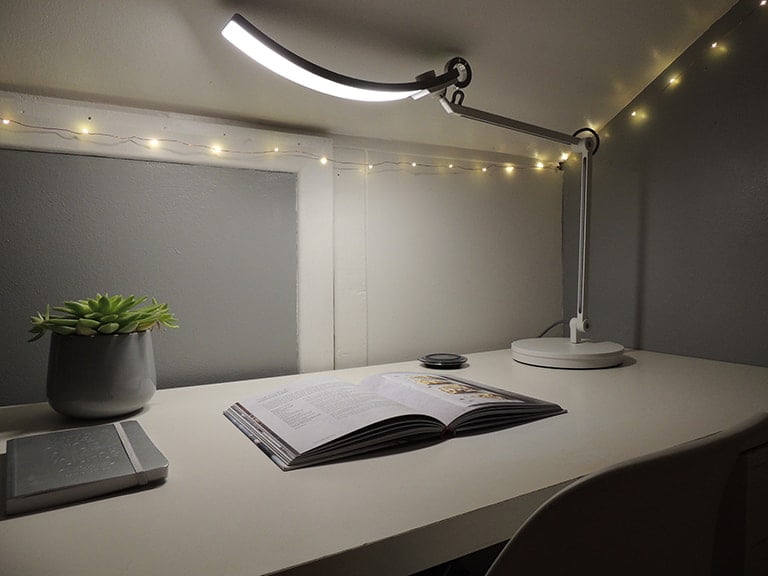 As soon as the box arrived I opened it up. This is not your usual desk lamp and it stands out from anything I've seen previously. The base and arm are made out of metal coated in white paint with a visible grey wire (matches my office perfectly).
Where the lamp houses the LED's, the top is a light grey steel colour with a subtle curve. According to BenQ, this curve is meant to spread the light 150% wider than any other reading light. It really does spread the light evenly across the entire desk!
It's the settings which make this lamp unique. Long gone is the usual on/off switch or plain old dimmer, this can be adjusted much more. You can adjust its brightness to suit your perfect level of light and you can adjust the colour. If you dislike bright white light (like me) you can turn the dial to something warmer.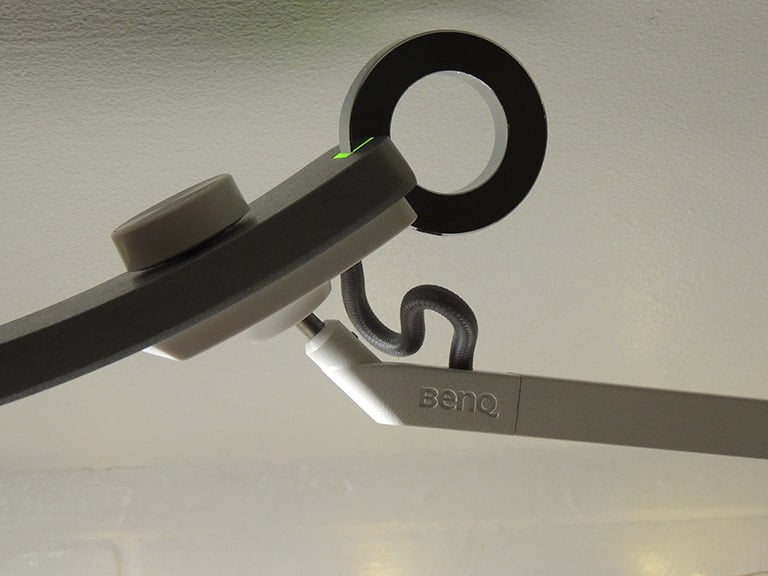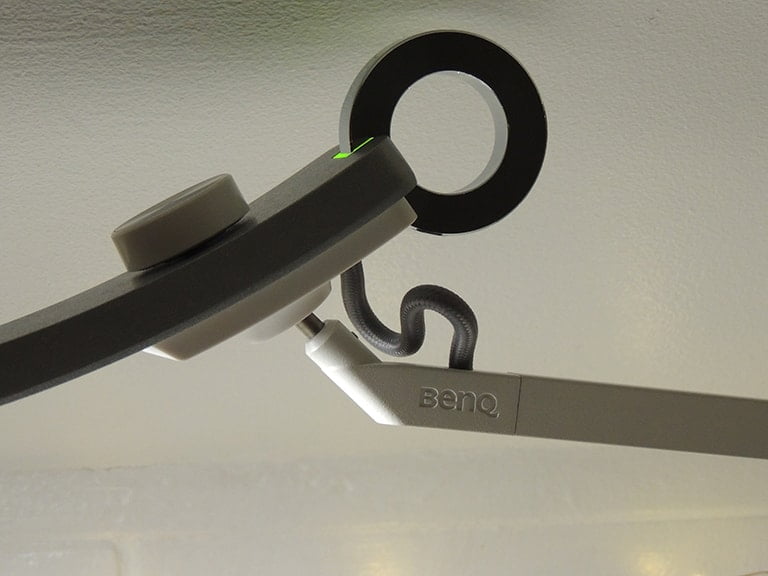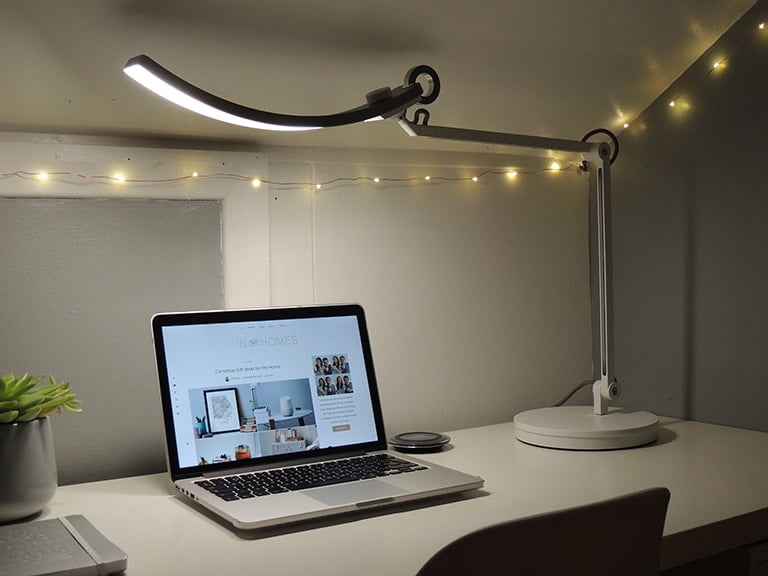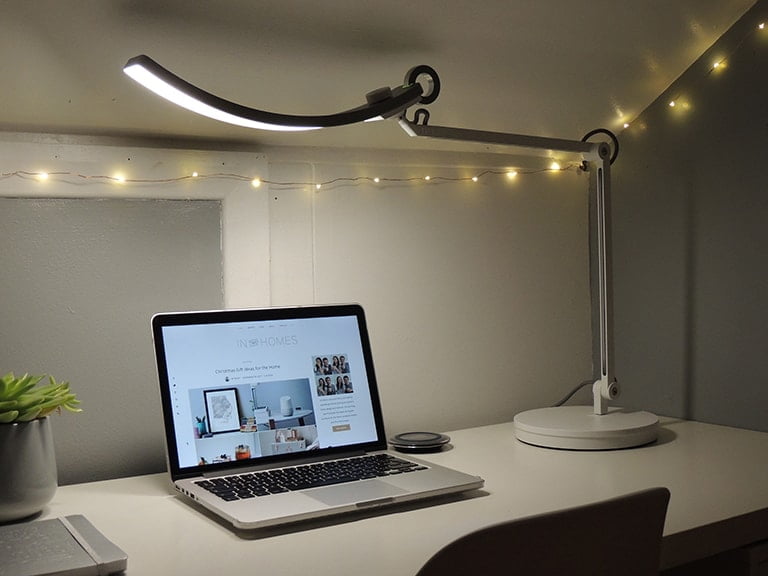 The main setting I have it on is the e-reading mode. This adjusts the brightness and colour temperature to your surroundings. This means you have the perfect light without straining your eyes – perfect for working late into the night. To activate, touch the metal ring for two seconds and it activates. Yes, that stainless steel ring is touch-sensitive like all those lamps we remember in the noughties – just much nicer!
The lamp is extremely easy to adjust. With three main joints on the frame, it can be put into many positions. Making it easy to get full light on your desk wherever it is placed.
If you're planning on doing up your office and need a new light, I can definitely recommend the BenQ e-Reading LED Lamp. As the lamp is modern in design, it doesn't need to be just for the office. It's ideal sitting beside your favourite armchair where you like to relax and read a book.
BenQ are kindly offering readers of In Two Homes an exclusive 10% off lamps via Amazon, using offer code: BENQ10EF – select "BenQ Webstore" as the seller. Expires 31st March 2018.
Get your BenQ e-Reading LED Lamp for £178 (or £160.20 with discount) from amazon.co.uk