I've always been interested in how people set up their desks at home. Whether that be purely entertainment purposes or for work, I love seeing what furniture and tech people use. There are countless videos on Youtube with desk tours as well as blog posts going through piece by piece. To satisfy the curiosity of many others like myself, I've put together a post all about my desk setup in my home office.
I'm lucky enough to work from a purpose-built log cabin in my garden. It's not a huge garden office, but it's big enough for two desks, storage unit and some free floor space for plants. I try my hardest not let usual business paraphernalia takeover the office, so I try to keep this all filed away.
Having the office in the garden has many benefits. Firstly, I get to leave the house and feel like I'm going to work. Working in your lounge is not always productive! Plus in the summer it means I can open the door and let the fresh air flood in whilst working. When it comes to summer weekends, I like to open up the office as it's the perfect place to play music from. By keeping it multi-purpose, I get more use out of the space.
Would you be interested in an office tour? Let me know in the comments below and I may put one together this summer!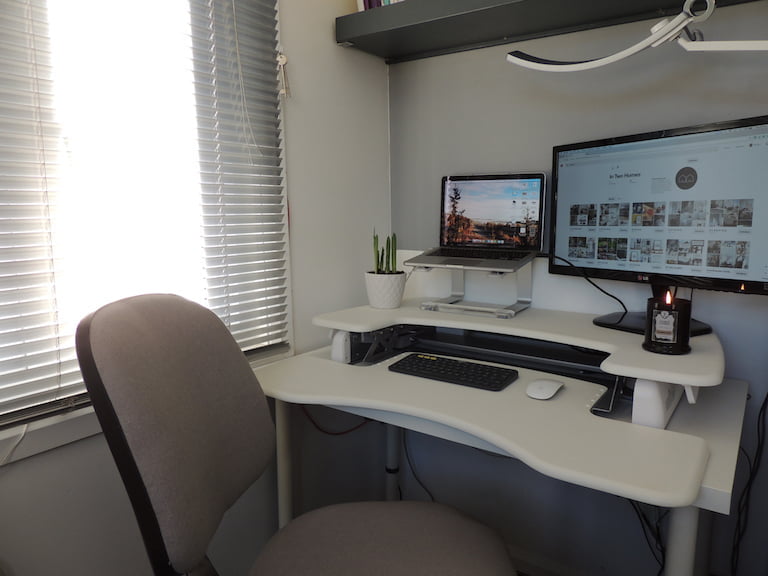 Furniture and Decor
The desk is from IKEA and was extremely cost-effective. When the office was complete a few years ago, I wanted to get in there quickly so I opted for a LINNMON table top and simple ADILS legs. I've since fallen in love with the LERBERG trestle legs, so I'm very keen to change the legs to these.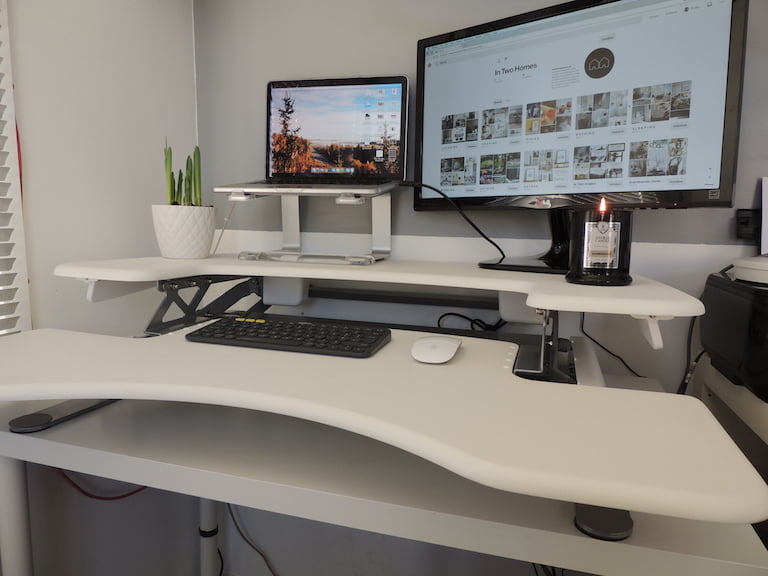 On top of my desk, I have a Varidesk Pro Plus. Last year I was very kindly sent one of these to review and I absolutely love it! This is a standing desk which neatly sits on top of your current desk. It has a two-tier design which keeps my screen and MacBook up high with a lower part for my keyboard and mouse. Within a few seconds, I simply pull the levers on each side of the desk and slowly lift to the desired height. With all the apparent health benefits of standing over sitting, I feel I'm doing a good thing by standing for some of the day rather sitting down!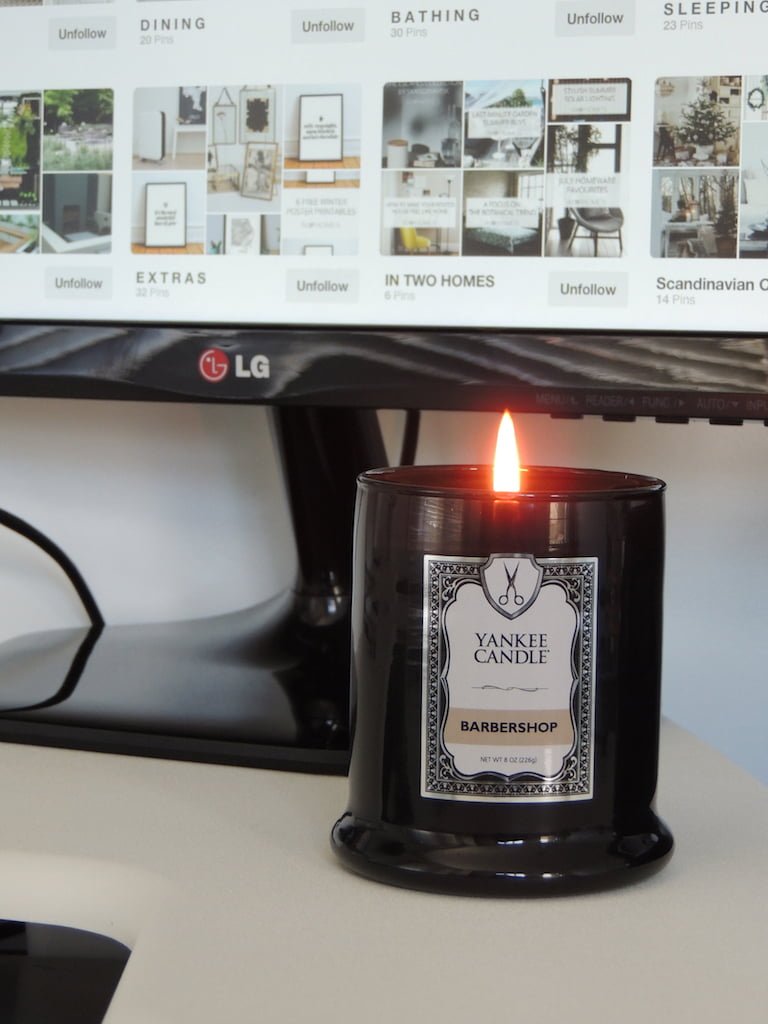 My unique desk light is the BenQ Lamp which I recently reviewed here. This light has a long arm so the base sits on a unit between the two desks and angled over my workspace. I love this light as you can easily adjust the colour temperature and it adjusts the brightness to the surrounding environment. It's been very effective in these dull wintery days!
To finish off the look of my desk setup I've got an incredible smelling candle by Yankee Candle, part of the Barbershop collection. I have a few other scents from the collection which I've yet to start burning, so I can't wait to start these.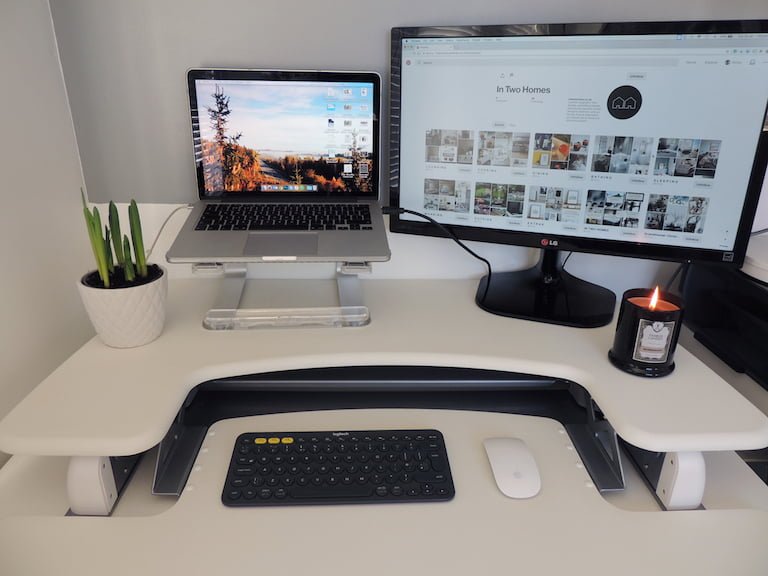 Technology
Starting with something that isn't actually technology, I use a Griffin Elevator Desktop Stand for my MacBook. I had this before receiving the Varidesk so yes, it may look odd, however, it helps raise my screen height to match my monitor. Which is great when I'm dragging files across both screens.
My monitor is an LG IPS MP55 with a 23.8″ display. This is a great screen which is incredibly slim. The bright screen displays my Photoshop files extremely well and I can highly recommend it! My plan is to get a monitor arm to clamp onto the desk instead of using the large black base.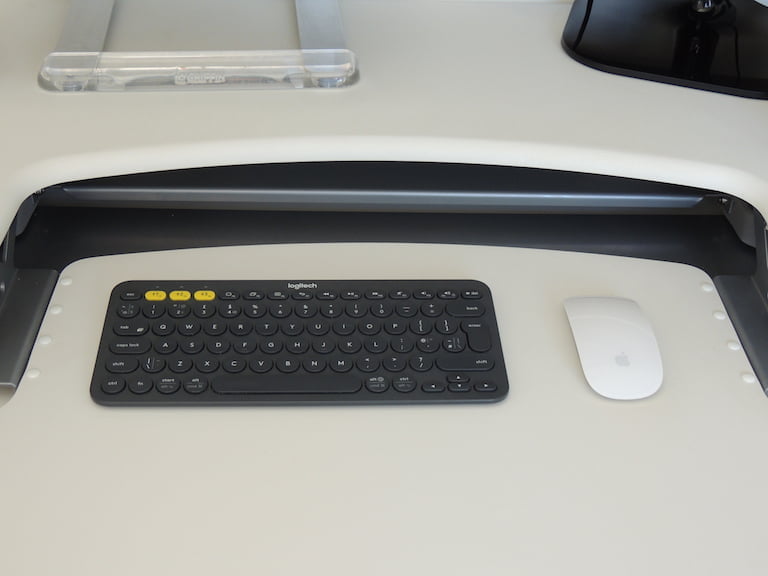 Now onto my keyboard and mouse and I know what you're thinking, why is this mismatching? Well, I had always planned to buy a new mouse after purchasing the Logitech keyboard but never got around to it. So I've stolen the Apple Magic Mouse from my iMac setup in the house. I chose the Logitech K380 Multi-Device Keyboard because it comes with Bluetooth and works perfectly with my MacBook – it also has all the relevant macOS keys which are a huge benefit!
I hope you liked my home office desk setup. Any ideas you might steal for your own desk? Let me know in the comments below!