It's time to talk bathrooms – modern style, yet affordable to be precise! Was I completely unprepared for the choice and more importantly, the costs of a bathroom? Hell yes!
I've spent many evenings browsing bathroom websites just to find exactly what I'm looking for. It's been tough, but I think I've come up with exactly what I need. I'm ordering it all next week, so thought it was worth sharing the plans…
The bathroom renovation is now complete! You can view the reveal here.
Before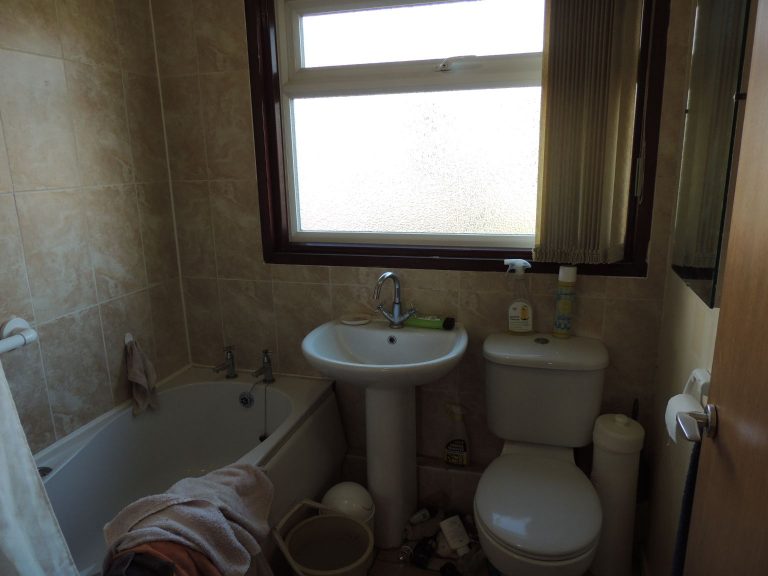 The bathroom has been like this for around 15-ish years. It's showing its age and requires a complete renovation to bring it up-to-date.
The layout isn't my favourite, as I always think a sink must go against a wall so you can have a mirror above. Annoyingly, it will be too expensive to completely change the layout. So it will stay the same as this, but still, I'll try and make it better than before.
The main change will be moving the door to the bathroom out by half a metre. This will incorporate the door into the cupboard within the bathroom itself. It adds a bit more space to the bathroom and removes the weird extra bit of landing.
One thing I like about the bathroom is the huge window. It nearly fills the entire width of the wall and floods the space with light.
The look and feel
When planning the look and feel of the bathroom, I had to keep reminding myself this won't be my forever dream bathroom. So after going down the rabbit hole of bathrooms that look like this…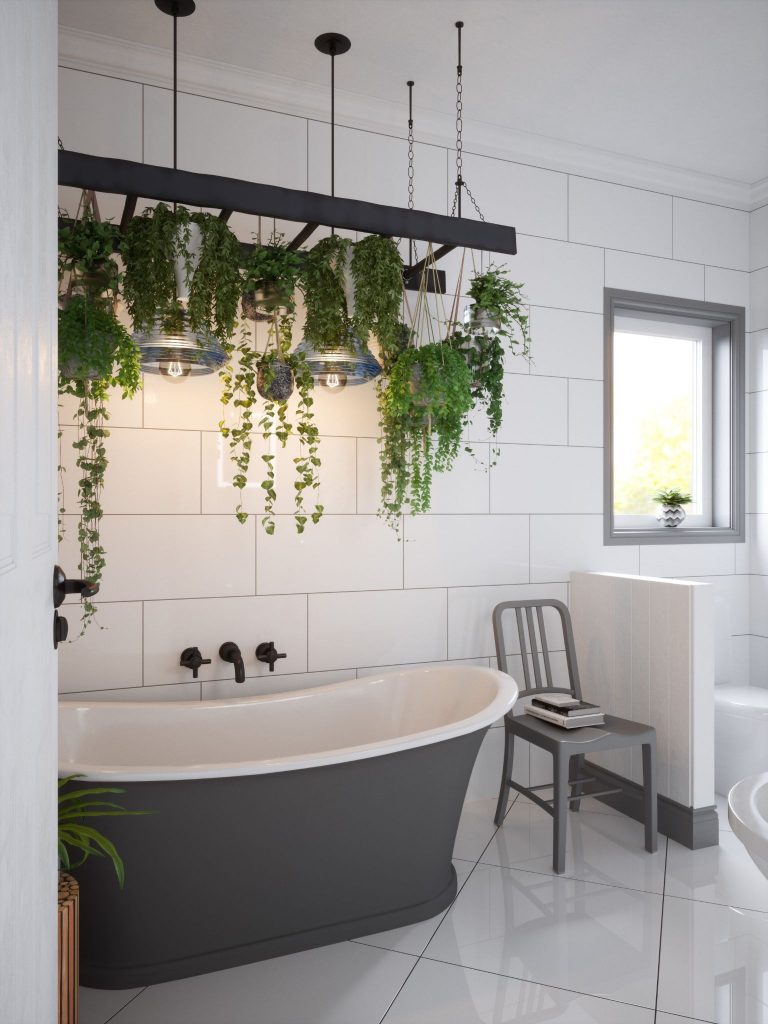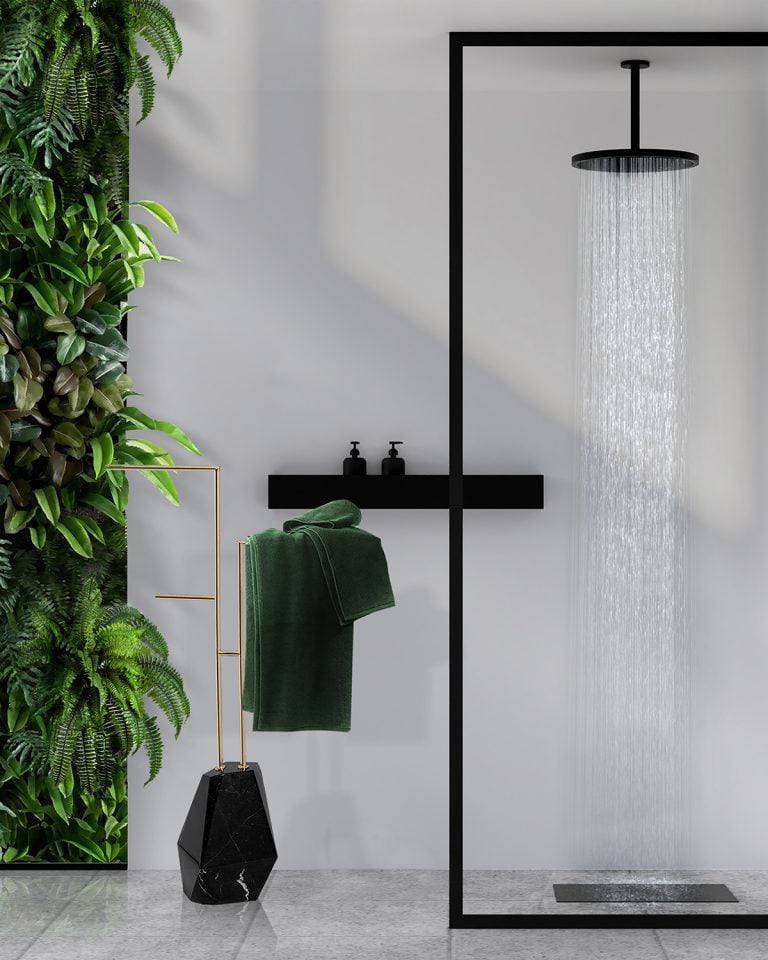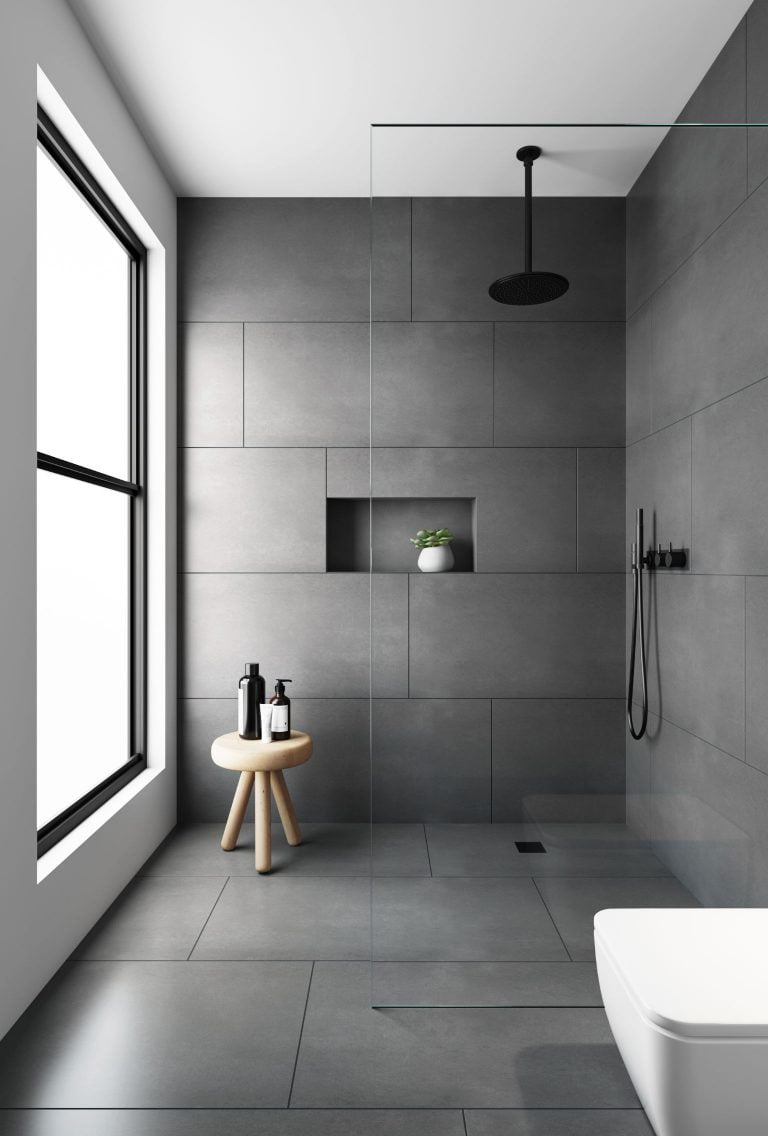 I realised this is far out of budget and will not suit this space. So dragging myself back down to reality I'm still going for a premium look, yet a timeless colour palette that (hopefully) won't age quickly.
To get the modern look, I'm going with angular shapes in the bathroom with an L-shape bath and a square-ish sink. This brings a modern feel to the space and will work well with the style I'm going for.
In the downstairs cloakroom toilet, I've gone for black taps. But for this bathroom, I'm going for brushed stainless steel. I'd love to have black taps in here, but I feel this bathroom will get more use and thus need cleaning more regularly. I'm just nervous that cleaning products may damage the colour of the taps/shower etc. (If you have black bathroom taps/shower, how are they with cleaning?)
The shower needs a big shower head and I absolutely love a proper overhead one. I see them in hotels and just LOVE them! It's one way to bring the hotel experience home.
Storage
The bathroom isn't particularly a big space, so built-in storage solutions is a priority. I'm going for a built-in look vanity and toilet set as this will include storage and easily hide the pipework at the bottom of the wall. Why they didn't build pipes into the wall, I do not know!
Alongside the storage under the sink, I'll have a few pegs for towels, a shelf for anything else and perhaps some shelves in the shower section itself.
What I've chosen
So this is what I've decided on which I'll be ordering very soon and starting to install. I'm still undecided on taps/shower and if a polished stainless steel will work alongside black accessories 😬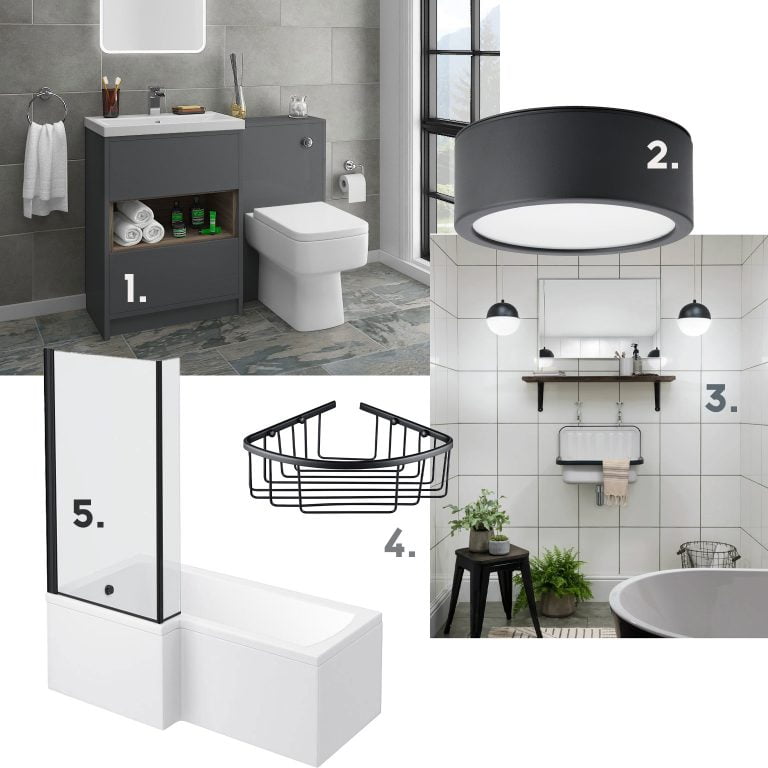 As mentioned above, I'm going for the Haywood Grey Sink Vanity and Toilet from Victorian Plumbing as it will easily hide the pipework behind the toilet and sink. I've searched all different websites for a toilet and sink combination like this and everything I found looked so dull until I found this one. I love the look of the wooden shelf, I think that adds a nice Scandi style I've been looking for.
I'm trying to keep everything plain and minimal, so I'm opting for large white matt tiles on the walls. This will be cost-effective and as I'll be tiling it myself, hopefully fairly easy to do. Wish me luck!
On the floor, I'm going for a simple grey hexagonal tile. I love hexagonal tiles and I think this will contrast nicely with the white wall tiles. A simple two-tone colour palette that will hopefully last a long time.
What are your thoughts? Any suggestions? Let me know in the comments below!