Hallways – the spaces that you really couldn't live without, but can become neglected as other rooms take priority. Don't worry if that sounds like your hallway as there are many hallways that need a bit of TLC, it's just knowing where to start!
Whether your hallway is at the front door, or you have a hallway towards the back of the house, it just needs to work for you. I've put together some ideas on how to make your hallway look fantastic and a place you will actually be proud to show off! From furniture to flooring, here are my top tips on creating a statement hallway.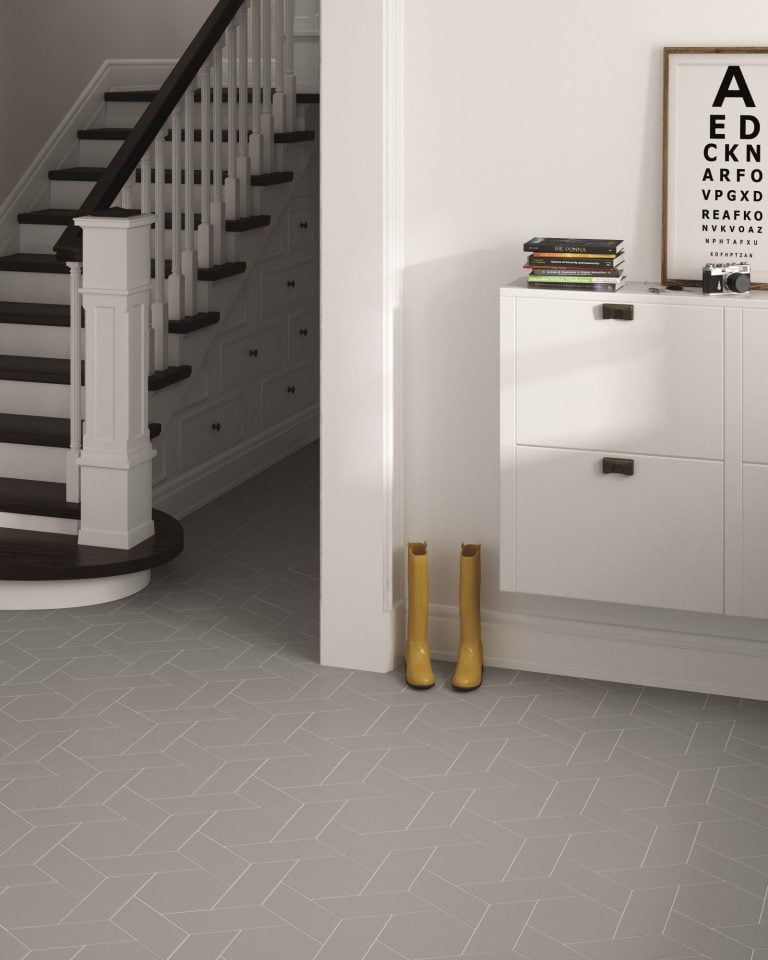 Flooring
If you've decided to completely redo your hallway and your flooring is looking a bit tired, updating the look with some new high-quality flooring is a must. Hallways connect us from room to room and go through so much wear and tear. Therefore, it's vital to have a high-quality surface to walk on.
From tiles and laminate to concrete and carpet, there is an endless choice to choose from and all of which come down to personal choice. Starting in the entrance hall, I love the look of a natural wooden floor. My absolute favourite is when you can see from the front door all the way through to another room where the wood grain is going in the same direction. It adds a feeling of depth and automatically catches your eye. This is exactly what I've done in my own house renovation, view my renovation series.
Hardwood is, of course, a favourite and extremely desirable. Yes, it can be pricey, but a well-fitted quality hardwood floor can add some value if you come to sell at a later date. If your budget isn't big enough for hardwood, don't fret, laminate flooring has come so far these days. Many of them look like hardwood when fitted, such as this Mahogany Effect Flooring from B&Q.
If you still love the look of hardwood but not the price, you could go for engineered wood. This is fitted just like laminate, but instead features a thin slice of real wood ontop. The base is usually plywood but as it's underneath, you'd never know the difference!
Tiles are another very good choice for a hallway. Hardwearing and so many different options. You can even get tiles that look like wood! When I eventually buy a house and (hopefully) have a small vestibule, I'm going for beautiful geometric pattern tiles like these from Homebase. Decorative tiles are a sure way to make a statement, especially if used on the entire length of the hallway. The Victorians and Edwardians loved pattern floor tiles and I can see why!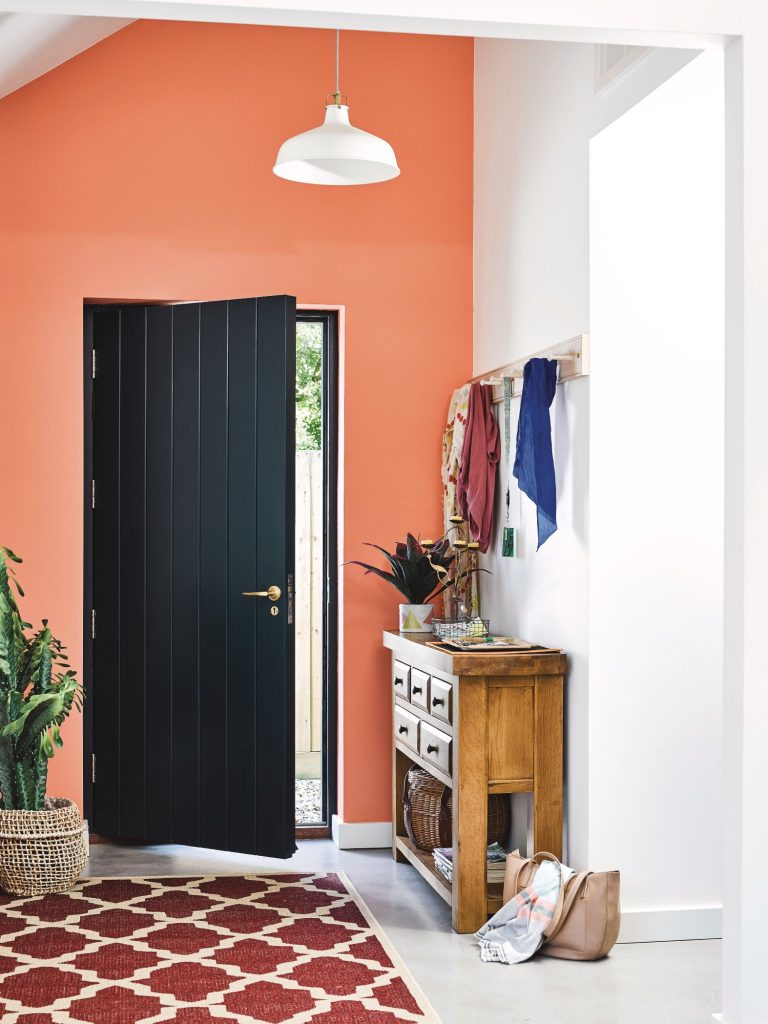 Wall Decor
Hallways tend to be darker places compared to other rooms, especially if they have little to no light whatsoever. Therefore, it's always a good idea to make these spaces feel bright and airy.
Walls painted bright white or another light neutral shade will help bounce the light around. But don't worry if you feel this may make it a little bland, you can always paint the doors a different colour whether that be something dark and stylish or colourful and bright.
If there are period features, you can always update them for the modern day. Give the dado, picture rail and skirting boards a sanding down and a fresh coat of paint. I know some people love using these features to add colour to sections of the wall such as white above the picture rail and a darker colour under the dado rail. If that's not your thing, paint the entire wall one colour and then choose a different colour for the features. Dark grey features on white walls are my absolute favourite at the moment.
A few years ago I stayed in a hotel in France and fell in love with how they decorated the breakfast room. The high walls had been painted an off-white with the decorative plaster ceiling a dark grey. Wall lighting shined upwards onto the ceiling which instantly drew your eye upwards. It looked stunning!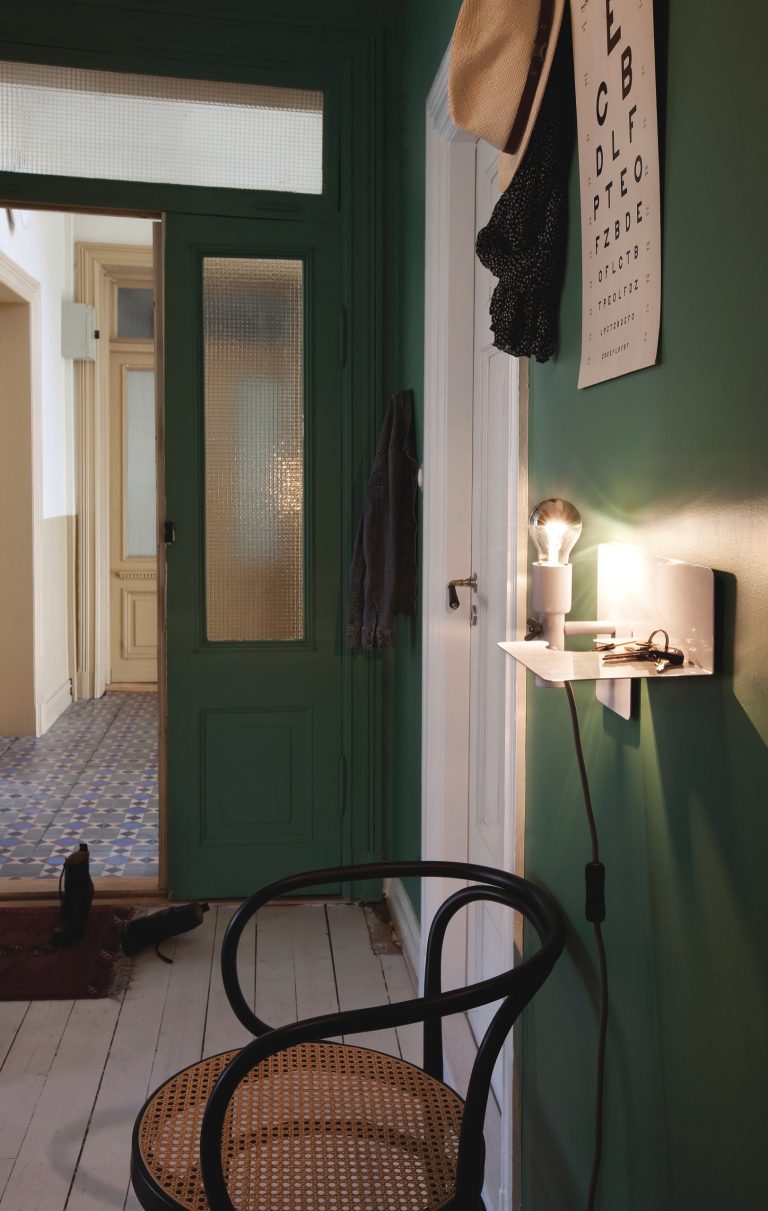 Lighting
Lighting a hallway is just like lighting any other room, multiple choices of lights make the space versatile. Of course, you need the main ceiling light for those times you're searching for your keys deep in a coat pocket. If the hallway is fairly long, multiple hanging ceiling lights in a row will lead your eyes down the room. Inset ceiling lights are great if you want a minimalist look, or opt for a hanging light with shade.
In the evening you don't want your hallway lit up like a hospital corridor, secondary softer lighting will help set the mood. If you're renovating, installing low-level wall lights up the stairs and along the hallway will look brilliant. Alternatively, a sideboard with a lamp is an easy choice. If you pop in a smart bulb such as LIFX, you can have this automatically turn on when you arrive home from work.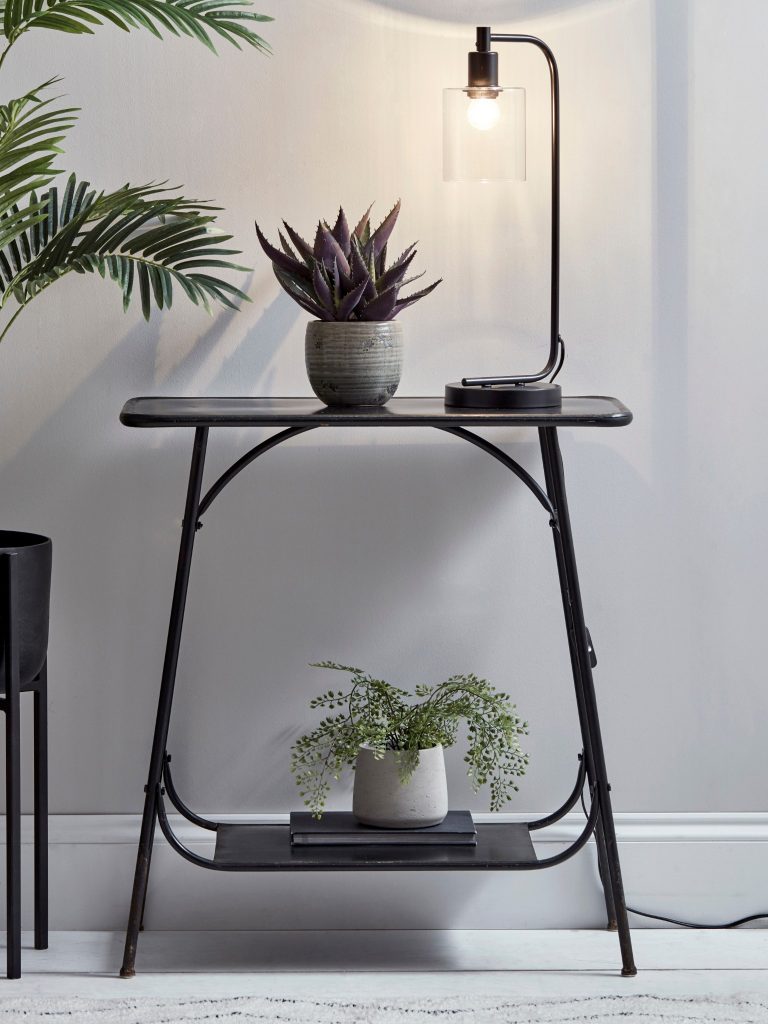 Furniture
We all use a hallway slightly differently, so furniture needs can vary. If the hallway is at the front door, you may use this space more for storing coats, shoes etc. Or if the hallway is a little further away from the front door, it may feature very limited furniture due to the size. Whatever hallway you're revamping, you'll find furniture to work in your space.
In an entrance hallway, a side table is always a good bet. It's the perfect place to throw down your keys, letters and anything else you just want to get rid of as soon as you step through the door. A console table such as the Argos Home Belvoir Console Table is great so you can store things underneath. For a more minimalist look, go for the John Lewis & Partners Calia Console Table which keeps everything looking airy.
Low on space but don't fancy the space looking all empty? Go for a slim shelf affixed to the wall with a mirror above. It acts as a side table but doesn't take up a huge amount of space.
If your hallway is all about storing shoes, I can highly recommend the IKEA Trones Shoe Cabinet. I have this at the top of my stairs and it blends into the decor easily. You could also go for this stylish Floor Standing Coat Rack which has space for a few boxes on the shelf at the bottom.