Now the evenings are getting darker, all we want to do is get cosy on the sofa and watch a movie. If you're like us, this post is all for you! We've put together our top essentials to make a home movie night that extra special.
For this post, our friends at Epson have very kindly lent us the incredible Epson EH-TW650 Full HD 1080p Projector. It's so easy to use, features WiFi and projects full HD at 1080p. Honestly, the picture quality on this is utterly incredible – I was very surprised!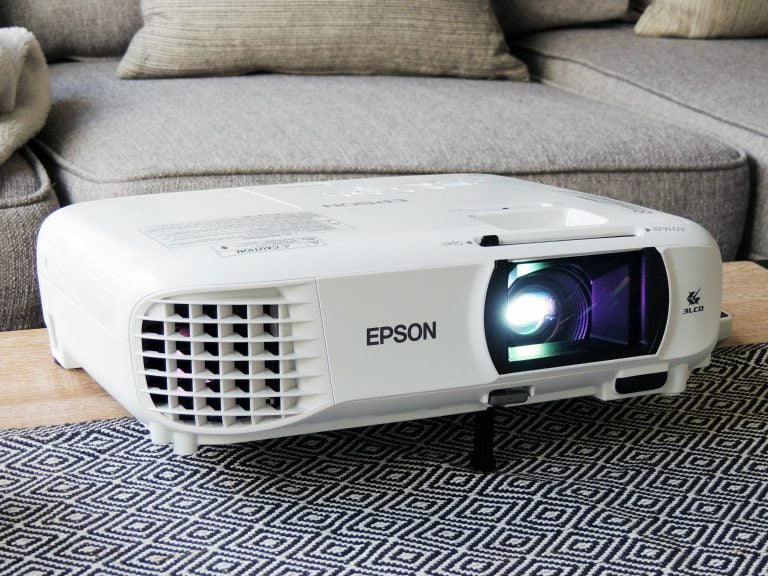 The projector is incredibly bright, featuring a 3,100 lumens output. What's more, it can project a screen that is absolutely huge, up to 300 inches! We've only had it for a few weeks and used it for movies, TV and also playing games. It doesn't have to be bang on centre either as it has many adjustments for the picture, which is very handy.
You can download the Epson app to your smartphone and stream whatever is on your screen to the projector. This is also possible to do with the app on your computer screen too. What we've been doing is plugging in a Chromecast and casting apps to the projector. So easy and quick to do!
Don't worry if you don't have a projector yourself. You can snuggle up in front of the TV with a sofa and the latest movie just fine. Here are our essentials for a home movie night!

1. Something good to watch
There are so many good movies out right now. Whether you opt for something new, or something old, just make sure you choose the right one! As we're coming up to Christmas, a Christmas movie is a must. Is it too early to start watching The Holiday?
When it comes to TV shows, I just can't pick or choose what I want to settle down and watch. I've started watching The Haunting of Hill House on Netflix and I'm only on episode 2, but it's so good! Another series I want to watch from Netflix is the Chilling Adventures of Sabrina. If you've got Amazon Prime, you must watch The Man on the High Castle – the storyline is chilling, brilliantly filmed and a must watch!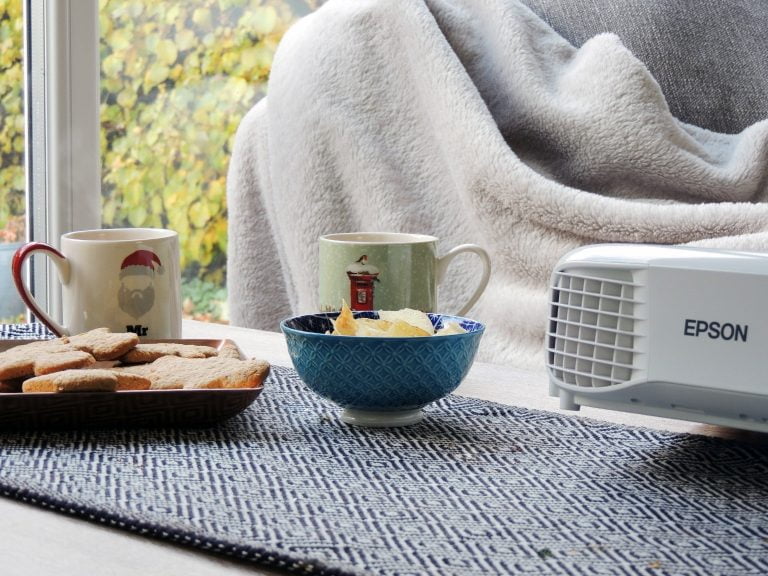 2. Blankets
If you saw our recent post, you'll already know both Laura and I love blankets. They are essential for a movie night. Now we're in the middle of autumn, there are so many nice blankets available to buy. My favourite place to hunt out a bargain is Homesense. However, the supermarkets have some beautiful festive blankets right now!
3. Candles
A movie night is not complete without a few twinkling candles. Turn down the lights and bring out some candles dotted around. I'm obsessed with scented candles so I like to light just the single scent, then have a few other non-scented candles dotted around. This makes the perfect movie night atmosphere.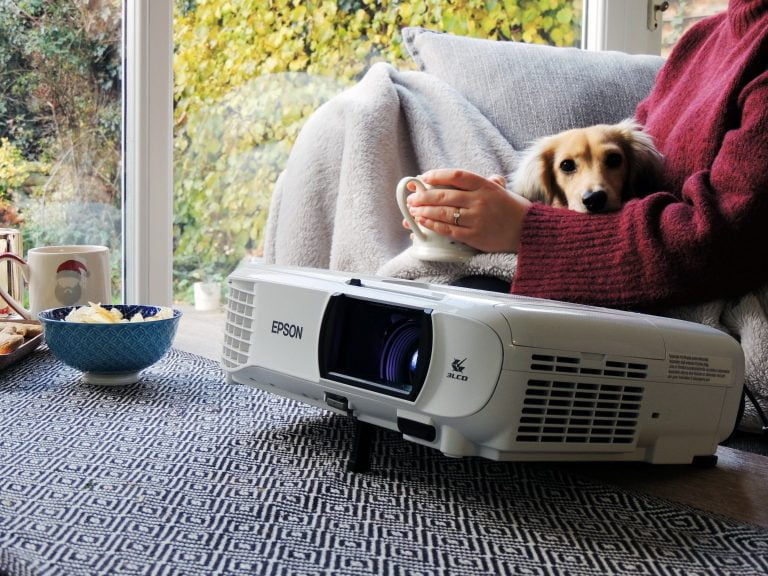 4. Delicious food
If you're hosting a movie night with friends, why not cook a delicious dinner for the movie? The best kind of meals for a movie are definitely ones that fit in bowls. Maybe a spicy chilli, noodles or pasta. Or order a takeaway – pizza anyone?
Rather than a main meal, this time of the year is best for stocking up on party food. All the big supermarkets have delicious festive party food at the moment. We were very lucky enough to try many of these during our Christmas in July press events! So stock up your freezer and fill the coffee table with delicious treats.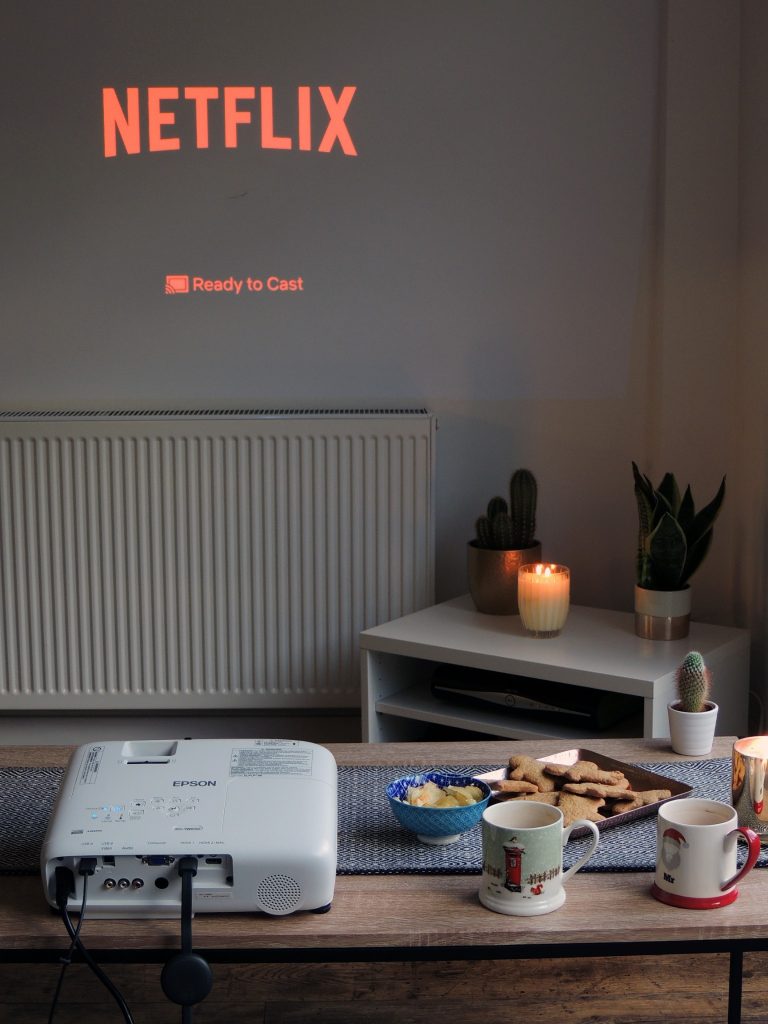 5. Drinks
Depending on your kind of evening, mulled wine or cider is the perfect festive drink when arriving from the chilly outside. Plus the scent of this in the house is just amazing! Have you ever tried a hot chocolate with a shot of Tia Maria? That's always a nice treat on a chilly evening!
Hopefully, these ideas help you plan an upcoming movie night. Have you got any more tips or ideas or the perfect winter movie? Let us know in the comments below!
Big thank you to Epson for loaning us this projector. It's incredible and we're going to be so sad when it goes back. If you're looking for a projector (as they're great for Christmas movies with the family) we can definitely recommend this one! So make sure you check it out.